Andy Murray: a product of high expectations
He won by going against the grain of contemporary British culture – and with the help of an unfashionably pushy parent.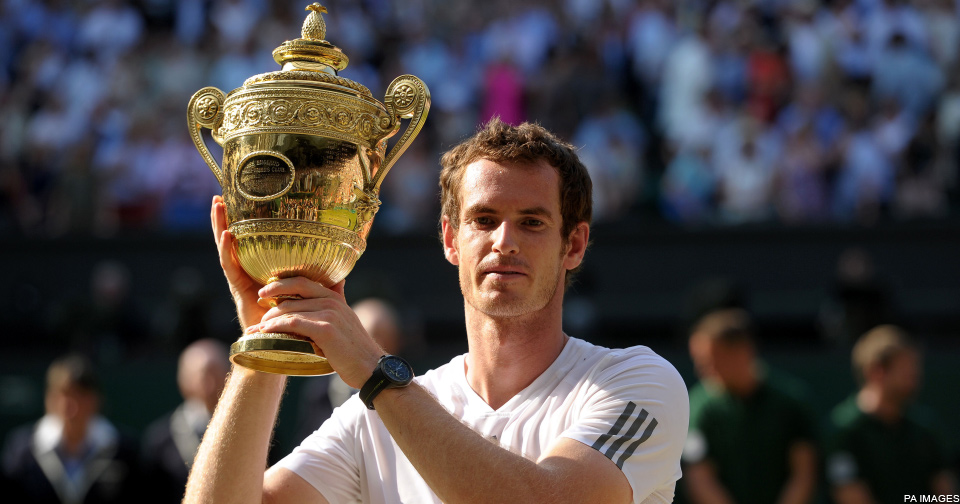 No sooner had world-number-one Novak Djokovic finished the final rally of this year's Wimbledon with a weak shot into the net than the debate started: who was Andy Murray's victory for? Scottish National Party leader, and Andrew Lloyd Webber lookalike, Alex Salmond was clearly in no doubt, as he unsuccessfully tried to unfurl a huge Saltire: this was Scotland's triumph. British prime minister David Cameron, ham-pink and proud sitting in front of Salmond, had other ideas: this was a victory for Britain, too.
Yet in many ways, what was so cheering about Murray's victory was that it was produced not so much by one nation or another, but by Murray's particular qualities of character. This was a victory for will and determination, for self-reliance and a refusal to yield to self-pity. It was a victory born of vaunting ambition, of unquenchable striving. And, yes, it was also something of a vindication for that most maligned of creatures: Judy Murray, Andy's mum, and now surely the poster girl for pushy parents.
There was one point in particular which said so much about Murray, and what he embodies. Towards the end of a dehydrating rally in the third set, Murray and Djokovic are exchanging blows from the back of the court. Murray starts to try to force the point to its conclusion. But Djokovic responds by accelerating his ground strokes, and pummels a forehand wide and deep to Murray's right. Having seen Murray fail at the last so many times before, you think 'this will be the way the match will go'. Murray will be pushed back on to the defensive. He will almost invite his opponent to overpower him. He will succumb to Djokovic's aggression. But incredibly, this doesn't happen. Murray not only retrieves the shot, but in one quick-whipped action, he smacks it even harder back across court, and, yes, beyond Djokovic. Boom.
Because this is the thing. Murray has improved. He has built himself physically, and he has built his game up mentally, too. In the past, against Rafael Nadal in the 2011 Wimbledon semi-final, and against Roger Federer in last year's final, his opponents always seemed to have just that little bit more. Murray's counter-punching style always seemed to be overawed when it mattered. Not now. Yesterday, not only did he make fewer mistakes than Djokovic, something that was true when Federer won in 2012, too; this time Murray hit 36 winners to Djokovic's 31. This time he rose to the occasion.
Despite the years of naysaying in the media, Murray's improvement, his determination not to be, as one commentator called him in 2011, 'the stooge, the plucky loser, the supporting act', should never really have been in doubt. This was the kid who, aged 14, decided after a chat with a then 15-year-old Rafael Nadal during a tournament in Andorra, that if he was going to make it, he would have to leave his hometown of Dunblane to come to live and train at the Sánchez-Casal Academy on the outskirts of Barcelona. Britain's Lawn Tennis Association had offered him the chance to train at Queen's Club, but such was Murray's determination, his sheer will to win, that he opted for hard-hitting drills on the baked surfaces of Catalonia, rather than the cosier mowed lawns and funded life of the LTA.
It is as if Murray has always known that to achieve something, it is ultimately up to you. Nothing will be provided on the proverbial plate; you have to work and strive for it. Given the sense of entitlement that pervades so much youthful politics and culture, Murray's success offers a striking riposte. His was an achievement realised through sheer boot-strap-pulling resilience. In this regard, his take on the success of Spanish tennis players, as opposed to the consistent failure of their British counterparts, is revealing: 'Do you know that in Spain, at 18, your funding stops? From there, you get nothing that you cannot earn for yourself. We're funding guys to 27, 28 – while in the most successful tennis nation in the world you're basically on your own. Maybe there's something in that.' Indeed.
Of course, no man is an island – even Murray. And here we come to that other component of Murray's success, the pushy part: namely Judy Murray. She has frequently been mocked for vociferously supporting her son, driving him on; Boris Becker even accused her of inhibiting Murray a couple of years ago. She is seen as too demanding, too assertive, too willing to do what she thinks is best for her kids. And admittedly, the lengths she and her one-time husband went to, to help realise Murray's dream, were extreme. To pay for Murray's £30,000-a-year training in Spain, Judy and Andy's dad sold up their home, as well as anything else they could get their hands on, and scrabbled around for various bits of sponsorship. Yet, as extreme as that sounds, the willingness to go that extra thousand miles, all the way to Spain, to help Murray become what he could be, is inseparable from the success he is now enjoying. Pushy Judy may be, but her unstinting determination to drive Murray on to be the best is, at its core, something for which she should be admired, not castigated.
That's what is so striking about Murray's achievement. So many unfashionable elements went into the making of what Britain/Scotland is enjoying today: the sacrifice, the self-reliance, the will to win, and, of course, the willingness of parents to push. Murray's is an achievement forged from within a micro-culture of high expectations.
Tim Black is deputy editor of spiked.
To enquire about republishing spiked's content, a right to reply or to request a correction, please contact the managing editor, Viv Regan.