Grand Theft Auto V: best game ever?
A satirical, fun, bonkers masterclass of a videogame: a 12-year-old gives his verdict on GTA V (certificate 18).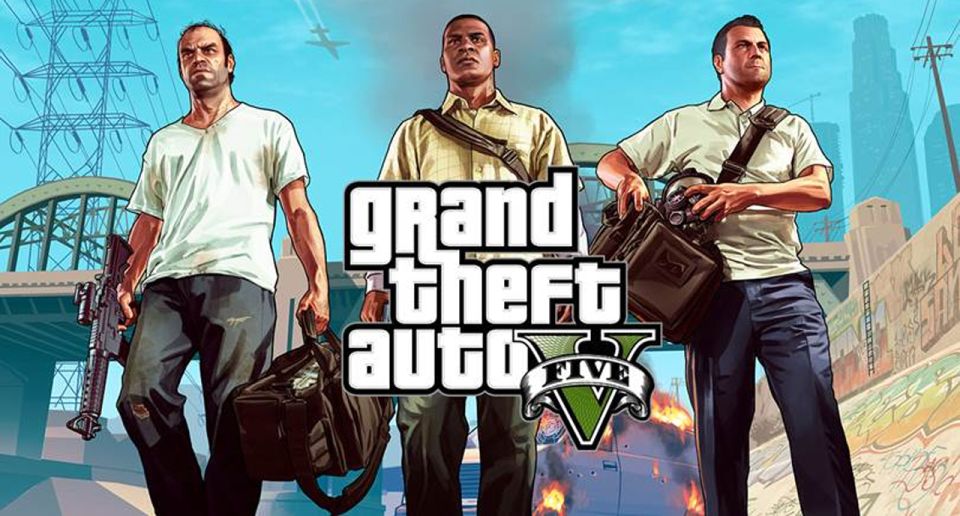 The latest instalment of the Grand Theft Auto videogame series, GTA V, is known for its 'adult content' and alleged effects on vulnerable minds – eg, mine. But it should be known more for brilliant gameplay and satire. Those are the qualities which we should be talking about. But since so many people are talking about the sex'n'violence, we had better get that out of the way first.
Flying in the face of the evidence, UK deputy prime minister Nick Clegg recently cited GTA V when he declared that videogames have a 'corrosive effect' on young people's minds. He went on to say that when children play videogames they are in a 'hermetically sealed world of their own'. As a 12-year-old who plays a lot of videogames, I can safely say that none of this is true! On the contrary, in order to really enjoy playing the game, you have to appreciate that it is a game. Yes, I enjoy killing fictional people on screen, but it's the way they die that really matters – just as in my dad's day boys would play 'war' which mainly consisted of finding new ways to kill 'Jerry'. In both cases, people know they are taking part in a fantasy and enjoy it for that very reason.
The idea of a 'hermetically sealed world' also implies that we never come away from our videogames. This is not true, either. Instead of being glued to computers and turning into zombies, me and my friends all do plenty of other things – eg, karate, drama, rugby, charity work. I myself play drums and piano, and a fair bit of tennis and football. I read lots of books. And I'm starting to write a few articles as well! So much for me being a couch potato.
Having dealt with all that, on to the game itself.
GTA V focuses on three main characters: Michael, a mid-40s retired (but still rich) bank robber who lives with his dysfunctional family in a mansion under a witness protection scheme; Trevor (Michael's ex-partner in crime), a mid-40s psychopathic redneck with a penchant for violence and strippers; and Franklin, a stereotypical 'gangsta' in his mid-20s who wants to move on to bigger things. Together they team up and attempt some heists in Los Santos, a fictionalised LA.
Story
Although the gameplay has always been the main attraction of the GTA series, the storyline is also intriguing. There are 69 main missions in the game, revolving around six main heists, although a few of the missions are for the (spoiler alert) FIB, who, you guessed it, are the GTA version of the FBI. Suffice to say there's a bit of a rivalry between them and the IAA, the GTA version of the CIA. The story develops each of the three characters nicely, and though you may have chosen to play as the character you're most attracted to, they all have their own fun gameplay perks that differentiate them.
Gameplay
Gameplay is the meat of GTA V and the reason it could be one of the best games of all time. The main missions are all fun – I mean all of them! – and some are downright spectacular. The missions are greatly improved by the addition, at last, of checkpoints to a GTA game. The main heists require a lot of planning and a couple of smaller missions to prepare for the big heist. In an unconventional feature for open-world games, it is all unlocked straight from the start, right from the moment you finish the first mission – from the extravagant Rockford Hills, a parody of Beverly Hills, to Mount Chilliad, a huge mountain that I just can't seem to climb no matter how expensive my off-road vehicle. There are just so many ways to muck around and have fun in GTA V – from golf to inventive, unstructured activities you can think of yourself, such as how to cause the biggest pile-up. (For the record, the best way to cause a pile-up is to park a truck in the middle of a motorway.)
In this instalment, they've also introduced the stock market, which is slightly unpredictable, but very worthwhile if you have the know-how. In a brilliant twist, one particular stock market is influenced by every single player's actions – so, for example, if a particular make of car is getting wrecked a lot, then the car maker's stock will go down. There is such a wide range of activities in GTA V, some legitimate (golf, tennis), some not (robbing liquor stores, supermarkets and gas stations), and a few that are somewhere in between (strip clubs). It's almost impossible to get through all of them, and I haven't even got on to the random events yet.
Random events are completely unscripted, usually quite short, and happen naturally on a unlimited loop. There is a wide range of random events, ranging from the common 'help, someone's stole my wallet!' to the rare tricksters who make you believe that a family member / friend needs medical help and then they proceed to shoot, kill and rob you. Added to this there are the things that you can spend your money on, which range from $1 cans of soda to $150million golf clubs to add to your real-estate empire. Or you could spend millions on planes, cars, boats and even bicycles. Or you could go to the movies. Or you could watch TV. Or you could go to the tattoo parlour and get a tattoo. Or go on to the GTA internet – a whole internet! There are roughly 35 fully-fledged websites in GTA V. The list of things to do goes on indefinitely.
Satire
A key aspect of the whole GTA series is social satire. The series doesn't take any political sides, and I think it's all the better for it. No one is out of bounds from its satire. Both left-wing people and right-wing people are relentlessly targeted with frequently hilarious results (just look at the website of the right-wing political candidate for Los Santos). It is absolutely merciless, and absolutely great! For example, Franklin's aunt turns their shared house into a weird feminist sexual empowerment thing, and Franklin watches in dismay as the crazy aunt and her friends go out jogging and shouting things like 'We are women, hear our pain' in a weird way, at which point Trevor turns up and promptly tells them to 'shut the f*** up'. It's hilarious.
Graphics
The graphics in this game are great for the scale of the world. Not absolutely spectacular, but great all the same. It would have been hard to redefine graphics on a current-generation console given the huge open world they had to create. But they did a damned good job.
Verdict
As someone who has finished the main story, I can honestly say that GTA V may well be one of the best games of all time. 'Nuff said.
Freddie Sehgal Cuthbert is a schoolboy.
Watch the trailer for Grand Theft Auto V
To enquire about republishing spiked's content, a right to reply or to request a correction, please contact the managing editor, Viv Regan.