'Students are acting like Victorian censors'
Free-speech advocate Greg Lukianoff lays into the prudes at UK student unions.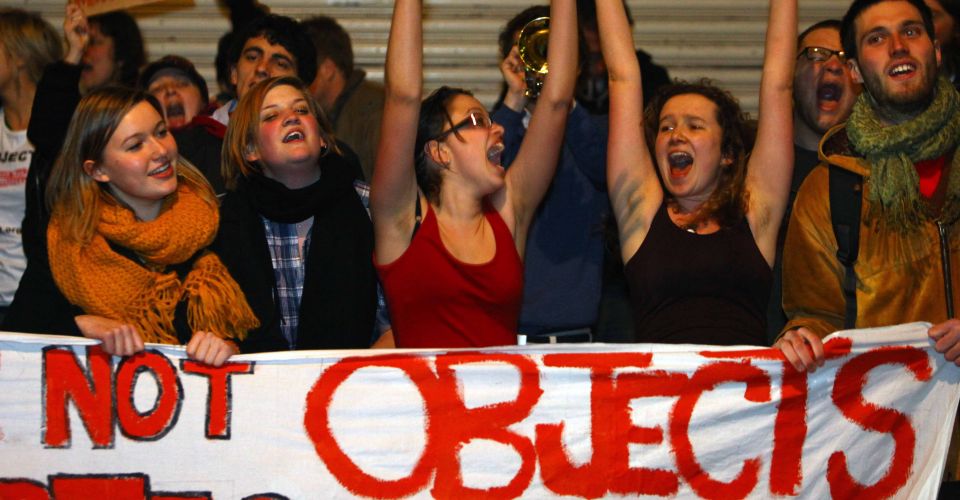 The student unions at the universities of Nottingham and Birmingham have become the latest to ban the pop song 'Blurred Lines' from their respective campuses. Elsewhere, Essex University's student union became the twentieth to ban the sale of the Sun and the Daily Star on campus.
The student activists certainly seem pretty pleased with themselves. '[It's not] going to ruin your night out if [Blurred Lines] isn't played', argues a Birmingham University student in the Huffington Post. 'Could it ruin someone's night if it is played? Yes', she continues. 'Go and perpetuate rape culture elsewhere, because if student unions have any sense, it is not going to be welcome there'. And of the decision to ban the sale of the Sun and the Daily Star, an Essex student-union representative argues: 'We're part of a society that is trying to empower the next generation of women. How can we show them that they are amazing individuals capable of anything when they are judged by their appearance rather than their skills and personality?'
Female empowerment. Tackling 'rape culture'. It all sounds terribly radical doesn't it? Yet speaking to Greg Lukianoff, the president of the Foundation for Individual Rights in Education (FIRE), a free-speech defending, liberty-advocating organisation based in the US, it becomes clear right away that he is less than impressed with Britain's censor-happy student unions.
'What is ironic about the various bans issued by UK student unions', says Lukianoff, 'is that I know that they think of themselves as very forward-thinking, very progressive, very much in keeping with a new age of sensitivity and compassion. But they are echoing, in rationale and substance, the thinking of the old Victorian censors both in the UK and the United States in the nineteenth century.'
Lukianoff expands on the analogy. 'I would say that the situation on college campuses today is analogous to the censorship which arose out of the Victorian era both in the US and in Britain, because campaigners in both eras share this idea that there are certain moral ends which are so much more important than someone's measly right to freedom of speech. This idea ends up producing a crusader mentality which leads to people wanting to blot out normal aspects of everyday life: sexuality, sexual expression, speech that might be offensive to women. And in that sense, what you're seeing in relation to the song "Blurred Lines", for example, is eerily reminiscent of the practices and rationale of nineteenth-century censorship.'
In the case of 'Blurred Lines', Lukianoff is also struck by the unthinking willingness of students effectively to clamp down on artistic expression. 'It can be easy to forget sometimes, but even pop songs like "Blurred Lines" are art', he tells me. 'Part of their purpose is to titillate and to provoke, to get into people's ears and to get under their skin. It's kind of the whole purpose of the song – it's supposed to be racy and provocative. And in following that somewhat hackneyed strategy, "Blurred Lines" became the most popular song of the summer. But amazingly, university students acted with the same sort of shock and disapproval which ought to have been better suited to 1870 than to 2013.'
This may be a 'low point' for free speech on campus, says Lukianoff, but it has its roots in the elevation over the past couple of decades of the so-called right not to be offended. Citing Jonathan Rauch's Kindly Inquisitors: The New Attacks on Free Thought, a work published in 1993 analysing the academic response to the fatwa issued against author Salman Rushdie, Lukianoff explains: 'One of the many things that Rauch predicted was that if you allow something to be a perfect trump card on what people are allowed to say – in this case, it's the claim of offence – you're going to notice that the bar for being offended gets lower and lower. People have played the "I'm offended" trump card over and over, and it has turned into what Rauch calls an "offendedness sweepstakes". That is, when people, and in this case students, realise that there's this one claim which gives them enormous power over speech, the bar for what is deemed offensive gets lower and lower.' The result of this ongoing offendedness sweepstakes is increasingly absurd. 'A college system that gave us Charles Darwin and David Hume is now trying to explain why a pop song is to be banned from our campuses.'
Sadly, that is not so surprising, argues Lukianoff. Universities today, both in the US and the UK, are reinforcing students' most cherished beliefs and prejudices, not encouraging and cultivating critical minds. He says: 'In my book, Unlearning Liberty, I talk about the crusading mentality prevalent at universities today. The question I pose is this: are we trying to produce scholars or are we trying to produce crusaders?'
'A more scholarly approach to reality is to have everything up for debate', he continues. 'A more scholarly approach is to be particularly attracted to having arguments about those norms you hold most dear, and to let that process unfold in a bold and inquisitive way. But when university culture is shot through with a powerful sense that the moral force is actually with the censor, it produces very strange distortions. So when people are told that they can win any argument they like by claiming that they're offended, that they can shut down any debate they like by claiming they're offended, that they can get the campus to stop playing a pop song they happen not to like claiming they're offended, that's a power that very quickly goes from being applied rarely to being applied routinely.'
It seems we are a long way from the sentiments of Yale University's C Vann Woodward, who wrote in his 1975 report into free speech at Yale, that students should be free to 'think the unthinkable, discuss the unmentionable, and challenge the unchallengeable'. Today, given the furore over a pop song and topless pics in a couple of newspapers, it might be worth adding that students should be free to 'to play the unplayable', and to 'peruse the unperusable'.
Tim Black is deputy editor of spiked.
The next spiked drinks event 'Academic freedom in illiberal times' will be held in central London on the evening of Monday 11 November. For further details, see here.
To enquire about republishing spiked's content, a right to reply or to request a correction, please contact the managing editor, Viv Regan.