Sex Box and the crisis of intimacy
If we want to have better sex, let's keep it behind closed doors.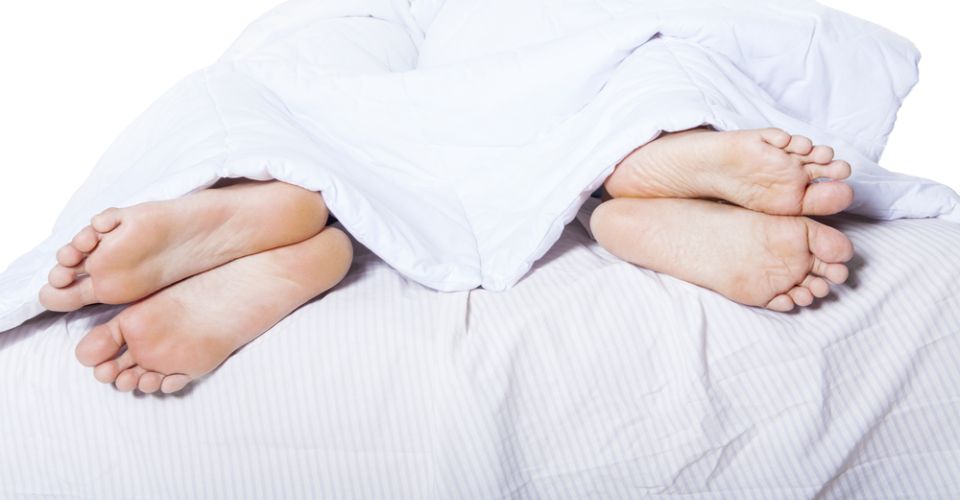 British broadcaster Channel 4, in the seeming death throes of its 'edgy' relevancy, has taken to resurrecting taboos just so it can break them. Its recently launched 'Campaign for Real Sex' aims to get us all to open up about our sex lives, but as much as the channel's producers – whom one assumes operate from a sealed bunker somewhere in the 1940s – try to convince us there's an elephant in the bedroom, it's impossible to ignore the fact that nowadays sex is everywhere, and we talk about it non-stop.
The programme that has been getting the most attention in C4's season is Sex Box, a surreal, rather hellish chat show aired in a series of episodes last week. The show was founded on the bizarre idea that, while we all enjoy a bit of the nasty, as a society we're just too prudish, too embarrassed – too British, perhaps – to discuss it. In the name of encouraging healthier, more fulfilling sex, agony aunt Mariella Frostrup invites couples to have sex in a giant grey shed, before stumbling out, all tousled and smiley, to talk about it with three eminent sexperts in front of a live studio audience.
At first, its strikes you as a noxiously smug affair in which a string of couples get a chance to brag about their wonderfully fulfilling sex lives. Meanwhile, the panel ask a few probing questions about who put what where, before they settle into congratulating the couple on being so well-adjusted and loved up.
Nevertheless, Sex Box still maintains it has more to add to the nation's stunted conversation about sexuality. Not only does it fearlessly smash yet more deep-seated taboos by inviting a gay couple on – shock horror! – but it also attempts to tease out the wider issues affecting our sex lives today. Apparently, the explosion of online pornography, hook-up websites and the rampant levels of smut in music videos, TV shows and films have warped ideas about sex, especially for the generation raised in this newly 'pornified' world.
The great irony is that, in truth, it is this compulsion to 'open up', to air all of our questionably stained laundry and offer our experiences up for public discussion, that has fostered today's crisis of intimacy. Indeed, the very concept of a sex box quite literally turns sex into an object, stripping it of anything other than its immediate, physical component. While the box may be, in Frostrup's words, a 'private, clean and sound-insulated space', the lack of graphic action on display missed the point. As the sexperts harped on about sex as a 'stress reliever' or a 'conduit to intimacy', Sex Box painted sexuality as something cold and mechanical. The rise of this new effusive culture has turned sex into something purely instrumental, a tool for maintaining our relationships, feeling good about ourselves, or just getting our jollies. This not only devalues its more traditional, monogamous associations; it also undermines it even for those who choose to transgress. Experimentation from this perspective becomes just meaningless, another expression of our need for merely physical satisfaction.
This transformation has taken place due to an increasing denigration of the idea of a sequestered private sphere. Today, the concept of privacy has become problematic – privacy has been recast as facilitating unseen unhappiness and abuse. This degraded view is particularly pushed on teenagers, through a constant slew of nasty sexual health initiatives, which insist sex is something potentially dangerous. From awareness-raising ads that suggest all teenage boys are but one testosterone rush away from raping their girlfriends, to universities offering guidelines on what constitutes sexual consent, relationships are painted as something to be wary of, rather than explored, or even enjoyed.
Airing as part of the campaign this week, Diary of a Teenage Virgin followed a gaggle of horny yoofs over one summer, as they all contemplated losing their virginity. While we were told in the opening narration that 'online sites influence [their] every move', it quickly became clear that any anxieties these youngsters might have mirror this new hysteria that's been created around teenage romance. Each subject parroted the usual concerns about their generation's skewed expectations – all double-d's, ten-inchers and lasting all night – and yet as the show wore on it became clear they all knew full well that porn is pure fantasy. As 17-year-old Connor, who admitted to consuming as much as seven hours of the stuff a week, put it, using porn as a guide for your first fumbles in the sack would be like making your life plans based on a Hollywood movie.
The unfettered access the younger generation has to pornography, as well as the saturation of sex into almost all corners of popular culture, is certainly worth discussing. No area of human life should be taboo. But the real problem is we're talking about sex too much, not too little – and in the process we have transformed sexuality into something potentially hazardous that needs to be managed and guarded against. If we want teenagers to negotiate their sex lives appropriately we need to instil in them a sense of autonomy rather than scaring them. And if we all want to have better sex, we should stop having it out in the public square and take it back behind closed doors, where it belongs.
Tom Slater is assistant editor at spiked.
To enquire about republishing spiked's content, a right to reply or to request a correction, please contact the managing editor, Viv Regan.