The 'Our Maddie' effect
Officialdom's search for 'Our Maddie' has revived gypsy child-stealing myths.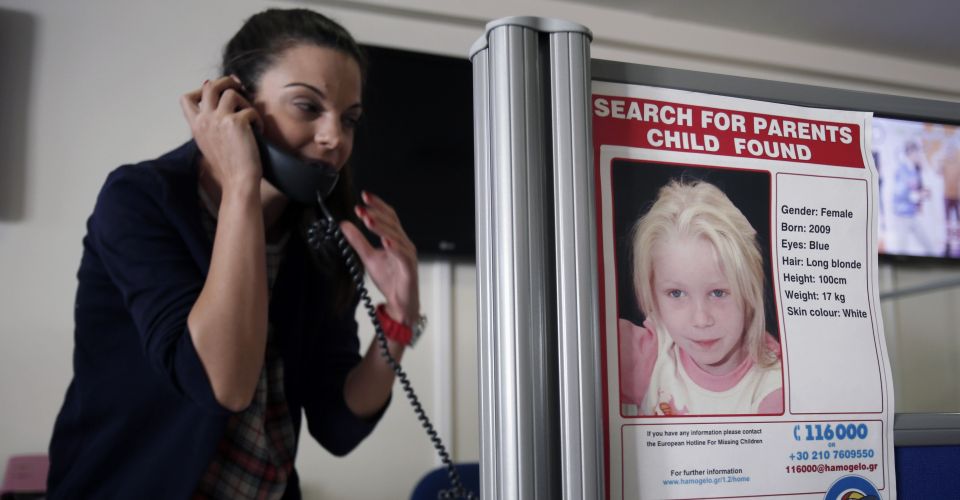 It seemed to start with Maria. She is the very blonde, four-year-old girl taken by a Greek police officer from her very dusky, very Romany-in-appearance parents on the grounds that, well, looking like that she simply couldn't be theirs. This was over 10 days ago.
Last week in Ireland, recent history repeated itself. First, Irish police took a very blonde seven-year-old girl from her Roma family because, like Maria in Greece, she didn't really look like her swarthier relatives. And then, no sooner had this happened, then the police intervened again. This time they took a two-year-old boy from his Roma family because, you guessed it, he was very blonde, and the rest of his family were considerably darker.
The fact that it is entirely possible for two parents with jet-black hair to produce blonde offspring, providing someone along the congenital line had blonde hair, seemed to have been ignorantly dismissed by the authorities. Instead, outlandish theories, replete in dodgy speculation about Gypsies, proliferated. Child trafficking was mentioned. So was abduction, After all, why else would these blonde children be in the care of people to whom they bore so little resemblance? To add a plume of insinuating smoke to the pyres of rumour and innuendo, it emerged that Maria's nominal parents had no shortage of fraudulent documentation plus a few other criminal charges hanging over them. For some, that sealed the deal: the tip of a child-stealing iceberg had been glimpsed.
Sadly for the conspiratorially minded, the facts soon caught up with the child-trafficking fantasies: DNA tests carried out on the two Irish children – yes, it went that far – revealed that they were in fact living with their biological parents. The police were promptly forced to return the children to their understandably distraught families.
In Greece, matters are little less clear cut. Maria is not biologically related to Christos Salis and Eleftheria Dimopoulou, but neither is it clear that she's the victim of what Greek police are characterising as a case of child abduction. As it turns out, her biological parents – Sasha and Atanas Ruseva, a Bulgarian couple – claim that they were forced to leave Greece four years ago, and not being able to look after the new-born Maria in addition to their other children, agreed that Salis and Dimopoulou could take care of Maria in their stead. As one commentator pointed out, 'this is not entirely implausible – informal adoption and foster care is not unusual within the Romany population'.
Still, at first glance, the authorities' game of spot-the-abducted-child has been as bewildering as it has been damaging to the families involved. In the words of traveller and Roma campaign group, Pavee Point, 'it's 'very hard to know what's going on in this hysteria'.
Or is it? For assorted commentators and activists, this 'hysteria' is all too explicable. It's an eruption of that magma of millennia-old prejudice about Gypsies, Roma and travellers; it's a chance to recycle the old 'blood libel' about child stealing, and dress it up in the garb of human trafficking. One commentator even suggests that Europe hasn't moved on since the Second World War, when the Nazis rounded up Roma and sent them to concentration camps. In this view, this sudden spate of maltreating Roma families is merely the latest incarnation of deep-seated anti-Roma prejudice.
No doubt, the marginalised, insular nature of Roma and traveller communities allows them to be transformed easily into an object of suspicion, a repository of certain social fears and anxieties. Yet this semi unease with the Roma in our societal midst, indeed, this virulent mass loathing of gypsies that some commentators believe exists, doesn't quite make sense as an explanation of the recent child-abduction stories. If anti-Gypsy prejudice were as deep-seated and widespread as some insist it is, then we would surely be seeing far more headlines of the type we've witnessed over the past two weeks.
But we haven't. What changed, what lent the discovery of Maria and the two Irish children its resonance, was not some spurious mob hatred of Roma; rather, it was the state-backed reinvigoration of the search for Madeleine McCann, the three-year-old girl who disappeared from the Portuguese town of Praia da Luz in 2007. That was the catalyst, the spur to action; that was what piqued the national and international media's interest in blonde children who don't look like their parents. And that was what made it seem okay to assert that these blonde children who don't look like their parents might be stolen or abducted. Indeed, in the case of blonde girls, they might even be Madeleine McCann herself. As the McCanns' spokesperson, Clarence Mitchell put it, 'these two cases [in Ireland and Greece] have given Kate and Gerry renewed hope for their daughter'. He added: 'Whenever any child is recovered in circumstances like this it gives Kate and Gerry hope that Madeleine, too, will also be found. It shows that members of the public and the authorities are being vigilant – and with any missing child case public awareness is paramount.'
What we have seen over the past few weeks, then, is not, as has been too often asserted, an explosion of age-old anti-Gypsy prejudice; it is the product of the search for 'Our Maddie', complete with an ongoing, PR-heavy police investigation in the UK, a recent high-profile reconstruction of her disappearance on the BBC's Crimewatch, and now a newly re-opened police inquiry in Portugal. To attribute the sad cases of Maria and the two Irish children to mass suspicion of Roma misses the point. After all, it wasn't a so-called lynch mob which descended on Roma families in Ireland or Greece, to take away their children. In all three cases, it was the police, the authorities. And it has not been the public in Britain or elsewhere, ramping up the hysteria, and acting as if Madeleine McCann is just waiting to be found behind a closed caravan door. No, that has been a mixture of the police, aided and abetted by the British media, which has never failed to include a reference to Madeleine McCann or Ben Needham (a 21-month-old boy who disappeared in Greece in 1991), in its reporting first of Maria and then of the two Irish children. As one Telegraph commentator wrote of the case of Maria: 'for [the McCanns], the mere possibility that another couple's child could disappear and be found again was a source of inspiration'.
That the McCanns are desperate to believe that their daughter is still alive is all too understandable. That the authorities and the British media are all too keen to keep the search for Our Maddie on the road, despite the absence of any new evidence for over six years, is less so. They are driven not by the internal dynamic of an investigation, but by the external demands of what Mick Hume described as the new emotionalism, that is, the attempt to generate and play upon some shared emotion. And what better way to do this than through the idea of a lost child, an idea replete in the near-sacred contemporary symbolism of innocence and vulnerability.
Yet, as the cases of three blonde children taken from their families by the police shows, officialdom's search for Our Maddie is not without consequence. Rather, it can make it seem perfectly legitimate to blithely suspect innocent people of child abduction.
Tim Black is deputy editor of spiked.
The original article mistakenly identified the two Irish families as Irish traveller rather than Roma. This has now been amended.
To enquire about republishing spiked's content, a right to reply or to request a correction, please contact the managing editor, Viv Regan.