Saving the girl child or destroying women's rights?
An Indian pro-choice activist on the damage done by the 'gendercide' panic.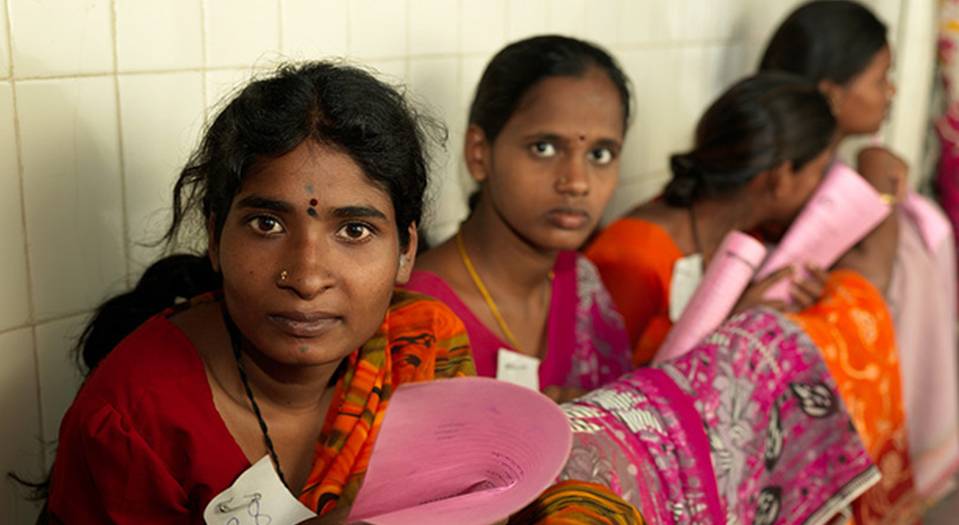 Many Western NGOs, feminists and campaigning journalists have devoted themselves to ending 'gendercide', the practice of aborting a fetus because it is female. They describe such abortions, whether they take place in Western countries or, more commonly, in parts of Asia, as a 'war on girls' which must be stamped out. This seemingly enlightened drive to end 'gendercide' sounds high-minded, feministic even, like a pro-girl, pro-women initiative designed to stop the female sex from being treated as so second-class that often its members are not even allowed to be born. But what are the true consequences of this rebranding of sex-selective abortion as 'gendercide' and of the efforts to prevent it from happening? They are dire – primarily for the very women in the Third World that the anti-gendercide warriors claim to be helping.
'The restriction on so-called sex-selective abortion is damaging women's right to choice more broadly', says Suchitra Dalvie, one of India's most outspoken pro-choice campaigners. Coordinator of the Asia Safe Abortion Partnership, Dalvie has watched as over the past decade and more both Western NGOs, campaigning under heartstring-tugging banners such as 'Save the Girl Child', and India-based women's groups have rallied against sex-selective abortion on the basis that it is misogynistic and is depleting womankind's numbers. Yet far from improving the lot of the female sex in India, or anywhere else, such campaigns are 'actually damaging the rights of women who already exist, and who want to terminate their pregnancies', Dalvie tells me.
Suchitra Dalvie
Currently, the UK Independent is forcing the highly emotive issue of 'gendercide' back up the political agenda in Britain, through publishing research claiming to show that some immigrants to Britain are giving birth to suspiciously more boys than girls. It says sex-selective abortion has reduced the British female population by between 1,500 and 4,700. Despite the fact that experts in the field of abortion, most notably the British Pregnancy Advisory Service, Britian's largest abortion provider, have criticised the Independent's 'statistical chicanery' and say there is 'absolutely no evidence' that sex-selective abortion is taking place in Britain, still there are demands to ban the use of ultrasounds to reveal the sex of the fetus to expectant mothers and to make it a specific crime to abort a fetus on the basis of its sex. Such moves would be disastrous, says Dalvie, and she should know – they've already been introduced in India and have had a terribly negative impact on women's rights and lives.
Unlike Britain, where the evidence for the use of sex-selective abortion is very thin, in India it is unquestionable that many women abort fetuses after discovering that they are female. Yet even in India, says Dalvie, the stats that get bandied around by NGOs and officials, which range wildly from '50million missing girls' to '200million missing girls', are far from reliable.
'Most of the data we have is speculative', she says. Yes, many Indian states have a very skewed sex ratio, the worst being the territory of Daman and Diu, which in 2011 showed a sex ratio of 618 females per 1,000 males. But Dalvie points out that in India 'the sex ratio is counted at the age of six' rather than at birth, which means 'a lot of under-five mortality, which is caused by a wide variety of reasons, could contribute to the altered sex ratio'. 'We really need to know the sex ratio at birth, but that is very tricky because in a place like India, we still don't have universal records of birth, death or marriage', she says. What's more, she says, 'very often girls' births are not recorded in the village registry office or wherever, because girls' lives are not given priority. So women may give birth to them, but not record them.' So a large chunk of India's so-called 'missing girls' could be missing because their births were not registered or because they died before the age of six, possibly as a result of the fact that in some poor, patriarchal Indian communities girls are not afforded as much medical attention as boys. It is far from clear, says Dalvie, that the so-called 'missing millions' were all aborted.
According to the most recent estimates, says Dalvie, it is thought that somewhere between five and 15 per cent of second-trimester abortions in India are carried out for reasons of sex selection. 'While this sounds like a large number', she says, 'the other way to look at it is that somewhere between 80 and 95 per cent of abortions in the second trimester are happening for other reasons.'
The use of often unsubstantiated numbers about millions of girl children being, in the hyperbolic words of one Western observer, 'slaughtered' in India, subjected to a 'routine gendercide', has helped to ravage Indian women's rights, says Dalvie. One thing that particularly concerns her is the way that this supposedly feminist campaign to 'save the girl child' helps to rebrand abortion as murder through the use of the tag 'cide' – 'gendercide' or 'female feticide'. 'If you use the term "female feticide" – which unfortunately was made very popular by the women's movement in India – what are you actually saying?', she asks. 'You are calling abortion feticide, you are calling it murder.'
Dalvie is disturbed that so many feminists have unwittingly joined with the religious anti-choice lobby in effectively rebranding certain forms of abortion that they don't like as murder. Indeed, it is striking that one of the few areas in which feminists and religious lobbyists are in effusive agreement these days is on the issue of so-called gendercide, which they both view as a kind of murderous assault on girls which must be halted. The adoption of murder-like terminology to describe sex-selective abortion, and the enormous publicity given to the alleged problem of sex-selective abortion across India, has led to a situation where 'we are sending out a message that somehow abortion is illegal or is a bad thing to do', says Dalvie. In 'small towns and rural areas' in particular, she says, NGOs' and local officials' obsession with wiping out 'female feticide' means that women, often uneducated, 'don't have the right information about their abortion rights' and sometimes believe 'abortion is a criminal act, an attack on the fetus'.
Under pressure to stem 'gendercide' and to fix its demographic problems, officialdom in India has launched all-out war on sex-selective abortion, which has inevitably impacted on abortion provision more broadly. For example, in 1994 it passed the Pre-conception and Prenatal Diagnostic Techniques (Prohibition of Sex Selection) Act, which prohibits revealing to expectant mothers the sex of their fetus. This generated an authoritarian clampdown on those suspected of telling pregnant women whether they were having boys or girls. Dalvie says: 'Many radiologists found their clinics being raided. Many gynaecologists have had sting operations, where journalists or NGOs send a woman posing as a patient who wants to find out the sex of her fetus. Doctors feel very harassed. Some of them have had to spend time in lock-up, under suspicion of revealing the sex of a fetus.' The consequence of this top-down assault on fetal sex information? Some clinics are 'turning away women who come for abortion altogether, especially in the second trimester', says Dalvie, because they now think that 'the value of whatever money they receive for carrying out these services is not worth the trouble it brings them'. In short, a heavy-handed clampdown on those suspected of offering or carrying out sex-selective abortions has resulted in the abandonment of second-trimester abortions in their entirety by some clinics.
'But women are not going to stop having these abortions. They're just going to find ways of doing it which are below the radar. That has been a really serious problem', says Dalvie. It is thought that eight per cent of maternal deaths in India, around 4,600 every year, are due to unsafe abortion. And more women are likely to try to access unsafe abortion if their request for a sex-selective abortion is turned down by doctors or their local clinics are shutting down as an unwitting consequence of pressure from 'pro-women' officials cheered on by NGOs.
The war on 'gendercide' has had particularly terrible consequences in some rural parts of northern India. Dalvie has spoken with researchers who have discovered that in the north, 'girls are being born, and they are being denied food'. 'They are slowly being starved to death over a period of a year or two; they are being denied medication; they are not being taken to the doctor when they fall ill', says Dalvie. This is the horrible result of forcing a woman to give birth to a girl child that she desperately does not want – the girl child is neglected, certainly in comparison with a boy child, and eventually dies. 'So it's very easy for NGOs to say "Save the girl child", but we do not address the quality-of-life issues these girls face when they are born and are so deeply unwanted', says Dalvie. 'Often they are deeply unwanted by their own mothers, because their mothers, existing in a patriarchal society, suffer a great deal if they give birth to a girl child.'
How could an Indian family or an Indian community allow a girl child to die? More broadly, why are many Indian women keen to abort fetuses that are female? This is where we get to the nub of the discussion – it's because of problems in Indian society itself, says Dalvie, which will not be fixed through restricting women's reproductive choices. On the contrary, the problems of gender inequality in India will only be made worse by the clampdown on sex-selective abortion, she says.
'Historically, India has had a very strong patriarchal culture', says Dalvie. 'It's an agricultural society, so there are often very small pieces of land belonging to farmers and they need to keep the land within the family. So everybody wants at least one son to whom the land can be passed. The way things are structured is that girls marry and go away; they don't get the land. Only sons do. So if you are a fairly poor farmer couple that is dependent on government subsidies for your water and electricity for irrigation, and you have only two daughters, both of whom you are expected to pay dowry for and both of whom will go away… well, that means there is absolutely no social security for you; there is absolutely no one who is going to look after you when you get older. Let's try to get inside their heads and imagine what happens if their first child is a girl and then their second child is a girl. What are they going to do? They are going to abandon the second girl, get rid of her, bury her, and they will continue trying to have a son.'
In short, to the extent that sex-selective abortion in India is a problem, it merely speaks to a far larger social problem – the way in which large sections of Indian society are organised and the second-class status accorded to many Indian women. Anti-gendercide campaigns are, says Dalvie, trying to 'solve social and demographic problems at the level of a woman's womb'. Instead of rethinking how Indian society itself is organised, and how it might be transformed, they seek to control what women may do with their bodies. This leads to a strikingly tragic own goal – in the name of achieving the supposedly feministic goal of 'saving the girl child', NGOs and officials actually achieve the decidedly non-feministic endpoint of restricting women's rights and making women's lives even harder than they already are. Far from creating a more pro-female society, they nurture a world in which women are prevented even from controlling their own family make-up and fundamentally their own futures.
As Dalvie says, when a woman decides to terminate her pregnancy, whether for sex-selection reasons or some other reason, 'she is not making a demographic decision – she is making a personal decision'. Indeed. And this is why the term 'gendercide' is so horrific – it gives the impression that Indian women are part of some large, conscious, Nazi-like effort to exterminate a huge number of girls, when in fact these are individual women making private decisions about what is best for them and their lives as they currently experience them. Anti-gendercide campaigners pose as pro-women, but they effectively reduce women to tools of demography, who must be pressured or forced to give birth to girl children in order to rebalance India's population or to send a message about how much society cares for girls. The right of women to do what they feel is best for them in the circumstances they find themselves is sacrificed at the altar of making empty 'pro-girl' gestures.
The real issue here, says Dalvie, is choice. If we are serious about choice, then we need to support the right of women to make the choices they feel are best for them, regardless of whether those choices upset or offend government officials, NGOs or campaigners. 'If you are pro-choice, then you cannot start limiting someone else's choice because it makes you feel uncomfortable', she says. If a campaigner in India, where sex-selective abortion is a real issue, can take such a clear stand for choice, surely we in Britain can do likewise.
Brendan O'Neill is the editor of spiked
To enquire about republishing spiked's content, a right to reply or to request a correction, please contact the managing editor, Viv Regan.