You can't legislate against anti-social behaviour
The law disempowers the only people who can tackle anti-social behaviour: us.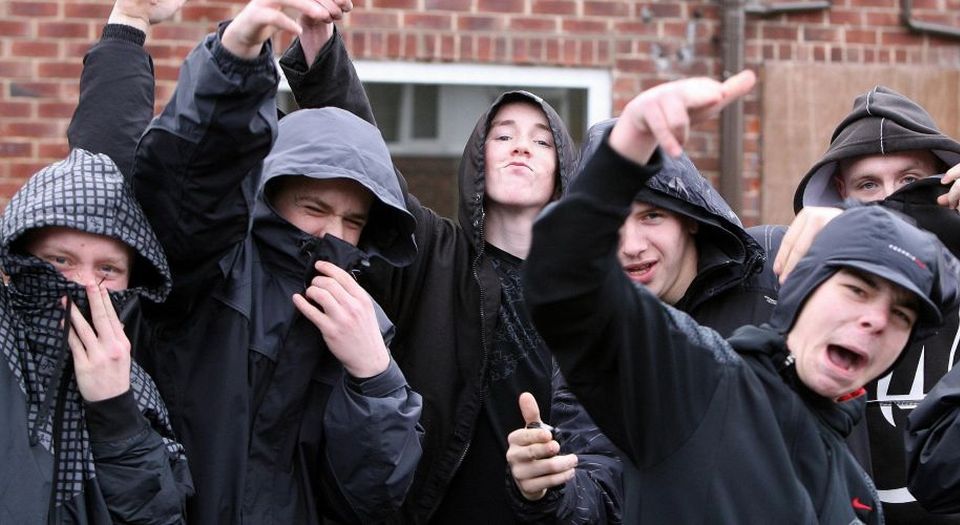 A campaign to amend Clause 1 of the British government's Anti-Social Behaviour Crime and Policing Bill has been successful. Thanks to pressure from the House of Lords, anti-social behaviour will continue to be defined in terms of behaviour that causes harassment, alarm and distress rather than, as the government wanted, behaviour capable of causing a nuisance or annoyance. But the main problem was never with how this bill defined anti-social behaviour; rather, it's that the bill is built on the false premise that communities can't deal with anti-social behaviour themselves.
When anti-social behaviour became a political issue in the 1990s, there was little challenge to the idea that the solution lay in legislation and official action. Tackling anti-social behaviour with legislation was central to the New Labour message and in 1998 it legislated to create the ASBO (anti-social behaviour order). ASBOs meant that behaviour that had previously been seen as none of the law's business had become very much the law's business. In 2005, more than 4,000 ASBOs were issued. Behaviours which had been previously dealt with by ordinary people were now dealt with by officers wearing uniforms and acting as professionals. This had two consequences.
First, by empowering the state to tackle anti-social behaviour, parliament ensured that authority leached away from ordinary people and into the hands of officials. It became state policy that responsibility for tackling anti-social behaviour lay with police community support officers, police officers, housing officers, youth probation officers, lawyers and judges. The system encouraged individuals to leave it to the professional and the officer in a uniform. The citizen who saw a youth with a spray can was expected to report it to an official rather than deal with the incident directly, there and then.
Six years after ASBOs had been on the statute book, the Joseph Rowntree Foundation noted the 'sense of powerlessness' within communities suffering from anti-social behaviour. It gave the example of a community activist who said that 'in his "own country" – Somalia – he would not accept the levels of bad behaviour he encounters in Britain; but here he has to accept that he can't do anything'. Another activist 'recalled the time when locals would challenge youngsters who misbehaved; but today… a lot of people shut the door and think the problem will go away. But it doesn't.'
Secondly, the boundary between crime and anti-social behaviour was eroded. Gone were the days when official agencies could disregard behaviours that fell short of crimes. The police and courts, in particular, were now expected to deal with the lout who dropped litter as well as the hardened criminal who robbed banks. With so many potential incidents to take action over, the deployment of resources became politicised and distorted in favour of those who could best persuade officials to take up their complaints. Inevitably, public resources were sometimes spent on those who made the biggest fuss, and resources spent on one unworthy cause were resources not spent on another.
The tragic case of Fiona Pilkington, who took her own life and that of her disabled daughter in 2007, is often cited by campaigners as a justification for anti-social behaviour laws. In fact, it's an example of the police being unable to discriminate between anti-social behaviour, that they shouldn't have to deal with, and serious criminal behaviour that they should. The police labelled Pilkington's harassment as anti-social behaviour and failed to see that she and her family were being subjected to a number of serious criminal offences. Assigning an anti-social behaviour officer to the case in 2004 was an ineffective way of dealing with the assaults, criminal damage, arson and false imprisonment (at knifepoint) that the family experienced over many years. Pilkington, as is often the case with those most in need, was not able to persuade any officials to act effectively on her complaints.
Advocates of anti-social behaviour legislation will always be able to point to some successful outcomes (even if they are few and far between). But social policy needs to be judged not just by its occasional successes but by the sometimes imperceptible effect it has on society as a whole. It's not possible to measure how individuals have been disempowered. But it is possible to recognise a changed cultural norm as we candidly note our reluctance to challenge the youth with a spray can, the drunk vandalising a park bench, or the teenagers playing loud music on a public bus. Government policy since the 1990s has encouraged us to look the other way.
Anti-social behaviour needs an immediate response: the sort of response that only those who witness it and live next to it can give. Handing the problem to an official to collect evidence, take witness statements and bring a case to court can be tantamount to letting the perpetrator get away with it. Courts can punish criminal acts but they cannot effectively deal with behaviour that is sub-criminal. Hence the ASBO doesn't seek to punish; instead it requires the perpetrator to behave differently on pain of being in contempt of court. Unlike a meaningful punishment, an ASBO is often seen as a badge of honour by its recipient and typically about 30 per cent of ASBOs are breached.
Sensing that something is wrong with the legislative drive to outlaw anti-social behaviour, many critics have focused on the challenges it poses to civil liberties and rights. Up to a point these criticisms have their place and they were effective in causing the government's recent u-turn on the recent Anti-Social Behaviour Bill.
But so long as MPs don't overreach themselves – such as with legislation that could outlaw carol singers, kids playing football and church bell-ringers – politicians can usually see off the civil-rights lobby. As Tony Blair put it in 2005: those who criticise the new criminal justice measures, such as ASBOs, fail to understand that the most 'fundamental liberty of all [is] freedom from harm by others'. Or, as the government minister, Lord Faulks, put it in the House of Lords, when defending Clause 1: 'Let us not forget those who are in less fortunate circumstances, who do not have room for manoeuvre and whose lives are made totally miserable by this anti-social behaviour.'
The civil-rights criticism is not an argument against anti-social-behaviour laws: it is an argument in favour of their modest reform. While it is good that the government is no longer seeking to outlaw behaviour that is merely annoying, the fact remains that the arms race in anti-social behaviour legislation will continue unabated with the passage of the Anti-Social Behaviour Crime and Policing Bill. The only way to stop this arms race and decommission the anti-social behaviour toolkit is by making it clear that the only people who can tackle anti-social behaviour are us.
Unrealistic? No doubt individuals who have been rendered powerless by years of state-backed encouragement to leave anti-social behaviour to officialdom will not adjust overnight. But only those with a dim view of human nature would deny the scope for individuals and communities to deal with anti-social behaviour themselves.
The incident of anti-social behaviour that seems to have caused Fiona Pilkington finally to despair of any effective official action being taken was when two girls jumped on her hedge and taunted her over the way she walked. This sort of sickening behaviour could have been dealt with directly within the community without the need for witness statements, court hearings, lawyers and judges. 'Could have', that is, if the impotence of officialdom hadn't disempowered the community over many years.
Earlier this month the chief inspector of constabulary, Tom Winsor, noted how some law-abiding communities, 'born under other skies', choose not to involve the police in even the most serious of crimes because they 'prefer to police themselves'. If it can be done for serious crimes it can surely be done for anti-social behaviour that is beneath the criminal threshold.
In 2010, the home secretary, Theresa May, hinted at the need to change direction as she signalled the possible end of ASBOs. Launching her review she said it is 'time to move beyond the ASBO… We need to make anti-social behaviour what it once was – abnormal and something to stand up to… rather than frequent and tolerated.'
Despite the government's u-turn on Clause 1, it is not proposing to change direction. This bill will result in more official interventions and more court hearings. But this will not address the problem of anti-social behaviour. By reinforcing the message that anti-social behaviour is a problem for officialdom, rather than us, the one force that could tackle anti-social behaviour will remain disempowered.
Jon Holbrook is a barrister in London. Follow him on Twitter: @JonHolb.
Picture: Martin Rickett/PA Archive/Press Association Images
To enquire about republishing spiked's content, a right to reply or to request a correction, please contact the managing editor, Viv Regan.