Museums: never mind the children, what about the parents?
Until adults learn to conduct themselves properly in museums, children should be excluded.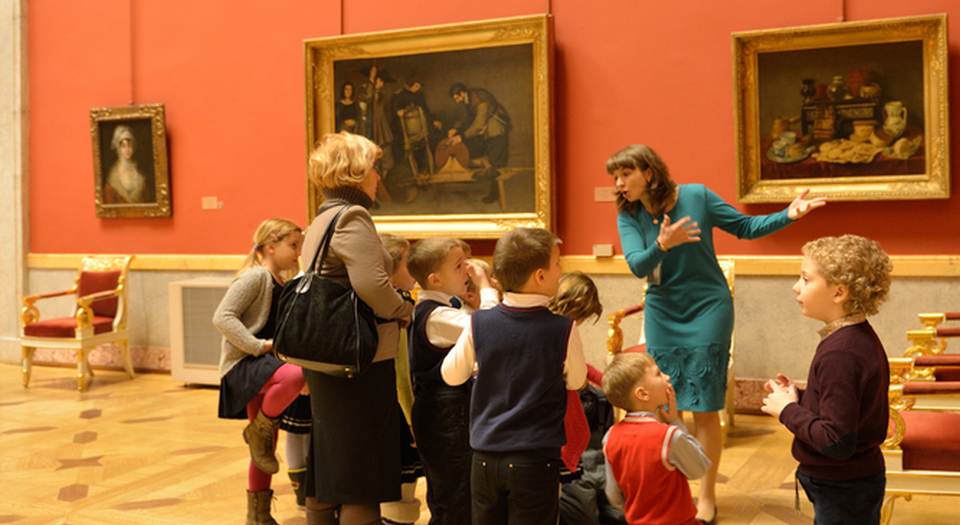 The publication of a photograph of a boy climbing a valuable steel sculpture, while his parents look on unconcerned, has prompted debate about children in public museums. This debate has been going on for years within the art community. On one side, there are traditionalists (conservators, artists and avid gallery-goers) who object to the noise and disruption caused by children and worry about damage to fragile objects. Opposing them are progressives: education officers, teachers and parents, who argue that art enhances the lives of children and that traditionalists should stop being restrictive and join the modern world. In a newspaper discussion, writer and broadcaster Dea Birkett calls opponents of this progressive outlook 'slow head nodders and chin scratchers'.
Firstly, let's set aside this specific case. The damage here seems to have been minimal, though any physical interaction with art can be potentially catastrophic (to artwork and person). This is only one example of a widespread problem. Progressive education ideas, such as the emphasis on first-hand interaction, combined with the more child-friendly approach adopted by many museums, have encouraged parents to bring young children to galleries.
The push by museums to increase attendance is not purely a matter of progressive beliefs. It is a matter of finance. Museums in the UK rely on Arts Council funding and raising attendance is an implicit condition for securing public subsidies. (In the USA, the Frick Collection – an independent foundation – bans entry to children under 10.) The arts are, according to the Arts Council, 'every child's birthright. It is vital children engage with the arts early in their lives.' Parties of schoolchildren are an easy way of bumping up attendance figures, regardless of the detraction to the viewing experience that these groups cause.
As museums become more welcoming, it can be hard for people to recognise and understand that rules are still needed to protect art. For example, touching sculpture and paintings causes damage, and some art should not be photographed due to copyright and conservation reasons. Rules on photography are enforced irregularly. The free-for-all that results when busy museums do not enforce them is dismaying. Tourists pose next to Van Goghs to have their snapshots taken. People wander around galleries photographing each painting for personal reference, disturbing other visitors. This is despite images being accessible on museum websites or in books.
Many people do not realise that their behaviour is distracting and selfish. In galleries, I have seen adults touching sculpture and paintings, talking loudly on phones, sitting on fragile exhibits, leaving footprints on plinths, leaning against period wallpaper, and drinking liquids. Children notice such behaviour.
We should not rely on visitors to prevent children damaging art when any intervention is likely to cause a conflict with aggressive-defensive parents. Visitors are often the first line of defence because attendants who could perform that task are often stretched to the limit. A reduction in museum custodians has led to temporary closure of rooms at the British Museum and has indirectly resulted in increased theft and vandalism.
Dea Birkett suggests the only reason children misbehave is if they're 'bored out of their brains. A child entranced by an artwork will not be simultaneously somersaulting along the polished gallery floor. They'll be transfixed.' Birkett suggests that when the artwork fails to capture their imagination, children should be free to 'draw a picture on the floor, capturing what's on the walls'. However, If the child is bored then that indicates he or she is in the wrong place. Art galleries are not child-education-and-entertainment centres. Crusty Impressionist paintings in gilt frames hung above head height are of little interest to youngsters. Why not allow children to sit and draw in a dedicated education room with reproductions of art? Children will have a better time, adults will be relaxed and art will be protected. Yes, looking at art can be life-changing – and that transformation can take place safely and conveniently through reproductions until a child is old enough to act responsibly.
The truth is that often parents want a day out without the expense of a babysitter and drag children around environments both boring and unsuitable for youngsters. We should reserve our ire not for disruptive children but for parents who put their children in inappropriate settings.
Viewing art can take as much attention and concentration as any other aesthetic experience and if that is disrupted (by a child or thoughtless adult) then the encounter can be impaired or ruined. The suggestion that traditionalists 'chill out' is facetious. The few and simple conventions of art viewing (quietness, politeness, not obscuring others' sightlines, not touching exhibits) have developed naturally because they provide maximum enjoyment to the largest number of visitors. Attempting to accommodate disruptive behaviour that undermines these conventions is unreasonable.
The best solution is compromise. All children under 10 should be banned from national public museums that are primarily art galleries (that is, museums of history, science and so forth would not be restricted) nationwide except on 'Child Fridays', when accompanied children aged over six could visit. Extra supervision could be provided on those days. All children under the age of six should be completely banned from art museums. Infants benefit almost not at all from encountering fine art in the original and are perfectly content with books and posters. Their boredom and discomfort are a distraction for others.
Ideally, there would be no restrictions on children over six entering galleries, but as parents cannot be relied upon to restrain children (some parents hardly restrain themselves) and many refuse to accept museum rules themselves, it is advisable to introduce overall precautionary restrictions. We should not wait until a child topples a sculpture and sustains serious injuries. While reforming social norms has been positive overall, we have discarded conventions that fostered predictable and mutually beneficial social interaction. The imposition of institutional control in place of social restraint must be the unavoidable and unfortunate consequence of the decline of shared standards of public courtesy.
Alexander Adams is a writer and art critic based in Berlin. He writes for Apollo, the Art Newspaper and the Jackdaw. His book The Crows of Berlin is published by Pig Ear Press. (Order this book from Pig Ear Press bookshop.)
Picture: Popova Valeriya / Shutterstock.com
To enquire about republishing spiked's content, a right to reply or to request a correction, please contact the managing editor, Viv Regan.