What Bob Crow meant to me
A former Tube trade unionist recalls Crow's strengths and weaknesses.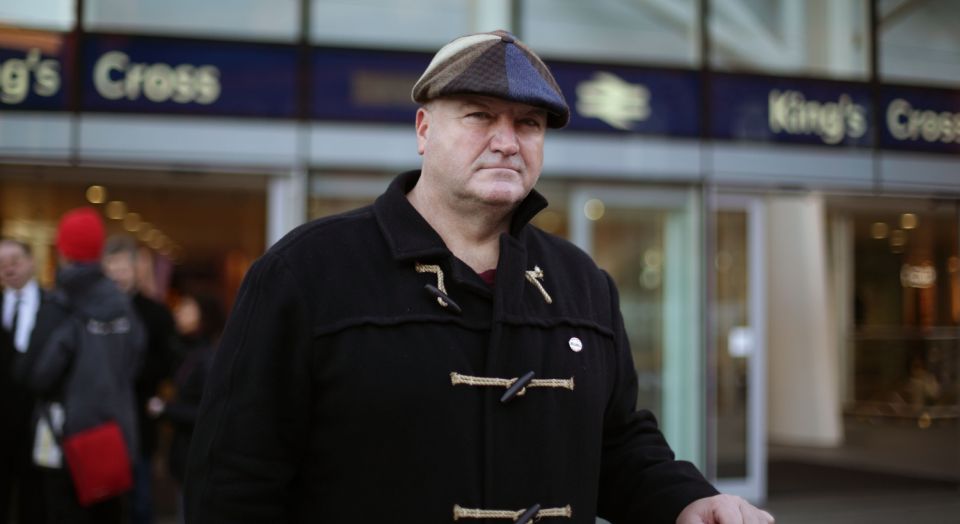 News of the death of Bob Crow, the leader of the Rail, Maritime and Transport Workers union (RMT), caused quite a few memories of mine to come flooding back.
I remember first hearing Crow speak at Cockfosters train depot in the mid-1980s, when I was working as an electrical fitter for London Underground. He stood out even then as a loud, charismatic character who had the ability to impress. I didn't know it at the time, but Crow was well on his way to becoming an important official in the National Union of Railwaymen (NUR).
After a couple of years with London Underground, I became a union representative and started to think more about what trade unionism was all about. During the Conservative government of Margaret Thatcher, privatisation, and with it, union bashing, became the issue of the day for all trade unions. The biggest union on the underground was the National Union of Railwaymen (later to become the RMT), led by Jimmy Knapp, a Scottish 'red' firebrand. Knapp was Bob Crow's mentor and clearly a great influence, both in terms of left-wing politics and trade-union tactics.
I remember huge meetings at Friends Meeting House on Euston Road with Knapp as the main speaker. We used to laugh at Bob Crow's role as Knapp's 'warm-up man', where he played the role of management basher/stand-up comedian to great effect. Once the crowd had been softened up, Knapp would come in to tell us, 'They're trying to destroy our union, boys!'. He would then proceed to lay out his tactic of one-day strikes. It was accepted that jobs would be lost, but the union must survive. Those of us who argued against this in favour of a better defence of jobs had little success. Bob and Jimmy were a powerful double act. After Knapp's death in 2001, it was not surprising that Crow became leader of the RMT.
London Underground was an unusual place to work. It had come to resemble, both in its management structures and in its working practices, something akin to a large family, with recruitment at all levels being mostly in-house. To be a relative of a Tube worker was a good leg up the underground's employment ladder.
But inside this family, all was not well. The most noticeable problem at my depot was the divisions between white and black workers. They sat separately in the canteen, and black workers rarely attended trade-union meetings. I knew a young Indian worker who had started as a toilet cleaner and remained in that role for over two years, even though, according to the rules, he should have advanced to semi-skilled work and higher pay grades after one year. When we raised his plight at union meetings, our visiting shop stewards were unwilling to take the issue up with management.
A similar event occurred in the middle of the operation to transform Piccadilly-line trains into one-man-operated (OMO) trains. On this occasion, two black workers were asked to work on a train that, because it had not been raised on a platform, would involve having to work underneath it in some discomfort. When they refused to do it unless the train was lifted, management said they would just get workers from another depot on the Piccadilly line to do the work instead.
As luck would have it, I had just finished an overhaul on a train which was due to be tested on the line. So I went with the train and jumped off at Northfields depot on the Picadilly line, and attempted to gain entry to the union meeting where cover for the two black workers was being sought. The shop stewards tried but failed to bar my entry, and I succeeded in getting workers to agree not to cover for the two black workers. This caused some consternation, as the queen was due to open the new OMO Piccadilly-line trains the following week.
The cliquish, bureaucratic, tight-knit regime extant among trade-union officials on London Underground made for a strong organisation on one level. But, on another, it rendered the union incapable of overcoming divisions, and dealing with some obviously racist practices.
By the time I left London Underground, the pattern of trade-union activity was clearly established: one- or two-day strikes going ahead whenever a new round of job cuts or changes to working practices were initiated by management. This had the dual effect of allowing the workers to let off some steam while at the same time giving the union bureaucrats some leverage in negotiations. Still, with a powerful base of support among the train drivers, Crow was effective in the fight for decent pay and conditions for RMT members. Talking to one of the station staff today, he was a little bitter about Crow and the RMT's mode of operation. Crow only cared about his drivers, he told me.
However, in the final analysis, the process of privatisation and the shakeouts which have taken place, particularly since London Transport became Transport for London (TFL) in 2003, have resulted in management achieving pretty much all of its objectives. This perhaps explains why London mayor Boris Johnson, Crow's recent adversary, can now compliment Crow for 'driving forward progress' on London Underground.
Denis Russell is a former London Underground worker and now builder based in London.
To enquire about republishing spiked's content, a right to reply or to request a correction, please contact the managing editor, Viv Regan.