Challenging children to read better
There's a reason why kids are choosing to read easy books – adults are encouraging them to.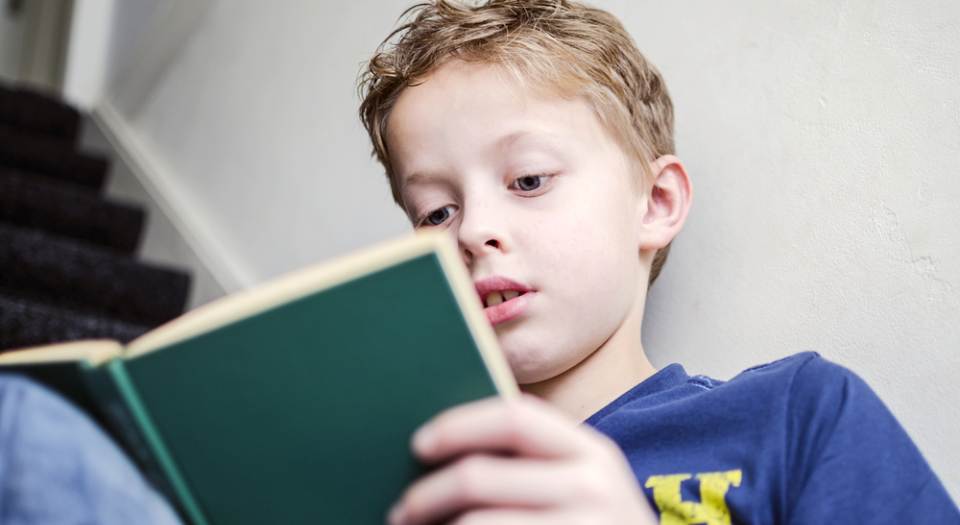 The most recent panic in the long history of anxiety over how much young people read – and what exactly they are reading – focused on the results of a survey published to coincide with World Book Day last week. This survey suggested that teenagers are rejecting challenging books in favour of easy reads, with teenage boys, in particular, more likely to choose books that are several years below their reading age. In other words, kids well into their time at secondary school are still reading books more suited for those in the primary classroom.
These findings are not surprising. Nor is it a shock to find the research being used as yet another excuse to demonise teenage boys. But teachers and librarians need to question their role in promoting a view of reading that has placed the complexity and merit of teenagers' book choices beyond discussion. The current orthodoxy is that in an age of myriad screen-based distractions, we should be pleased children are choosing to read at all. It's assumed that criticising personal book choices, or overly steering children in the direction of some texts rather than others, will put them off reading altogether.
Projects such as Opening the Book, which works with libraries and schools, push for a 'reader-centred' not 'book-centred' approach to guiding young people's reading. Opening the Book claims 'the best book in the world is quite simply the one you like best', and 'it's not the quality of the book that matters, it's the quality of the reading experience'. So when kids gravitate towards easy and familiar books instead of trying something more complex, they're patronisingly told by adults that the best books are just the ones they enjoy the reading.
One problem with this reader-centred approach is that it quite deliberately devalues literature, and gives books a mere bit-part in the 'reading experience'. By 'starting with the reader' and 'selling the sizzle and not the sausage', as Opening the Book deliciously sums up its objectives, books themselves become irrelevant. Indeed, for most children and their harassed parents, World Book Day is far more about donning a fancy-dress costume than it is about reading or discussing books. Ironically, given the stated objectives of the campaign, when books are de-centred in this way, there's no longer anything special about reading; it's just one pleasure among others competing for the attention of teenagers. Attempts to promote reading as a superior experience, in the absence of discussing actual books, turn it into a quasi-therapeutic, meditative activity which is unlikely to inspire teenage boys to turn off Call of Duty.
Today's teenagers are presented with the message that reading should be fun, and that if they don't like a book it's fine to reject it in favour of one they'll enjoy. When teenagers do exactly this, and choose to read books that are immediately accessible and offer an easy source of satisfaction, it seems unfair to then berate them for dumbing down. In reality, reading is a complex pleasure. The delight from literature can come from the beauty of the language and images the author creates; from being transported through your imagination into another place and time; from emotional identification with characters and their plight; from being made to feel uncomfortable, sad or scared; or from just feeling gripped by a story with a fantastic plot. Not all of these pleasures are immediately accessible. Some are acquired and require readers to persevere, something children may initially need to be coaxed and cajoled to do. Sometimes the pleasure doesn't come from the immediate experience of reading at all, but from thoughts that linger long after the book has been finished.
Almost as bad as the notion that reading should be an immediately pleasurable experience is its corollary: reading is important for social mobility. Jonathan Douglas, director of the National Literacy Trust, argues that reading for pleasure should be encouraged because, among 15-year-olds, it's a strong factor in determining future social mobility. Such instrumentalism further de-centres books in an almost moral drive to get children reading anything at all. As Douglas puts it: 'If that means car manuals and books about football then so be it.' Douglas echoes an assumption often made by librarians and teachers – that 'as well as chiming with their interests, books that hook young people into reading need to resonate with who they are'; or, in other words, not only must books be an easily accessible source of pleasure, they must also be immediately relevant to teenagers' everyday circumstances. This turns reading into an act of narcissism, rather than an opportunity to vicariously experience worlds beyond our personal circumstances.
Douglas praises books that 'expose readers to present-day reality', but one problem with being a teenager is that your present-day reality tends to be fairly mundane. Great books have the power to take kids beyond their everyday existence; but, lacking instant accessibility, such books need to be promoted. The link between reading for pleasure aged 15 and future social mobility is surely tenuous – it may well be one of correlation, rather than causation. One thing's for sure, promoting books that only speak to teenagers' existing reality – the car manual and football book – will neither open their eyes to a world beyond their limited horizons, nor introduce them to new and more sophisticated language. This restricts children to their present circumstances, the exact opposite of social mobility.
Teenagers are more than capable of reading great works of literature, but they need to be seduced into doing so by teachers and librarians who confidently and unashamedly place books rather than readers at the heart of their work. The Italian journalist and author, Italo Calvino, wrote of the importance of getting people to read classic works of literature while still young. He argued that only the classics can 'give a form to future experiences, providing models, terms of comparison, schemes for classification, scales of value, exemplars of beauty – all things that continue to operate even if the book read in one's youth is almost or totally forgotten'. Little of this is to be found in the car manual.
There is obviously nothing wrong with teenagers having the freedom to choose their own books. Nor is there anything wrong with opting to read easy books for pleasure and relaxation. We all do this. Rather, the problem is when teenagers are patronised and praised for picking out these easy reads, and then blamed for not choosing more challenging books. Everyone likes a light read now and again, but even these easy options are appreciated more fully when we can compare them with greater works of literature. Rather than applauding children just for reading at all, teachers and librarians should encourage children to stretch themselves with books that are not immediately accessible or relevant. This depends on a relationship that goes beyond the faux-equality of 'reader to reader' urged by Opening the Book; rather, the proper strategy is to recognise the importance of advice on books delivered from expert to reader.
Joanna Williams is education editor at spiked. She is also a lecturer in higher education at the University of Kent and the author of Consuming Higher Education: Why Learning Can't Be Bought. (Buy this book from Amazon(UK).)
Picture: Shutterstock
To enquire about republishing spiked's content, a right to reply or to request a correction, please contact the managing editor, Viv Regan.