Who are the real bigots in the St Pat's spat?
Gay-rights groups are becoming the enforcers of social conformism.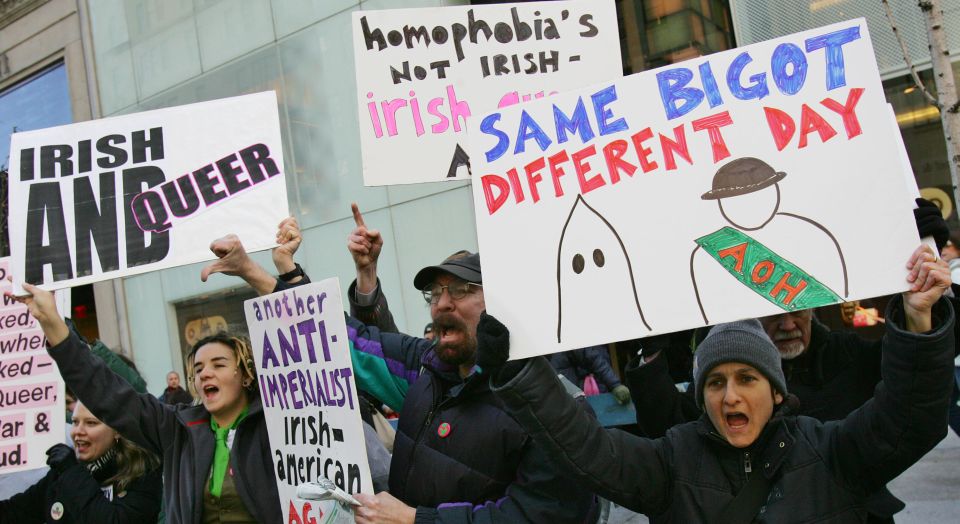 Across the US, millions march and watch St Patrick's Day parades. This holiday is arguably a much bigger deal in America than in Ireland, whose population is about a seventh of the 35million Americans who claim Irish heritage.
This year, St Patrick's Day parades in Boston (on Sunday) and New York (on Monday) have sparked controversy over their exclusion of gay and lesbian groups from marching under their own banners. In protest, the mayors of the cities – Marty Walsh in Boston and Bill de Blasio in New York – have decided to boycott the parades. Feeling pressure from activist groups, businesses such as Samuel Adams in Boston and Guinness in New York dropped their sponsorship. In contrast, in other major cities in the US, such as Chicago (where the river is dyed green in celebration), gay and lesbian groups have been allowed to march and the parades went off without much comment.
Gay campaign groups claim prejudice is at work, and many agree. The CEO of advocacy group GLAAD, Sarah Kate Ellis, says: 'As a gay mum who has fond memories of the New York City St Patrick's Day Parade, it saddens me that I can't give those same memories to my own kids because my family isn't welcome.' Slate writer Tyler Lopez sees 'green-tinted anti-gay animosity' in the Boston and New York events. Similar views can be found across the political spectrum. 'It's time to get rid of the St Patrick's Day parade', writes Margery Eagan in the conservative Boston Herald. 'This supposed celebration of Irish pride and culture has instead become a paean to bigotry. It's an embarrassment to Boston. It should embarrass Irish-Americans. It surely embarrasses this one.'
Because the Boston and New York parades are run by private organizations, they have the legal right to ban any group, including gays and lesbians. In 1995, the Supreme Court decided in a 9-0 verdict that the Boston parade organisers could choose who participates in the parade. Opponents don't deny the legal right, but argue that it is wrong because it is discriminatory. Indeed, activists target the Boston parade precisely because of the court case. 'There's no other civic or cultural institution of any kind in the state of Massachusetts that I am aware of that went all the way to the Supreme Court to enforce its right to exclude openly LGBT people, and that's what makes this parade so important', says the executive director of Mass Equality, Kara Coredini.
In their defence, parade organisers claim that gay people are not prohibited from marching, just not allowed to march under gay-themed banners. In Boston, organisers point to the fact that gay people this year joined a 'diversity' float that represented a South Boston neighbourhood. According to Boston's lead parade organiser, Philip Wuschke: 'We don't ban gay people. We ban groups that are trying to make a statement.' He notes that they have rejected a variety of groups, including the Ku Klux Klan, Irish heterosexual pride and an anti-abortion organisation, among others.
Moreover, many defenders of the organisers will cite religious freedom. William Donohue, president of the Catholic League, argues that St Patrick Day parades are 'Irish-Catholic' and not just ethnic parades. Donohue says that gay-rights advocates are putting pressure on St Patrick's Day parades in Boston and New York as way to target the Catholic Church, 'the last remaining bastion of traditional moral values'.
The conflict over the parades shows that very different meanings are being attached to them. Gay groups and their supporters are effectively arguing that the parades, despite being run by private organisations, are really public events, and therefore gays and lesbians should be welcomed, including being allowed to carry their own banners. It's often said that, on St Patrick's Day in America, 'everyone's Irish', with schoolkids of all backgrounds dressing in green and many adults with no link to Ireland using it as a good excuse for partying. But even if the event was considered to be a celebration among those of Irish ethnicity only, some would argue that gay and lesbian pride should be an aspect of 'Irishness' that should be allowed to be expressed freely on the parades. Clearly, the St Patrick's Day parades in other American cities have taken that view (as well as in Dublin). It also seems that all parades that celebrate ethnicity in New York – including the India Day Parade, Israel Parade and Chinese Lunar New Year Parade – now allow gay and lesbian groups to march.
On the other side, the Boston and New York organisers strongly believe that these events are private. And as the organisers of these private gatherings, they not only have the right to determine who may march, but also believe it is appropriate that the parades should present certain messages about St Patrick and the Irish. It appears that the organisers fear alienating their Catholic base, and many believe that having separately identified gay groups would contradict Catholic teachings on homosexuality.
Seen its own terms, there are arguments and questions worth exploring from both sides of this issue. You might ask, why do the organisers in Boston and New York insist on making the St Patrick's Day parades private and specifically Catholic events, when other parades in the country are not carried out in the same way? Or you might ask, why do gay activists insist on joining a parade that isn't about their cause and, in the case of Boston and New York, doesn't want them there as a separately identified group? The notoriously anti-gay Westboro Baptist Church probably doesn't expect to be able to join a gay pride march, and gay pride organisers wouldn't let them in if they tried (in fact, St Patrick's Day organisers in Boston say they turned down an application from Westboro, which is anti-Catholic as well as anti-gay, to join the parade).
But it is hard to view these St Patrick's Day disputes in isolation from broader debates. This year's controversy over excluding gays and lesbians from parades comes at a time when many who are sympathetic to gay rights in the US are claiming that certain religious beliefs are just fig leaves for anti-gay bigotry and should not be tolerated in society. The latest criticisms of the St Patrick's Day parade organisers may only feed this development.
While same-sex marriage continues to gain victories across the US, mainly by judges striking down bans on it in various states (Utah, Virginia, Kentucky, Oklahoma and Texas), it seems that this movement is increasingly leading to intolerance of those who don't agree, often based on religious views. Legal actions have been taken against self-employed people who turned down requests to serve gay weddings: a wedding photographer in New Mexico, a florist in Washington state, and a baker in Colorado. In other words, there is a desire to make the state compel people to agree with gay marriage.
There have also been reports of people losing employment after it was discovered that they do not agree with gay marriage. A common theme in these reports is that the individuals involved do not appear to dislike gay people, but they have nonetheless been labelled bigots due to their objections to same-sex marriage. Rather than encouraging a live-and-let-live attitude, it appears that some supporters of same-sex marriage seek to find and root out anyone who won't publicly accept this relatively new institution.
When lawmakers in Arizona introduced a bill last month that sought to clarify whether small business owners like wedding photographers can refuse work on religious freedom grounds, there was little consideration in the media of the legal pros and cons. Few highlighted that the existing law allows private vendors to refuse work on the grounds of sexual orientation, and thus continues after the governor vetoed the bill. Instead, the proposed law was greeted with a hysterical campaign to label it 'anti-gay' and 'Jim Crow' (an historically illiterate comparison, beginning with the fact that Jim Crow was enforced by state law and businesses that refused to obey it could be prosecuted).
These tendencies to demonise dissent are visible in the campaign against the St Patrick Day parades. There is a rush to label any disagreement with gay marriage or gay culture as out-and-out 'bigotry'. There is a desire to not simply state that certain views of gays are wrong, but to have those views silenced. And there is an operation to target and scare corporations that are associated with such views. Gay activists threatened a campaign against corporations in Arizona, including the National Football League for holding the Super Bowl in the state, if the recent bill passed. Similarly, they pressured St Patrick's Day sponsors like Samuel Adams and Heineken to withdraw support. This is the top-down, elite-led politics of name and shame, rather than a properly liberal campaign that draw upon popular support.
What we are witnessing is an attack on those who don't share today's pro-gay outlook. Some may want to opt out of this Culture War, but the war increasingly won't allow there to be any bystanders. Instead, there is pressure to conform. Even if it does not spill over into the political or legal world, such conformism is problematic for the free flow of ideas.
The sky will not fall if gays and lesbians are allowed to march in the Boston and New York St Patrick's Day parades. But we will create a conformist, intolerant and unfree society if we do not allow space for the expression of different views, including traditional religious teachings about homosexuality and same-sex marriage.
Sean Collins is a writer based in New York. Visit his blog, The American Situation.
Picture: PA
To enquire about republishing spiked's content, a right to reply or to request a correction, please contact the managing editor, Viv Regan.