Ukraine: another fine mess EU've gotten us into
How the EU's technocratic foreign policy causes chaos.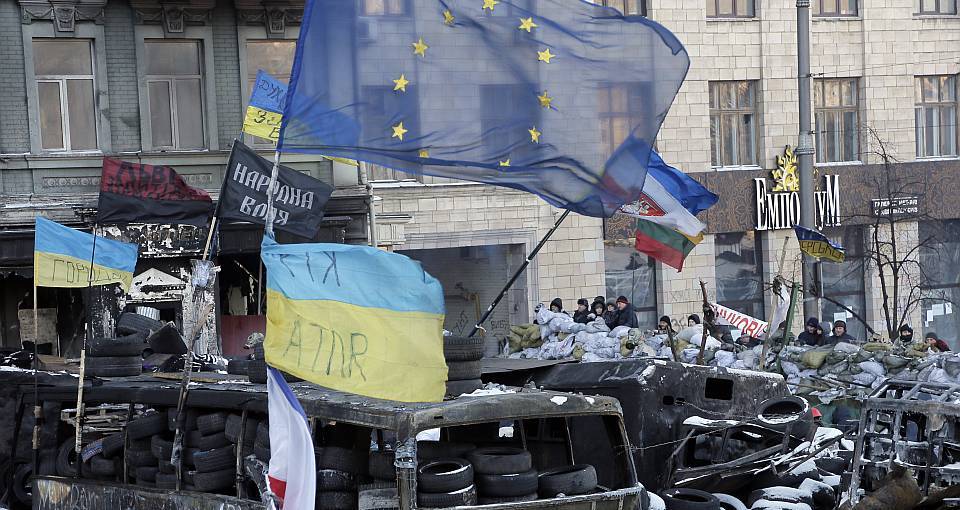 The European Union (EU) is often presented as a progressive way of conducting international relations, especially after it won a Nobel Peace Prize in 2012. But events in Ukraine, and the development of a new destabilising dynamic more broadly in Eastern Europe, show that the EU is far from benign.
Over the past 20 years, the EU's Common Foreign and Security Policy (CFSP) has given rise to destabilising trends. This is because it has pursued interventions divorced from differing national interests based in different histories, economies, geography and territorial relationships. The EU's behaviour towards Ukraine has been no exception. It has disregarded geopolitics and failed to understand previously acknowledged Russian interests in either Crimea or the rest of Ukraine.
Instead, the EU's Ukraine policy has been conducted, at critical stages, as a technocratic procedure, a question of processes and legal formulae rather than a confrontation between the different geopolitical interests of Russia, the US and the different European powers.
Over recent days, accounts of Russian president Vladimir Putin's baffled frustration at the EU's conduct have begun to emerge. Following a summit in Brussels last week, senior European diplomatic sources gave an account of a meeting on 28 January between Herman Van Rompuy and José Manuel Barroso on the EU side and the Russian president on the other. According to accounts, Putin said he was increasingly concerned at developments in Ukraine, particularly the threat of extra-parliamentary protests against the government. But he was still willing to negotiate if the EU recognised Russian fears, including fears of Ukraine's potential membership of NATO.
According to one source who was present at the meeting: 'Van Rompuy told Putin that the EU was not playing geopolitics with Ukraine, the Maidan protests and the association agreement [with Russia]. Putin asked him if signing the agreement would be "a step to EU membership". "Yes, Ukraine can have a European perspective if it chooses", replied Van Rompuy. "Does that mean you think Ukraine would join NATO?", asked Putin. "Yes, that could well be part of the process", replied Van Rompuy. "Then that is playing geopolitics", replied the Russian leader. "No, we do not do geopolitics", insisted Van Rompuy. Barroso added that the EU was opposed to a bloc-against-bloc view of the world. Putin was not impressed: "It's geopolitics", he said.'
The prospect of Ukraine joining NATO has been conventionally recognised (until the current crisis) as impossible on geopolitical grounds. Ukraine was considered to be too close, historically and economically, to Russia, plus Crimea is home to strategically important Russian military bases. But, as EU foreign policy has come to the fore over recent years, recognition of this geopolitical reality has faded. In its place stands the EU's 'enlargement and neighbourhood policy', a technocratic procedure of legalistic chapters and tick-box 'values' that binds countries like Ukraine into the European order.
But there is a problem: joining NATO or the West is not a technical affair, as Ukraine, many European powers and the US conceded the last time it was discussed at a summit of the Western Alliance in Bucharest in 2008. 'Reason has prevailed', responded Dimitri Medvedev, the then Russian president.
In private, France and Britain have expressed amazement that such a sensitive issue as EU and NATO membership for Ukraine could be treated as a technical matter. 'Eurocrats do a very good job of taking the politics out of politics', said an ambassador. 'It is a lifeless process; they don't realise that they have to do geopolitics, not bureaucracy. The relationship between Russia and Ukraine is deep, it goes back a thousand years. These relationships are not bloodless and cannot be reduced to technical distinctions.' But under the auspices of the EU, even Britain, formerly notorious for realpolitik, has eschewed geopolitical reality. What must Russia have made of David Cameron's announcement last July that the EU should stretch from 'the Atlantic to the Urals'?
The EU's raison d'etat for suppressing geopolitics in favour of technocratic, automatic structures of 'enlargement and neighbourhoods', goes back to its creation as a legal entity by the Maastricht Treaty, which also created the CFSP and the Euro. It is no accident that during Putin's speech announcing the annexation of Crimea, he made a direct reference to the reunification of Germany in an attempt to appeal to German self- and national interest. He reminded Germans that Britain and France, but not the United States or Russia, opposed German reunification as the Iron Curtain fell in 1989.
'I believe that the Europeans, first and foremost, the Germans, will also understand me. Let me remind you that in the course of political consultations on the unification of East and West Germany, […] some nations that were then and are now Germany's allies did not support the idea of unification', he said. 'Our nation, however, unequivocally supported the sincere, unstoppable desire of the Germans for national unity. I am confident that you have not forgotten this, and I expect that the citizens of Germany will also support the aspiration of the Russians, of historical Russia, to restore unity.'
His comments were a timely reminder that Margaret Thatcher, the then British prime minister, and Francois Mitterrand, the then French president, opposed German reunification. The modern EU was developed to shackle a reunified Germany and prevent it taking a powerful, geopolitical role in Europe. 'Unease over Germany translates into an almost obsessive anxiety to contain it within reinforced European structures as quickly and thoroughly as possible', reported Sir Ewen Fergusson, the British ambassador to Paris, in a secret 1991 Foreign Office telegram.
Britain and France demanded that the price Germany pay for nationhood was for it, and everyone else, to be bound into a common foreign policy and the Euro. These are arrangements that have never been put to German voters, who, if they were ever given the chance, would almost certainly send them to the dustbin of history along with the Berlin Wall.
The EU's foreign-policy structures seek to avoid clashes of national interest. But they don't abolish them. Countries ranging from Germany and Italy to Poland and Lithuania have very different interests when it comes to Russia. The differences were on display in a Brussels foreign-policy debate last weekend, when Estonia and Italy clashed over how to respond to Russia. Toomas Ilves, the Estonian president, complained that the EU was 'sitting and watching' while Russia annexed Crimea. 'So let's bomb Russia? What is the solution?', retorted Federica Mogherini, the Italian foreign minister.
Both Italy and Estonia are expressing their different national interests. Given such divisions, is it really useful to conduct policy on the basis of 'common European interest', when such a thing patently does not exist? Not only does Germany – which straddles East and Western Europe – have different economic interests appropriate to its geography; it also has a history, just as Poland, the Baltic states and other East European countries exist under the historical shadow of the former Soviet Union.
Running a foreign policy that consciously tries to supplant national interests with technocratic procedures lends itself to gesture politics. So while many European diplomats have criticised the US for grandstanding the most in the Ukraine, and going furthest in its support for the protesters because it has no 'skin in the game', European politicians have behaved little better. While cheering on the protests in Kiev, and destabilising Ukraine, they did not pay attention to Russia's own 'skin in the game', an oversight that has had profound consequences.
The EU's foreign policy has emerged as a legal and technocratic order increasingly at odds with how Europeans want to live their lives. It is an order that sees NATO membership as a value box to be ticked on the road to EU membership, rather than a sign of whose side a nation is on in a geopolitical division. This is profoundly dangerous: it allows powerful states to be blind to and thoughtless about the consequences of their actions.
Joining NATO does have consequences. If Ukraine was in NATO, EU countries and the West would be obliged to go to war over Crimea. To ask the question, 'Would you die for Sevastopol?' immediately short-circuits the EU's technocratic approach by raising the question of self-interest. It is pretty clear that many Russians would be prepared to die for Crimea. It is almost certain no Western Europeans would. That difference is the living reality of geopolitics. To pretend that such divisions do not exist is positively dangerous.
By effacing national interests in structures designed to hobble Germany, the EU has created a blind monster so unresponsive to geopolitics, history and territorial boundaries that its blundering threatens to unleash new enmities and conflicts – in short, chaos.
Bruno Waterfield is Brussels correspondent for the Daily Telegraph and author of E-Who? Politics Behind Closed Doors, published by the Manifesto Club.
Picture by: Efrem Lukatsky/AP/Press Association Images.
To enquire about republishing spiked's content, a right to reply or to request a correction, please contact the managing editor, Viv Regan.