Germany's crusade against ethically incorrect ideas
Everything from licence plates to street names has been on the receiving end of the German elite's new censoriousness.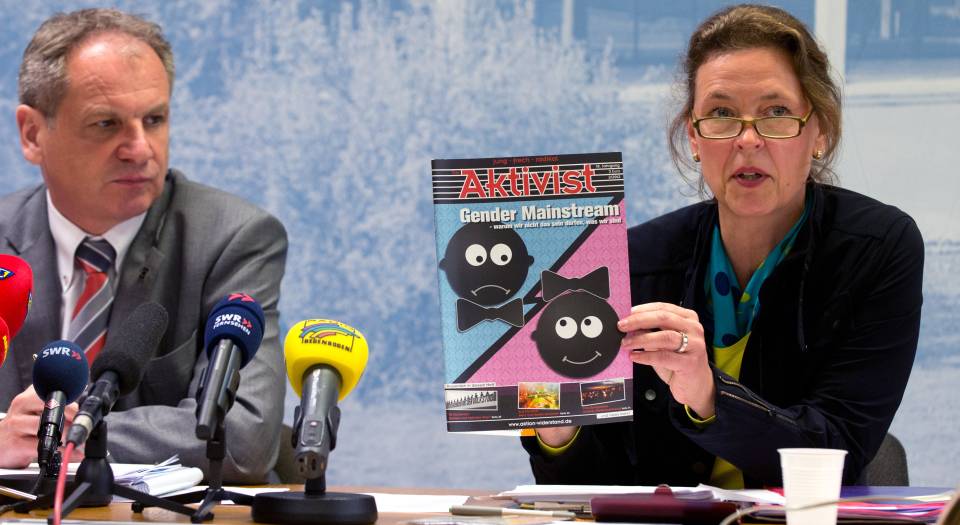 'The lazy ones get slaughtered – the world becomes hardworking / The ugly ones get slaughtered – the world becomes pretty / The stupid ones get slaughtered – the world becomes wise / The sick ones get slaughtered – the world becomes healthy.'
These are the first lines of 'Die Maßnahmen' ('The Measures'), a poem by the Austrian liberal-left-leaning poet Erich Fried (1921-1988). Fried goes on to address the benefits of slaughtering the old ones, the sad ones, the hostile ones and the bad ones. You get the picture. Today, however, Fried's scathing satire would probably be mistaken for policy advice: 'The offensive ones get banned – Germany becomes nicer.'
In Germany today, you see, there is a palpable desire to cleanse society of views officially deemed unacceptable or politically incorrect. This is most obvious when it comes to words or views associated with fascism or the far right. It's likely that even the most liberal of Germans would oppose the right of members of the right-wing National Democratic Party to voice their strange views in public. Indeed, having embarrassingly failed to ban the party in 2003, the federal government is currently trying to outlaw the party once again. Anyone attempting to defend free speech or freedom of association in this context will find themselves accused of being a fascist sympathiser, an apologist or, even worse, disrespecting victims of the Holocaust and their descendants.
The popular fear of being accused of being a Nazi sympathiser has resulted in some strange regulations. Since the 1980s, for instance, the letter combinations 'NS', 'KZ', 'SS', 'SA' or 'HJ', which all potentially allude to fascist symbols or institutions, have been banned from use on car licence plates. In the past few months, there has been a heated debate about whether letter or number combinations like 'HH' or '88' (which both allude to 'Heil Hitler'), '18' (meaning 'Adolf Hitler'), 204 (meaning Hitler's birthday) or even 'GV' (which is short for sexual intercourse) should be banned from licence plates, too. This poses something of a problem for Hamburg car owners, whose licence plates all start with 'HH'.
This crusade against the language of fascism or racism also permeates the realm of culture and literature. In 2012, the former conservative federal minister of family affairs, Kristina Schröder, told the public how she would omit the more troubling parts of Grimms' Fairy Tales when reading them out to her kids. Even the beloved Pippi Langstrumpf (Pippi Longstocking) series has come under fire, with Schröder refusing to tolerate Pippi's father's name – the 'negro king'. This, I should point out, is a book that has been read aloud millions of times and so far hasn't produced a neo-Nazi child army.
But following Schröder's remarks, there was a public debate about the usage of politically incorrect and insensitive words like 'negro', 'gypsy' or 'Eskimo' in German children's books. (In fact, German publishing house Oettinger had already cleansed reprints of Pippi Langstrumpf books years ago.)
Even restaurant menus are now subject to language revision. For instance, there are public debates about whether 'Zigeuerschnitzel' (gipsy escalope) has racist connotations and whether it should be replaced by 'Balkan schnitzel'.
It's not only on the traditional minefield of racism and fascism that free speech has suffered in Germany. Free speech has also been knocked about by feminists, too, with their determination to impose new language and behaviour regulations. Last summer, for instance, the University of Leipzig announced plans to address its staff using only the feminine forms of words. 'Professorin' is due to replace older formulations like 'Professorinnen und Professoren' or 'Professor/innen'. Schröder, meanwhile, admitted during a recent interview that not even the Bible is immune from linguistic tinkering. When talking to girls, for instance, the masculine 'der Gott' could simply become the neutral 'das Gott'.
Interestingly, when feminist language control clashes with anti-fascist dogma, feminism seems to prevail. In the German capital, Berlin, a local parliament, heavily dominated by green and left-wing politicians, voted against naming a square in front of the Jewish Museum after the Enlightenment philosopher Moses Mendelssohn. This decision was made on the grounds that as Mendelssohn was a man, he would break the rule established in 2005 to only name streets and squares after women. This was deemed necessary in order to achieve sexual equality on the city map. As a compromise, the local parliament used Mendelssohn wife's name alongside his own, creating 'Moses-und-Fromet-Mendelssohn-Platz'. Although Fromet wasn't a historic figure, she at least was a woman.
Of course, the extremes of political correctness are often ridiculed. But the general idea that some forms of speech need to be regulated is widely accepted. So the very same people who might criticise political correctness will often simultaneously advocate the banning of Islamic (or fascist) hate speech on the grounds that it could 'radicalise' people. The double standards are rarely recognised. The defence of free speech is too often left to those dismissed as right-wing. The description is apt, given that many German free-speech advocates are often content to blame everything on left-wingers and the '68-intelligenzija' who, it is argued, are controlling public and cultural life.
These crusades against particular forms of expression often have support from prominent members of the German political class. For example, the 'feminist' strand of language regulation is directly linked to the policymaking aimed at raising the number of women in senior business positions. The 'racist' strand is always linked to the longstanding political attempt to make racist statements illegal. In general, what's interesting about all of this is that censorship has become a means for politicians to relate to people demanding protection, and to gain points of sympathy.
This is a key paradox of our times: the language-control agenda provides visionless politicians with a new vocabulary through which they can present themselves as protecting and helping the people, when actually they are limiting our freedoms and patronising us. This paradox needs to be challenged, quickly.
Matthias Heitmann is a publicist and public speaker based in Frankfurt, Germany. He is dedicated to unravelling and uncovering the misanthropic 'zeitgeist' of our times. Visit his website here.
Picture by: Marijan Murat/DPA/Press Association Images.
To enquire about republishing spiked's content, a right to reply or to request a correction, please contact the managing editor, Viv Regan.