Nigel Evans trial: UK prosecutors are playing God
This showtrial gave us disturbing insights into the cult of the victim.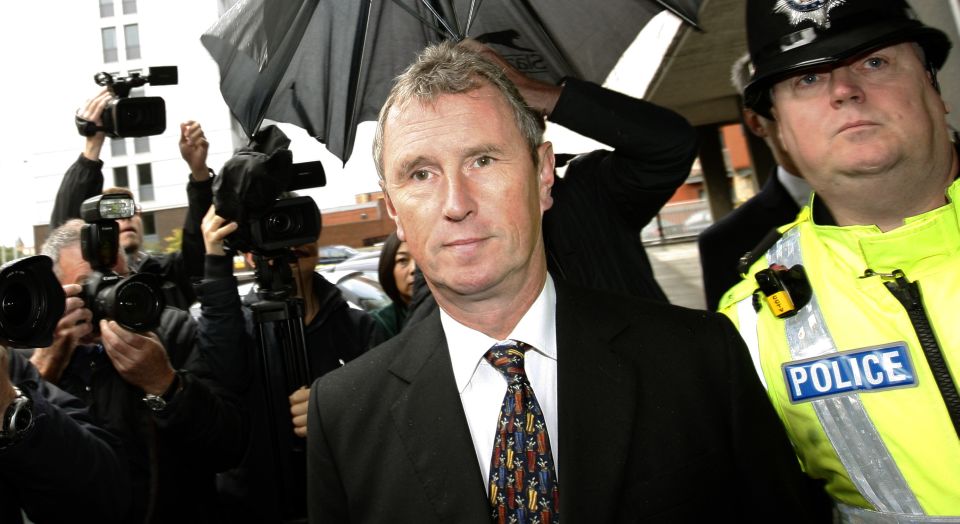 Many people have raised doubts about the manner and zeal with which the Crown Prosecution Service (CPS) has pursued proceedings against a number of high-profile defendants in cases involving sex crimes, including rape. Last week's acquittal of Nigel Evans, a Tory MP, is the latest instance of a jury freeing a defendant in what proved to be a deeply flawed prosecution. Some observers have suggested that the CPS is on a mission to nail high-profile individuals to send a warning to would-be Jimmy Saviles. Others contend that the CPS has sought to put right its failure to deal with sex crimes in the past by now adopting the approach of a campaign group.
There is little doubt that in recent times the CPS has exhibited an orientation towards sex-related crimes that often appears ideological, if not obsessive. This point was emphasised in the statement issued by Nigel Evans' solicitor, Daniel Berk, which stated that the CPS and the police placed 'far more resources' into the pursuit of this case than is usual in more low-profile cases. A large police team was established and charged with the task of going back a decade or so to discover individuals who could come on board as victims of Evans' alleged crimes. Despite their complaints about funding cuts, the police appear to have considerable resources at their disposal when it comes to constructing sex-crime cases against former celebrities and public figures.
Most critics of the CPS's over-the-top proceedings against Evans claim that the CPS was motivated by the fact that Evans was a high-profile MP. This is probably true. But the problems highlighted by Evans' prosecution are far more insidious, and raise far more disturbing questions, than the Kafkaesque predicament faced by one well-known politician. What this case demonstrates – yet again – is that the criminal-justice system has become intensely politicised to the point that the imperative of sending out a message often trumps the exigencies of due process.
In recent years, the behaviour and operation of the criminal-justice system in relation to issues like domestic violence, sex crimes and child abuse has acquired a morally disoriented and obsessive character. When it comes to engaging with these issues, the police do not so much fight law-breaking and catch criminals as devote resources to uncovering crimes that have not been reported. Perversely, at a time when the police have a dismal clear-up rate of real, reported crimes, they prefer to devote resources to unearthing or constructing crimes that have not been reported. That's what trawling operations are all about. And, as Nigel Evans discovered, police-trawling operations, designed to encourage individuals to come forward to accuse an individual of a crime, are not confined to big national initiatives such as that of Operation Yewtree.
The resources of the police in the Nigel Evans case were not simply dedicated to finding evidence to substantiate the original complaints against him. Rather, precious time and resources were devoted to finding other people to be cast as victims of Evans. Two individuals discovered in this way were encouraged to make complaints about events that occurred 10 years ago. Yet, to the prosecution's embarrassment, both of these individuals stated in evidence that they were surprised to find themselves caught up in the subsequent criminal proceedings against Evans.
In one sense, Evans was quite lucky. The individuals discovered by the Lancashire Constabulary, and effectively incited to perceive themselves as victims of a sex predator, did not play the role assigned to them. They could have used their new-found victim status to demand recognition and compensation. Instead, the jury heard that three of Evans' so-called victims informed the police that they did not believe that a crime had been committed and wanted the charges against Evans to be dropped. The fantasy world of the CPS stood exposed when one of the individuals cast in the role of the victim declined to accept this honour. He stated that 'I do not wish Mr Evans to be charged as a result of what happened to me', before adding 'I have no intention of making a complaint to the police and I am making this statement as a witness, not as a victim seeking justice'.
Where the fantasists working for the criminal-justice system perceived serial victimisation and sexual exploitation, the individuals caught up in this mini-trawling operation interpreted their experiences as integral to the normal chaos and risks associated with sexually charged encounters. The trial was informed that one of the so-called victims 'had a bit of a giggle' about Evans' apparent sexual attack on him. Another insisted that he wanted to withdraw his allegation because he did not want the defendant interrogated about a 'drunken misunderstanding'.
Playing God
The investment of a significant amount of police resources in an unreliable trawling operation was by no means the most troubling feature of this sordid trial. What was far more alarming was the argument used by the CPS to justify its decision to mount a prosecution against Evans. Alison Saunders, the director of public prosecutions (DPP), argued that the decision to prosecute Evans was motivated by the DPP's 'duty to the victims'. Today, the Victim is regularly invoked to gain moral authority. As I argue elsewhere, the term 'victim' has acquired a quasi-sacred character and now serves as one of the main causes promoted by campaigners in search of moral authority (1). So the question that needs to be posed is who gets to decide who is a victim?
The answer is straightforward. In the Evans trial specifically, it is Saunders. More widely, the assignation of victim status is the responsibility of a network of moral entrepreneurs and experts who can apparently perceive signs of victimisation invisible to normal human beings. That is why Saunders was so casual in dismissing objections to use of trawled 'victims' who refused to see themselves as such in the Evans prosecution. From her standpoint, what mattered was not how people caught up in the trial interpreted their own life, but a higher truth accessible only to her.
As Saunders put it: 'We know in many cases people don't see themselves as victims, whereas looked at objectively they are.' Saunders' use of 'objectively' here denigrates people's subjective assessment of their own existence. The main purpose of this tendentious usage of 'objective' is to deny people the right to interpret their own experience in line with their subjective inclinations. The objectification of people's lives also empowers experts to interpret other people's experiences. But there is nothing objective about the process through which people give meaning to their relationships and experience. The way in which we assign meaning in our lives is an inherently subjective accomplishment. When the narrative of objectivity is assigned to troublesome personal relations, it is usually an attempt to dispossess those involved of the right to give meaning to their life.
Saunders even appeals to the idea of 'evidence-based' policymaking to justify interpreting people's relationships and experiences on their behalf: 'What we do know, and there is evidence from Barnardo's and others that shows this, is that victims themselves may not always think of themselves as victims; it rather depends on the relationship they are in with their alleged abusers, so if someone is in a position of power, or perhaps we have seen it in grooming cases where victims think they are not victims because their abusers love them and take care of them.'
Relationships – especially intimate ones – embrace a variety of complex interactions and motives. They are troublesome, confusing, at some times painful and at others exhilarating. No doubt, in such relationships people deceive themselves, misinterpret signals and stubbornly refuse to face up to their situation. Where does 'objectivity' fit in? Is that person's relationship an example of controlling behaviour or a manifestation of intense passion? Intimate relationships possess the potential for constructive experiences of coming together, as well as destructive acts of domination. The meanings that we attach to the ambiguity of human relations are highly subjective. It is one of the prerogatives of free people to experience both the highs and the lows of such encounters, and to interpret them in line with their inclinations. That is not a prerogative that should be handed over to Saunders or Barnado's.
The problem raised by the trial of Nigel Evans was not simply the readiness of the CPS to target a well-known MP. It is the crusading zeal with which the criminal-justice system promotes its project of criminalising the everyday confusions and troubles of sexual encounters. As we noted, one of the alleged victims indicated that he did not want Evans charged for what he characterised as a 'drunken misunderstanding'. What this alleged victim did not realise is that in the new world of sexually correct moral regulation there is no room for misunderstanding. As our moral crusaders explain, a 'drunken misunderstanding' does not excuse you from being charged with whatever sex-crime excites their imagination.
Nor was this trial just about Evans. This was a case launched to send out a demand for the moral policing of 'inappropriate' adult behaviour. In a sense, it didn't matter what the jury decided in the courtroom. What the trial accomplished was to strengthen a climate of puritanical suspicion that allows the moral regulation of not just sexual relations, but all forms of highly-charged interpersonal interaction. That is why those advocating the expansion of the moral regulation of interpersonal relationships were delighted by the outcome of the trial. As two journalists writing in the Guardian pointed out, the trial has served a higher cause:
'Despite Evans' acquittal on all charges, the case has highlighted the hard-drinking culture of Westminster and brought allegations that the Conservative Party could have avoided police involvement if it had taken complaints of inappropriate behaviour against Evans more seriously. All parties are under scrutiny over how they treat complaints against MPs by parliamentary staff following an investigation by Channel 4 that found allegations of harassment and bullying are rife in Westminster.'
Almost imperceptibly, the 'hard-drinking culture of Westminster' has been transformed into a legitimate target for moral regulation. In true prohibitionist fashion, 'hard drinking' is represented as a social evil, a kind of victimising pre-crime that deserves the attention of moral regulators, if not the real police.
Paradoxically, it is those who focus on what people end up doing after a few drinks who possess an unhealthy interest in human depravity. Caught up in a fantasy world where sex predators loom large, they would not recognise objectivity if they bumped into it.
Frank Furedi's latest book, First World War: Still No End in Sight, is published by Bloomsbury. (Order this book from Amazon (UK).)
(1) Frank Furedi (2013) Moral Crusades In An Age Of Mistrust: The Jimmy Savile Scandal, Palgrave Pivot
To enquire about republishing spiked's content, a right to reply or to request a correction, please contact the managing editor, Viv Regan.