Chris Packham: getting in a flap over Malta
Maltese bird-hunters are right to be enraged at the British naturalist's crusade against them.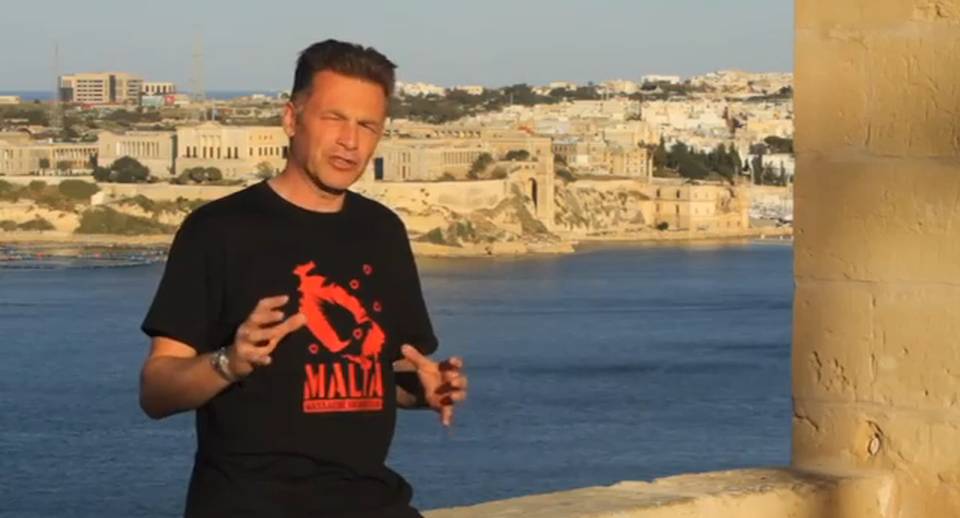 The tiny Mediterranean archipelago of Malta (Gozo and Comino being Malta's sister isles) is normally regarded as a friendly, sun-soaked holiday island, featuring a wealth of historical and archaeological treasures. It is seldom labelled as the site of a modern massacre, mass violence and ignorance.
Last week, a British TV personality and naturalist, Chris Packham, led a crusade to pressure the Maltese to ban the hunting of birds. His nightly YouTube newscasts, featuring Packham either agitated or devastated while holding dead and injured birds, have been viewed and commented upon widely in the newspapers, on television and on social media.
Hunting birds has long been a significant part of Maltese culture. There are around 10,000 registered hunters on the island. Since Malta joined the European Union in 2004, the hunters have negotiated some exemptions from European Union directives that would curb their favoured pastime. However, some measures remain in place. In particular, there are contentious quotas placed on turtle-dove and quail hunting over the popular spring shooting-period, a time when Malta is a port of call for migratory birds. Hunters see the quotas as an imposed limit on Maltese culture, and on their favoured leisure activity. Anti-hunting activists say the quotas are a reasonable restriction, which is rarely properly enforced, on a cultural practice that is well past its sell-by date.
Chris Packham and anti-hunting campaigners have succeeded in portraying the Maltese hunters as the last vestige of barbarism in Europe, and the Maltese authorities as in-hock to the hunters. For Packham, Malta is a 'bird hell', an 'avian apocalypse'.
Packham's campaign has attracted a lot of support on social media and in the newspapers. Many of his allies have picked up on his theme of Maltese barbarism and some have taken it even further. Notably, Queen guitarist Brian May has said that Malta's bird hunting is 'another manifestation of the vestiges of savagery in humans'. Comedian turned wildlife expert Bill Oddie and members of the League Against Cruel Sports have also paid a visit to Malta and lent their support to Packham's campaign, along with many UK conservation volunteers.
Critics like to point out that Malta has the highest concentration of hunters per hectare in Europe. What they don't point out is that Malta has far and away the highest population density in Europe, making the former figure rather less remarkable.
The Maltese government has come under particular scrutiny. Packham filmed the Maltese police taking action against bird hunters; however, this later appeared to be purely for the benefit of the cameras. The police objected to being filmed and a member of Birdlife Malta was arrested for being involved in the filming. Two days later, Packham was asked to attend a police station for questioning. Anti-hunting campaigners clearly saw this as an affront to justice, and indicative of links between the authorities and the hunting fraternity. However, I'd wager that if these campaigners had stuck a camera in front of a British police constable investigating a crime, the response would have been somewhat quicker and less restrained.
In his webcasts, Packham encounters friendly hunters, happy to speak to him about their hobby, as well as some hunters who are clearly angry with his interventions. Some of the anger is understandable. As Joseph Perici Calascione, head of the Maltese Federation for Hunting and Conservation (FKNK), said: 'I would like to see some Maltese lads going to the UK to try to stop one of their traditions. It's not nice to be treated as a Third World country.' This fits my own impression, gleaned from frequent (work-related) visits to the island. Maltese hunters are far from blameless, and a minority have behaved very badly. Yet most hunters are simply proud of their hobby, and all the more fiercely protective of it when distant unelected bodies and sundry interlopers show up to tell them they are ignorant murderers.
A principal tactic of the foreign lobbyists is to insist that the European Union enforce its regulations on Malta. Since admission in 2004, Malta has been under pressure to adopt fully European Union directives on hunting, but retains some exemptions allowing for a two-and-a-half week hunt in the spring. The campaigners are not content to let Maltese people run their own affairs and decide on the fate of this disputed aspect of their culture. Hunting has long been a live issue in Malta, reflecting the varied and changing tastes and outlooks on an island that has changed a lot over the past few decades. Hunting is far more regulated now than in the past, and the Maltese government has acted to restrict the practice. An expected referendum may well see hunters face further restrictions.
The campaigners' counter-argument to this is that the birds are 'ours': 'We are all Europeans now. These birds don't have boundaries. They are flying all over the place', says Packham. British birdwatchers claim hunting is threatening British conservation projects, especially regarding turtle doves, whose numbers have diminished greatly in the UK. Yet it is far from clear whether hunting has anywhere near as much impact on the demise of the turtle dove as habitat loss and other factors such as the use of pesticides.
It seems that a balanced approach to the facts and a respect for Maltese opinion has been overridden by an emotive appeal to the sanctity of 'our birds'. That is not to suggest that hunting is uncommon in Malta, but a little objectivity in place of attempts to exaggerate the impact of a declining field sport would not go amiss. Hunters are not savages, and Malta should not be caricatured by Chris Packham and his band of supposedly enlightened twitchers.
Jim Butcher is a lecturer at Canterbury Christ Church University, specialising in tourism and conservation, and author of The Moralisation of Tourism: Sun, Sand… and Saving the World?, published by Routledge. (Buy this book from Amazon (UK)).
To enquire about republishing spiked's content, a right to reply or to request a correction, please contact the managing editor, Viv Regan.