India: the end of Congress, not the end of the world
Western wailing about 'fascistic' Modi reveals a contempt for Indian democracy.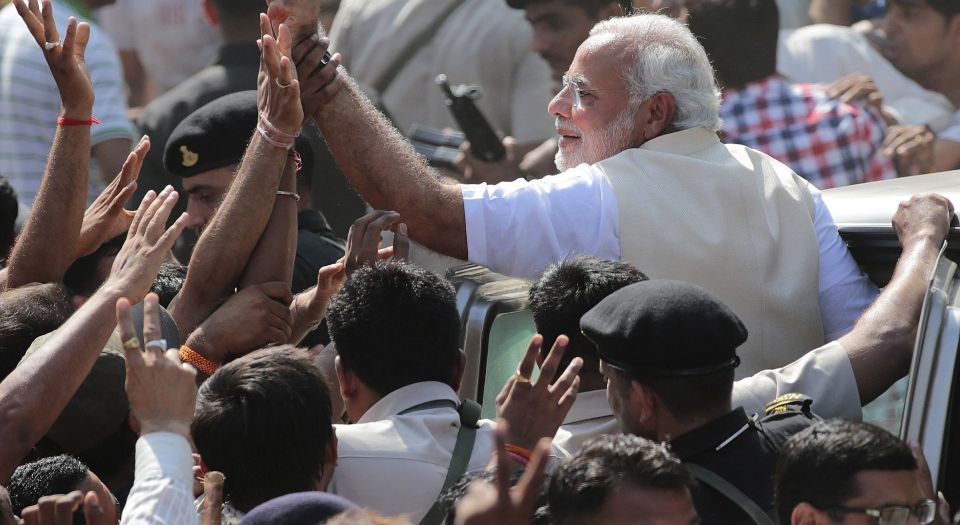 Anyone in the West who knows one thing about Indian politics knows this: incoming prime minister Narendra Modi is a fascist, or at very least a sinister Hindu nationalist who had something to do with a massacre of Muslims some years ago. His election victory is therefore very ominous. Anyone who delves a little deeper, however, will soon unearth another pearl of wisdom: things are a lot more subtle and complicated than that.
For one thing, India is a democracy with a functioning judicial system, if flawed like any other. Modi's role in events in Gujarat in 2002 has been investigated and no evidence of wrongdoing has been found. True, he was chief minister of the state at the time and his comments on the killings have been cryptic and unsatisfactory. More importantly, his party, the BJP, was heavily involved in agitation around the issue that ultimately led to the violence – namely demands for a temple to the Hindu god Ram on the site of the destroyed Babri mosque in the north Indian city of Ayodhya. There is much to criticise in the BJP's record when it comes to Hindu-Muslim relations.
Nevertheless, it would be a mistake to see the party's election victory as a straightforward vindication of that record. And it would certainly be wrong to think the great mass of voters see Modi as responsible for the 2002 killings and have given him the thumbs up. Such a reading of the situation seriously underestimates the extent to which the issue of communal violence was politicised by the outgoing Congress party, with politically toxic effects. The party's tendency to play up the BJP's 'communalism' in contrast to its own 'secularism' – portraying itself as the only force keeping India from descending into anarchy – was mocked by Modi and has clearly been rejected by those who voted for his party. But it is also widely recognised and perhaps even more bitterly resented on the left.
Writing on the radical website Kafila, in an article fiercely critical of Modi and the BJP, politics professor Aditya Nigam had this to say: 'The Congress, ably supported by a large section of secular, leftist intellectuals, has made secularism into a joke. We are supposed to deposit ourselves, bound hand and foot, at the feet of the Congress, never oppose their loot of the public exchequer, stay silent at the plunder of the commons sanctioned by them, and simply sing bhajans [devotional songs] to them for "protecting us from fascism"… This cynical game of secularism is what has now come to an end.'
To take the point further, it might even be argued that what remains of the secular idea of India will survive a BJP government under Modi more easily than it would have survived another term under Congress. So while many on the left blame Modi's expensive PR machine for browbeating gullible voters into buying its dubious product, Indians are perhaps to be congratulated for choosing a PR message of hope, however lacking in substance, over a comfortingly familiar brand that has shown itself over many years to do the opposite of what it says on the tin.
Of course, there were other options, and where there were credible regional parties, as in West Bengal or Tamil Nadu, voters elected them. But on the national stage, doubts about the credibility of the new, anti-corruption Aam Admi Party were surely confirmed by the suicidally vain decision of its leader Arvind Kejriwal to contest the election from Varanasi, taking on Modi himself. For most Indians, the equation was simple: to get rid of Congress, vote BJP.
Nigam also makes the important point that Modi was not really the favoured candidate of the Hindu right. Many senior leaders in the BJP and RSS (the organisation of the hardcore Hindu right) are suspicious of his individualistic style and ambition. And a huge part of Modi's popular appeal concerns something the RSS regards with great ambivalence: development. The much-debated 'Gujarat model' of development involves foreign direct investment, rapid social change and negotiating modernity; not exactly a Hindu nationalist wish list.
It was Modi's popularity far beyond the saffron fringe that is the RSS that forced the BJP to announce him as its candidate last year. For critics, that popularity was engineered by Modi's real sponsors: big business and big media. And the BJP under Modi will certainly have a 'pro-business' agenda. But to lament that fact raises the question, 'as opposed to what?'. While Congress has become synonymous with corruption, India's various Communist parties have failed to persuade the masses of their 'pro-people' agenda. (Maoist guerrillas prevent some Indians from voting at all.) Voters can hardly be blamed for not rejecting capitalism at an election in which it was never at issue.
India desperately needs further development, which inevitably means big business operating in the country, to the benefit of some and the detriment of others, at least in the short term. This is an uncomfortable fact for the RSS and the left alike – not to mention everyone else. But unfortunately, this election was never about how to make development work for the people of India as well as – or even instead of – for corporate profit.
As I suggested on spiked before the election, that's a question that can properly be answered only when democracy in India runs much deeper than the grubby topsoil on view in Election 2014, which is another reason to favour development, bringing jobs and improved education, at least for some. But the demise of Congress – if secular, leftist intellectuals can be dissuaded from attempting to resuscitate it – opens the possibility of something radically new. And with millions of people gradually emerging from poverty and aspiring to more, India is certainly no worse placed than anywhere else to try it.
Dolan Cummings is a writer based in London.
To enquire about republishing spiked's content, a right to reply or to request a correction, please contact the managing editor, Viv Regan.