Stop pathologising people who vote for Eurosceptic parties
They aren't just 'protest voters' or a mob – they're searching for solidarity.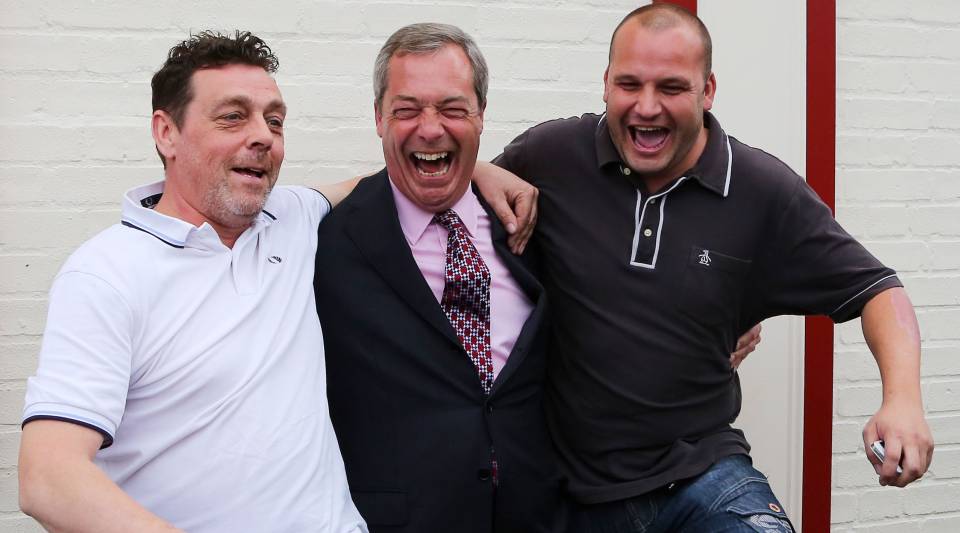 There are a variety of ways of saying that people who voted for Eurosceptic parties like the UK Independence Party or the Danish People's Party should not really be taken seriously.
The most simplistic way of trivialising the casting of a ballot for Eurosceptic parties in last week's Euro-elections is to suggest that it represents the empty gesture of a protest vote. The label of 'protest voters' suggests that these people should not be taken too seriously because their actions do not express their true beliefs. The idea that these 'protest votes' were just about letting off steam was clearly stated by Phillip Hammond, Britain's defence secretary, who described UKIP's supporters as 'lender voters' who, after giving the Conservative government 'a kicking', would return to the Tory fold in next year's General Election.
Another way of morally devaluing support for Eurosceptic parties is to diagnose it as a marker for 'anger issues'. This was the approach taken by the British Labour Party's shadow business secretary Chuka Umunna, who said UKIP's electoral triumph in the Euro-elections in Britain was a 'symptom of anger' related to the lack of dynamism in politics. This focus on anger psychologises people's political behaviour. After all, the true antidote to anger is not political debate but a course in anger-management therapy. From this psychobabble standpoint, the alleged emotional state of the Eurosceptic voter is not really conducive to rational political intervention. This point was highlighted in the title of a piece written by Jim Pickard, chief political correspondent of the Financial Times: 'Angry voters turn to anti-politics of Nigel Farage.' In one line, the FT managed to depoliticise the behaviour of UKIP's supporters, treating them as emotional nutjobs whose votes floated effortlessly towards, not the politics, but the 'anti-politics' of UKIP leader Farage.
The language of contempt with which the anti-EU electorate is discussed echoes classical elitist disdain for the demos and the so-called multitude. Apparently, this multitude lacks the moral and intellectual resources that are required to grasp and understand the political issues currently facing Europe. When Germany's vice chancellor, the Social Democrat leader Sigmar Gabriel, denounced Eurosceptic parties on both the left and right as 'stupid', he gave voice to a sentiment that is widespread among Europe's political elites. They really do think that the angry protest voter is something of a simpleton who is unable to understand the complexities of modern society.
The medicalisation of the morally inferior Eurosceptic citizen is most clearly expressed through the EU elites' handwringing over populism. It is not entirely clear when the word populist became a term of abuse. Today, it is almost always used abusively. In the EU context, the word populist is now intimately associated with xenophobia, racism, an addiction to simplistic outlooks, and an affinity with outdated and backward cultural norms and practices. 'Populism in all its guises is anti-liberal, uninterested in nuanced solutions to complex problems, and always has the potential to be xenophobic' – that is the verdict of one academic analysis of the alleged political pathology of populism. Another, more charitable version of this outlook says 'populism might be described as the politics of offering easy answers while providing no real solution'.
The flipside of depicting populism as an infantile expression of a simplistic worldview is to flatter the EU's ever-so-subtle and sophisticated political class for being bravely prepared to wrestle with extremely complex problems. It is important to understand that this attempt to draw a distinction between a responsible enlightened political elite and morally dissolute populist movements is not simply an attempt to validate the politics of the status quo. It also confirms the EU's reluctance to expose its decisions and law-making to the scrutiny of democratic debate and opinion. Technocrats are not comfortable with the verdict of democratic debate, which is why they so casually dismiss the apparently dissident electorate.
There are no doubt numerous and conflicting reasons why people voted for Eurosceptic parties. What is surprising, given the unravelling of mainstream political parties and their loss of direction, is that it has taken so long for radical parties of the left and right to emerge in the pretty strong way that they did in these most recent Euro-elections.
Insofar as there is a common thing binding the disparate groups of people who voted for an anti-EU party like UKIP in Britain or for leftish groups like SYRIZA in Greece, it is best characterised as an aspiration for solidarity. Across Europe, significant sections of society feel psychically distant from their governments and institutions. They feel patronised by governments that believe their role is not to represent the people but rather to gain the acquiescence of the public for their pet projects. In such circumstances, many people feel like strangers and outsiders in their own hometowns and nations. They feel that their habits, customs and traditions are being constantly ridiculed by an oligarchy that claims to know what the public really needs. Consequently, many Europeans are insecure about their cultural and community heritage, and are drawn towards movements that promise to respect them.
The aspiration for solidarity is most consistently expressed by movements that claim to support the common people in a struggle against an increasingly alien elite. That is what populism is really about. Of course, populism comes in a variety of shapes and forms. Various motives – from chauvinistic revanchism to anti-immigrant racism to a desire for social justice and equality – can attach themselves to populism. The trajectory of a populist movement is shaped by the competing cultural and political influences bearing down upon it. But contrary to the current linking of populism with an impulse to stigmatise and exclude minorities, there are numerous examples of what the late American thinker Christopher Lasch called 'democratic populism'. In his book The True and Only Heaven, Lasch described populism in America as a reaction to both the free market and the welfare state. He emphasised the significance that populists attached to taking responsibility for their lives and circumstances.
It was precisely because populism was so often associated with egalitarian democracy in the United States that even sections of the left supported it in the past. It is worth recalling that, historically, many populist movements, such as the Chartists, were associated with the politics of the left. As the American historian Michael Kazin observed, in the US for over a century the language of populism was an inspiration to movements on the left. It was only in the 1940s that American populist discourse started to migrate from the left to the right. In principle, there is no reason why the populist imagination should be monopolised by one single political voice.
Certainly in contemporary Europe, populism has become a political style embraced by myriad, heterogeneous ideological movements. At a time when millions of Europeans feel ignored and marginalised by a political elite that treats them with contempt, their embrace of populism is not at all surprising. In fact, this reaction against an arrogant elite that treats the public as its moral inferiors is on balance a healthy development. Populism serves as a medium for responding to the EU oligarchy's culture war against sections of European society.
However, populism on its own is not enough. What is really required today is the crystallisation of the populist impulse into a political movement that might infuse the aspiration for solidarity with the ideals of popular sovereignty, consent, and an uncompromising commitment to liberty. Now that could really represent the making of a movement that might shake up public life and add meaning to politics.
Frank Furedi's latest book, First World War: Still No End in Sight, is published by Bloomsbury. (Order this book from Amazon (UK).) Visit his website here.
Picture by: Gareth Fuller/PA Wire/Press Association Images.
To enquire about republishing spiked's content, a right to reply or to request a correction, please contact the managing editor, Viv Regan.