An Angela's Ashes for the bored middle classes
Laurie Penny's tome is self-pity sexed up as radicalism.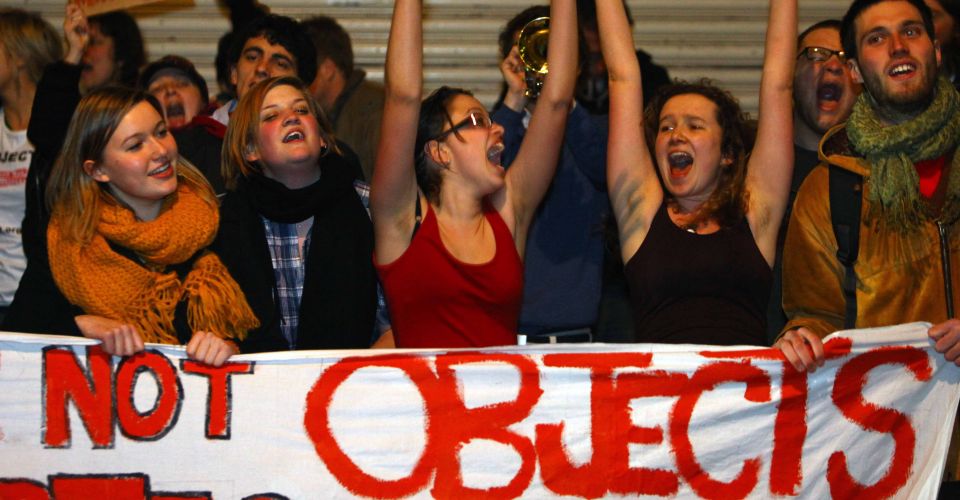 There is nothing that makes me more bored than disingenuous writing, and I've found Laurie Penny's new book Unspeakable Things to be a great cure for insomnia. After 260 pages of what she describes as 'Sex, Lies and Revolution', disappointingly I felt nothing more strongly than irritation. This is not a back-handed compliment: Penny plays it far too safe. Unspeakable Things is not, as Penny pointedly states, 'the book as bombshell'; it is a handbook on how to be 'right on'.
The comprehensive list Penny provides of who the book is intended for is symptomatic of the current trend in online political writing of my generation. If you aren't writing for 'the others, as one of the others' ('queers', 'transsexuals' and so on), then you aren't worth reading because you don't tick the 'edgy' boxes. Penny's reiteration of her position on the peripherals of 'normality' reads like a desperate plea to be cool. This is not to suggest that some of the figures on her list are purely fashionable; 'queers', 'anarchists' and 'transsexuals' have certainly not been waiting for Penny's voice to lift them into the published world. The problem is Penny's desire to keep her selected few 'others' separate from a discussion about universal equality. In this way, she adheres to the contemporary 'check your privilege' demand that anyone who speaks up in public has to declare their background. Penny writes: 'The fact that I was born white and middle class in an English-speaking country and form relationships mostly although not exclusively with men inevitably affects how I think, how I write and how I live my life.' In an article for the New Statesman in June, Penny assured us, 'I'm about as close as you can get to the trans-rights movement without being trans [myself]'. Penny imagines being queer as a clique, into which only she has the secret password for heterosexual entry.
Why are we expected to care about an individual's personal life or use it to inform our interpretation of his or her political stance? In any political discussion, background or personal life should not define the parameters of what can and cannot be discussed. Unspeakable Things promises a no-bullshit, de-personalised approach in its introductory pages, but by the first chapter the book descends into a poorly written anecdote which, despite its adjective-laden opening about her teenage anorexia, fails to keep the reader's attention.
Playing the victim is key to Penny's autobiographical misery memoir of the not-so-miserable. Perhaps the most disturbing part of the book is its politicisation of anorexia. Turning an illness into part of her political awakening, Penny misses the (rather obvious) meaning of eating disorders –that not only are they sicknesses partly caused by social pressure to lose weight, but they're also a dysfunction in the mental health of an individual. In Penny's desire to seem 'other' through her anorexia, she actually embraces mental illness as a choice of disenchanted youth, a rebellion against 'normality'. Today's society is extremely unforgiving of people who don't look like they just stepped out of a magazine, and being a teenager can be tough. However, to make an argument like Penny's that a mental illness like anorexia or OCD is a form of political resistance is deeply worrying. In her attempt to dramatise her rather average-sounding life, Penny creates an Angela's Ashes for the bored middle classes.
In fact, the points raised in this book are simply not unspeakable. The sexism that Penny imagines she is finally revealing to the world is all too speakable today. In her failure to say anything new about contemporary feminism, Penny fails to recognise the broader problem of contemporary politics. Namely, that in the endless discussions about rape culture, rapey lads, sexualised teens and vulnerable children, to which Penny more than contributes, women are depicted as weak, victimised things who cannot leave the house for the cat calls from the world of evil men. Little wonder Unspeakable Things does not make me angry or excited or empowered. It fails to move past the same arguments that have been trotted out for years about patriarchy in all its nastiness. The key problem is in Penny's disdain for any kind of collective or universal outlook. Her feminism is dead, privilege-outing needs to be killed off, and we need to start talking about what society needs, not what the trans-queer-black-feminist specifically desires or the white-straight-cis-middle-class-occasional-girl-kisser-dramatic-paragraph-ending-loving female writes. Unspeakable Things is an obituary for so-called fourth-wave feminism – let's have the wake and move on.
Ellamay Russell is studying for a masters in literature at the University of Sussex.
Unspeakable Things: Sex, Lies and Revolution, by Laurie Penny is published by Bloomsbury. (Buy this book from Amazon(UK).)
To enquire about republishing spiked's content, a right to reply or to request a correction, please contact the managing editor, Viv Regan.