Why feminists bow down to Beyoncé
The excitement over Queen B's 'feminist' VMA turn reeks of desperation.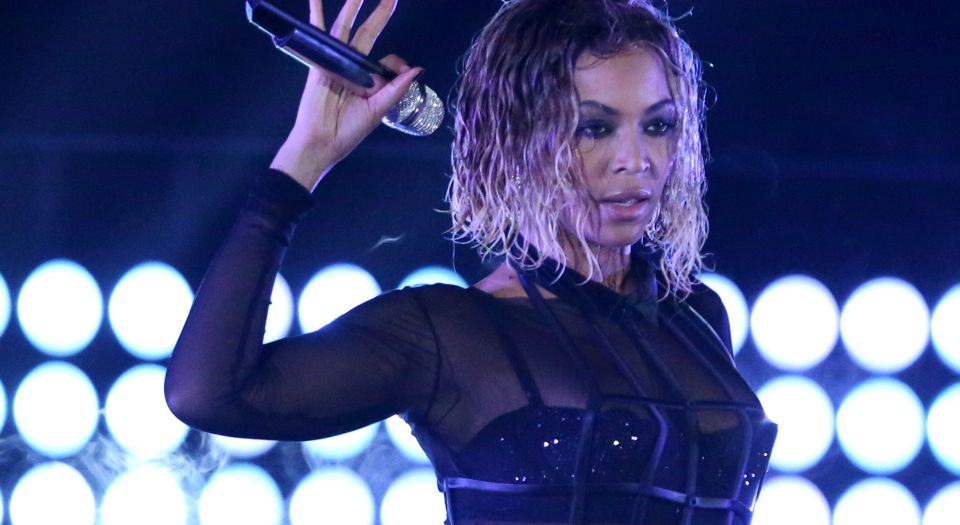 Sure, pop stars are entitled to their opinions – no matter how boneheaded, boring or nonsensical they may be. What's worrying is how seriously these PR stunts are being treated by people who should really know better. For the younger end of the so-called respectable press, award shows have become essential viewing. The show is barely over before someone or something is leapt on, blogged about, analysed, cheered, jeered or mocked by these hip, skinny-jeans journos.
This is especially true of the MTV Video Music Awards (VMAs). In a bizarre twist, it's become the dip-test for contemporary feminism. Last year, Miley Cyrus' infamous antics fuelled discussion about the alleged misogyny of the music industry and the 'objectified', stripper-fied vision of womanhood that is being pushed on Miley's tween audience. Things looked bad; very bad. But don't worry. After enduring every feminist-hued columnist proselytising about the evils of twerking for a solid 12 months, it seems like things are looking up. Because, at the 2014 VMAs last weekend, it was feminism wot stole the show. Ten minutes into Beyoncé's majestic, theatrical, booty-shaking medley to mark her Michael Jackson Vanguard award, the lights went down, the word 'FEMINIST' lit up behind her, and an excerpt played from a TED talk given by Nigerian feminist Chimamanda Ngozi Adichie.
It wasn't long before the comment pages erupted. 'The zeitgeist is irrefutably feminist: its name literally in bright lights', wrote Jessica Valenti in the Guardian. 'The most highly polished pop-culture message of my lifetime', wrote Rebecca Traister in the New Statesman. 'Beyoncé Knowles is [not] the single face of feminism… but she's sending a signal.'
It was hardly a new or provocative statement for the R&B megastar. The excerpt is sampled on the inimitable 'Flawless' from her latest self-titled album, and she has recently curried favour with feminists by penning a short article on the pay gap for the Shriver Report. Naturally, there were still those who took issue with Beyoncé 'coming out' as a feminist in the middle of a performance in which she writhed on stripper poles, slapped her ass and belted the refrain 'bow down, bitches' right before Adichie's interjection. But this was still a salutary moment for most – proof that, for the first time in a generation, feminism was officially cool.
You can understand their excitement. Mainstream feminists seem to have become obsessed with finding sparkly, sleb-shaped masts to nail their political colours to. 'Are you a feminist?' has become an obligatory question for interviewers, in a mad dash to claim as many stars as possible and reams of articles trumpet the feminist vanguard storming the entertainment industry. But rather than showing that feminism is thriving, the starry-eyed bent of mainstream feminism only reveals its rootlessness and its desperation.
Yes, the core, essential kernel of feminism, inoffensively summed up by Adichie as the 'social, political and economic equality of the sexes', has rightfully been embraced by modern society. This is, undoubtedly, a good thing. But the truly radical movement that was feminism has evaporated. It's become a dirty word, one that you needn't be a frothing pig or a self-hating woman to be wary of pinning to your chest.
Feminism today is often caricatured as man-hating, sexless and prudish. If only it were that simple. There's truth to these claims, of course – some quarters of feminism bear a disdain for porn, saucy music videos and the men who consume them. But the biggest malady afflicting feminism isn't that it's too extreme, too much of a ball-bashing force to be reckoned with; it's that it's become rootless, anaemic and cut-off from the real world.
The constant privilege-checking, the in-fighting and the lengthy Twitter battles over dodgy theories have robbed feminism of any unifying cause. But if there's one thing most feminists can agree on it's that women are all in need of protection – from Miley, Page 3, catcalls, you name it. For the prominent elite feminists of today, women are not autonomous individuals, capable of self-emancipation; they are all victims of the big-bad patriarchy in need of their patronage. As a result, the entire movement has become at once off-putting and utterly incomprehensible; retreating completely from the public square and residing in chatrooms, discussion groups and select newspaper columns.
When feminists lust after Beyoncé, they do so from a sense of isolation and neediness. Unable to connect with anyone outside of their own cosmopolitan circle, they see in Queen Bey everything that they're not – power, popularity; a force to be reckoned with. No wonder they're all bowing down.
Tom Slater is assistant editor at spiked. Follow him on Twitter: @Tom_Slater_
To enquire about republishing spiked's content, a right to reply or to request a correction, please contact the managing editor, Viv Regan.