Get pissed, have sex and speak your mind…
The spiked guide to thriving at freshers' week.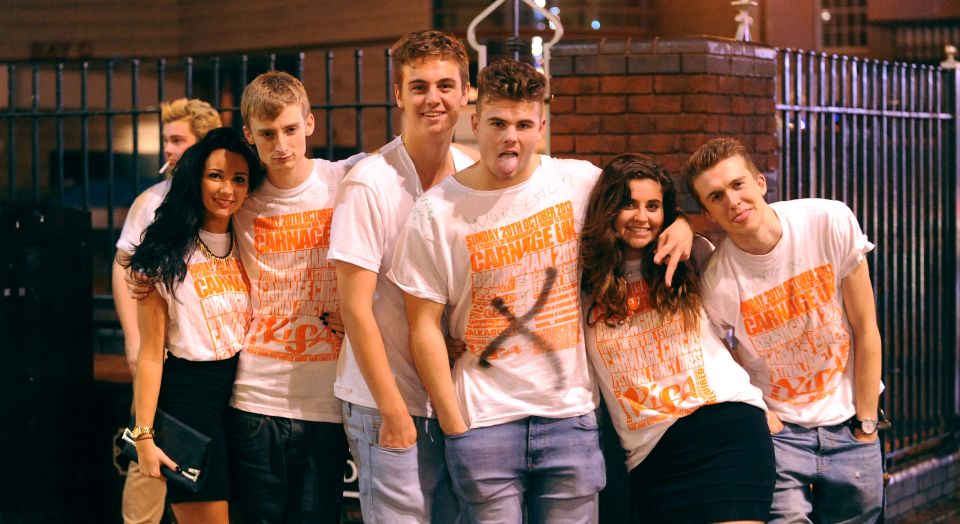 In the run up to freshers' week, a slew of 'survival guides' for burgeoning first years have been published – as they are every year. These patronising guides, insisting you get your five-a-day, go easy on the booze and be on your guard for your fellow freshers' drunken advances, should make any new student shake their head in disgust. So here are some alternative Top Five tips for freshers' week from a third year in the prime of his decadence.
5) Drink yourself into oblivion
Frankly, all of the stay-off-the-drink advice, not to mention the NUS's own anti-drinking campaigns, are a bit insensitive. You've just been thrown headfirst into the most pretentious and obnoxious group of people you've ever been around in your life, and, worst of all, you'll probably fit right in. Look, you're young and your liver can take it. You can be throwing up outside a chippy at 4am and be happily sleeping at your 9am lecture the next day with only the slightest headache. Plus, despite all the Victorian scaremongering about marauding student drunks, most of the people around you don't mean you any harm. So drink irresponsibly while you can; it will give you some of the best memories you can't remember of your whole uni experience.
4) Have as much casual sex as possible
You're probably the most attractive you've ever been, and you ever will be, given the three years of boozing that awaits. So now really isn't the time for those prudish 'safe-sex' dictums handed down by your SU office; you're not a seven-year-old staring in wonder at a diagram of a uterus, or a brow-furrowed 12-year-old ripping a condom over a banana. You and the people around you are already at university, so clearly you aren't idiots. People are out to have fun, so wink at pretty girls in the hallway, get Tinder, get Happn, and, if you're still not having any luck, get Grindr and switch the lights off.
3) Avoid SU politicos like the plague
As soon as you arrive on campus you'll likely be instantly harangued and fawned over by your students' union reps. Students' union positions have no real importance or meaning and are quickly filled by power-hungry, aspiring demagogues who are voted in by a landslide 0.00001 per cent of the disaffected student electorate as they desperately try to cling to the student life after graduation. While most students generally become less obnoxious as they progress through university, these are the people who go the other way – becoming more close-minded, more censorious and more hopelessly in love with themselves and their own ideas. These are the people to avoid.
2) Talk to people – even the rugby team
There has been lot of handwringing about 'lad culture' recently. So much so that the NUS has formed a Lad Culture National Strategy Team to take on these terrifying rugby lads who are apparently ruining campus life by making a few crass jokes. Don't let the earth-shattering discovery that young, lager-fuelled men are still acting like young, lager-fuelled men make you ostracise certain people from your social circle. Just because a person has the attributes of a so-called lad, or holds different views or values to yours, doesn't mean they should be avoided. University is not just about finding like-minded people – it's about opening your mind to different personalities and ways of life. Don't let the fearmongering of others censor your life and experiences. The only real thing to be afraid of is not experiencing as much as you could.
1) Don't let anyone tell you student life is hard
One thing that shines out from all of the freshers' guides is one insight: university life is hard! You'll be stressed, they say, you'll be broke and constantly surrounded by marauding perverts. You're young, allowed to drink, surrounded by beautiful people, and you actually get paid money by the government to study, read and write about anything you want while getting smashed and getting ill-advised piercings. Deeper than that, being a student is about opening yourself to new experiences, personal and academic, that can often stray outside of the boundaries of what others dictate as right or safe. Student life means personal freedom like you've never had it before. If you really need a guide to survive the most carefree time of your life, you might as well move back home and stay there.
Yamir Ash is studying war studies and history and King's College London and is the co-editor of the Kings Tab.
To enquire about republishing spiked's content, a right to reply or to request a correction, please contact the managing editor, Viv Regan.