Turner: sordid man, sublime art
Timothy Spall is outstanding as the artist who invented modernism.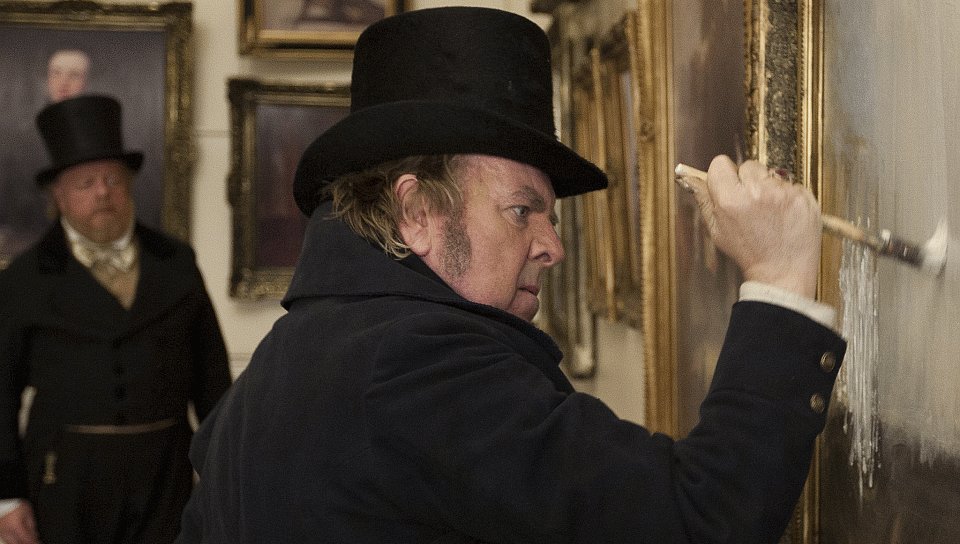 JMW Turner was something of a man of contradictions. He was an exponent of the introvert and subjective spirit of Romanticism, yet he was beguiled by modernity and new innovations such as photography and the steam locomotive. He was taciturn and selfish and still capable of great displays of affection and gregariousness. His coarse and gnarly persona – and often sordid private life – contrasted starkly with his works of sublime beauty.
Mike Leigh's lengthy film about the artist isn't easy to classify, either. It can't be called a biopic: it begins in 1826, with Turner at the age of 51. Despite its sombre tone and grim, arresting conclusion, it has episodes of great levity. Neither has it a coherent plot to speak of. It's a bit like a Regency era Withnail and I. Yet Leigh eschews the clichés we would have expected of an inferior director. Turner isn't an artistic genius trapped in penury or racked by self-doubt, a tormented homosexual or drug-addled bohemian 'haunted by demons' – he is a wealthy professional fully aware of his power and talents.
By the 1820s, Turner is now working in his London townhouse, aided by his simple, doting housekeeper Hannah (Dorothy Atkinson) and his father William Sr (Paul Lesson), making sojourns to the Royal Academy and to the Kent seaside town of Margate, where he falls in love with the sympathetic widow Mrs Booth (Marion Bailey).
After his first visit to Italy in 1819, Turner's style had become more impressionist. He had developed a fascination with light and the sublime aesthetic. He is regarded today as a proto-modernist, and it's a credit to the film that his avant-garde technique, and indeed the period costume, don't detract from the plot and essence of the film: the paintings aren't mere adornments and protagonists are not reduced to mannequins a la Downton Abbey.
We do nonetheless see his works literally re-created, and the manner of their creation, in their splendour, most memorably his 1844 composition 'Rain, Steam and Speed – the Great Western Railway', in my opinion his greatest achievement. It's a painting that both embodied the ethereal spirit of Romanticism and uncannily anticipated the dynamism of Futurism. It is one of the first, and still one of the best, paintings of a train.
This is a slow and enigmatic motion picture. Turner is a sexually dishevelled and primitive man, grunting and spitting throughout, with Spall – with his antiquated Cockney patois – emerging as a kind of porcine Bob Hoskins. Turner is utterly selfish, deserting the mother of his two illegitimate daughters, claiming instead to be 'married' to his art. Here, there is a salutary lesson for creative types – artists, musicians, authors and journalists alike. If you want to be the best you have to be self-consumed. Were Rousseau, Wagner and Joyce not such egregious narcissists, their names might have been long forgotten.
Still, a touching moment is when Turner sees his work cruelly sent-up in the theatre. He is portrayed by stage actors as a charlatan, and his patrons as gullible fools for buying art that, in today's parlance, 'my 10-year-old kid could do'. Yet the hostile reception to his late pre-impressionist abstractionism, especially by Queen Victoria (Sinead Matthews), is treated without blunderbuss. We know that this is a nod to the modern tabloid tendency to dismiss non-representational art as dreadful and fraudulent, but the allusion here isn't laboured.
There are defects, however. Turner is portrayed as fascinated by the new invention of the daguerreotype, and ventures to have his photograph taken. When told that the session is finished, Spall mutters in resignation, 'I fear that I too am finished'. Yet of all artists of his era, surely Turner was one of the least threatened by the new technology of photography? After all, wasn't this the main gripe of his later detractors – that his later paintings weren't 'realistic'? The film is slow to start with and is too long, and you never really get to know who the real Turner was. But maybe no one ever did.
These are but small quibbles. Joshua McGuire is hilarious as the foppish and indulged art critic John Ruskin, as is Martin Savage as the penniless, tantrum-throwing, Withnail-esque Benjamin Haydon. McGuire's lisp is historically spot-on, it being a linguistic fashion of Regency-era dandies, and Mrs Booth's old, 'ooh-arr' East Kent accent is another neat attention to detail. Spall, who spent two years learning to paint for this role, is an absolute triumph as the shabby, lustful, ursine, egotistical and thoroughly amiable artist. It will probably be the defining performance of his career.
Patrick West is a columnist for spiked.
Watch the trailer for Mr Turner:
To enquire about republishing spiked's content, a right to reply or to request a correction, please contact the managing editor, Viv Regan.