The Sydney siege: an act of evil
Nick Cater takes Brendan O'Neill to task over the Lindt café terrorism.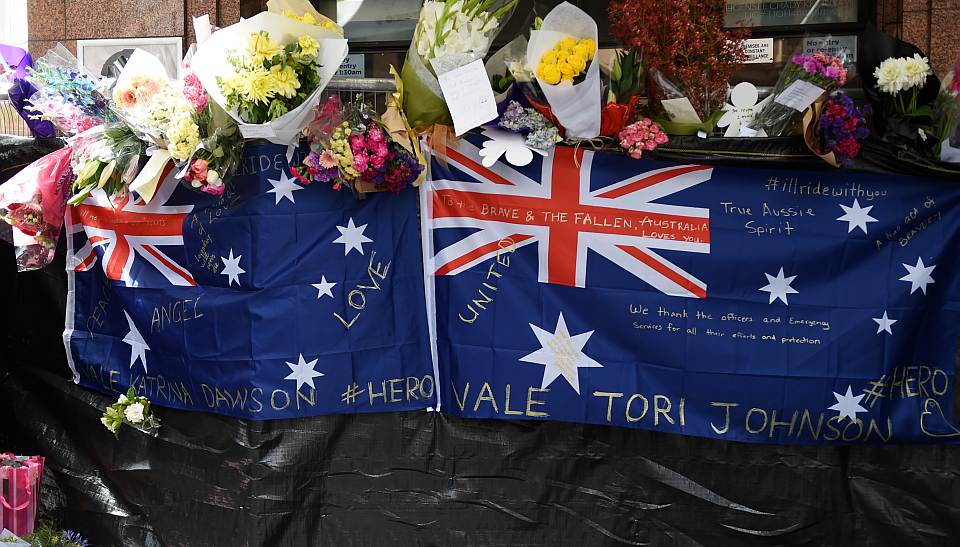 If you enter the word 'hell' into an iPhone, it insists that what you really meant to type was 'he'll'.
The language of evil has clearly fallen out of fashion. Which is a pity, because when a maniac goes berserk in a chocolate café in your hometown, holding the cappuccino queue at gunpoint in the name of Islam, only the rhetoric of damnation will do.
'Hell has touched us', was how Sydney's Catholic archbishop Anthony Fisher described the carnage at the Lindt café on Tuesday. The evocation of a wickedness and suffering from which there is no escape captured how many of us felt.
Once, the message from the pulpit that addressed our collective anxiety would have been taken more seriously in a week like this. Now, instead, we rely on our secular clerisy to endow senseless acts of depravity with meaning. Sadly, as Brendan O'Neill pointed out in spiked earlier this week, they do a less than adequate job.
The Sydney siege was neither a strike from the Caliphate in the heart of Western civilisation nor a consequence of Western decadence. Man Haron Monis was not a soldier of Islam, much less a helpless victim of neo-colonial oppression. He was a malicious and depraved individual inspired by who-knows-what.
Yet to insist that this was not terrorism, to explain away the dread we feel in the pit of our stomachs as the manufactured fear of Islamofascism or Islamophobia, is to deny the genuine emotions of millions of Sydney residents and countless others around the world.
Before mocking the 'conspicuous compassion' of tweeting #illridewithyou, or blaming journalists for fabricating hysteria, we must acknowledge a shared anxiety that exists independently of the media or the moral crusaders.
Rather than dismissing this popular foreboding as a non-rational response to an isolated incident and demanding that we pull ourselves together, our analytical class should harness their collective IQs to try to understand why the rest of Australia found the siege of the Lindt café so affronting.
Whether or not we consider the Lindt café siege to be a 'small act of violence', as O'Neill describes it, depends on where one sits. In Aleppo or Islamabad, for example, it would be a minor, unreported event, insignificant to all except relatives, friends and eyewitnesses.
In Sydney, a city unscarred by bullet holes or explosions, this is far from a minor event. It is an affront to the Spirit of Liberty in which the city was founded, and betrays the tolerance with which it has welcomed all-comers since 1788.
It is a city where civic disputes are settled at the ballot box and the right to speak one's mind is sacrosanct. It is the city that invented talkback radio and is the home of Australia's most outspoken press.
It is a city where nobody – especially not the government – is above the law, and where order is secured through consensus rather than force.
It is a city of ruthless egalitarian intent, where passengers ride in the front of the taxi, thank the bus driver and pay for their shout; a city that calls its premier Mike and its prime minister Tony.
It is a place where the Indian at the counter of the 7-11 will tell you to ''avagood day' and where a Korean hairdresser will swap notes on the runners in the Melbourne Cup.
It is also Australia's most ethnically diverse state capital, a destination to which people aspire to migrate, not for the weather, the beaches and the football, but because there are no institutional barriers to success. It is a place where you can own your own future, and the only thing that holds you back are your own failings.
It is not a city where it is polite to blame circumstances or other people for disappointments or failure. Guilt is internalised; fortitude and resilience are admired above all.
The culture of grievance and hatred that possessed Man Haron Monis is utterly at odds with the spirit of Sydney and Australia. The astounding sense of entitlement that justifies taking the life of a complete stranger in pursuit of some half-baked utopian ambition is incomprehensible to normal Australians.
To be given shelter as a refugee and then to repay your hosts by abusing and dishonouring their servicemen and preaching hateful sermons, albeit to a largely imaginary congregation, is utterly reprehensible. We have barely begun to scratch the surface of this man's depravity before we run out of suitable words. Perhaps Archbishop Fisher can give us more.
Yet O'Neill is right to say that our society will be defined by the courage with which we respond to this outrage. Our terror is understandable, but this is a time to confront our fears, not to succumb to them.
Once again religion, a language that addresses our emotions unapologetically, is more inspiring than a thousand tweets.
'The darkness need not overcome the light; indeed, the Christmas-Easter-Christian message is: it cannot!', Archbishop Fisher said.
He continued: 'There is something greater than hatred and violence. There is Love, that humble, self-donative Love that comes in the shape of the Christmas Babe, the Prince of Peace. He can soften the hardest hearts. He can convert the most hardened sinner.'
Nick Cater is author of The Lucky Culture (and the rise of an Australian Ruling Class), published by HarperCollins Australia.
Picture by: PA Images.
To enquire about republishing spiked's content, a right to reply or to request a correction, please contact the managing editor, Viv Regan.