From 'Je suis Charlie' to 'Nous Sommes Voltaire'
Despite the outburst of solidarity, free speech is still in the firing line.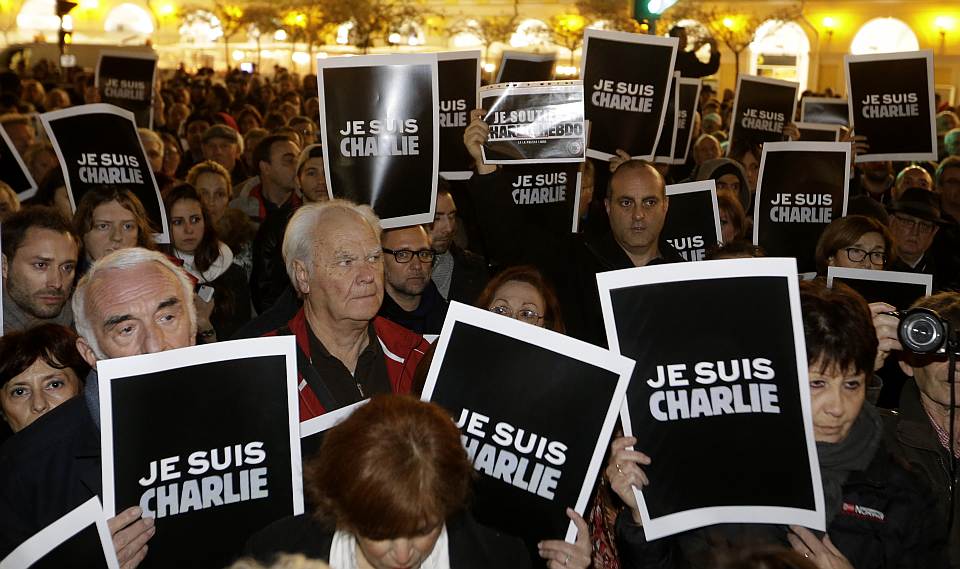 Since the massacre at Charlie Hebdo, it seems as if the Western world has rallied around the cause of free speech and a free press. Those 'Je Suis Charlie' memes have been everywhere, and every politician and public figure has been queuing to express their belief in freedom.
Solidarity is a great thing. But look a little closer, and support for freedom of expression and of the press is not as solid as it might appear. If we are to turn the outburst of sympathy for Charlie Hebdo into meaningful support for free speech, we need to remind ourselves of a few things.
The response to the massacre reveals the weakness of free speech
It would be easy to imagine that the response to the attack on Charlie Hebdo reflected the strength of support for freedom of speech and of the press. It would also be wrong.
If there really was solid support for free speech, it would not take the cold-blooded murder of 10 journalists alongside two policemen in Paris to prompt our politicians and others to mention it. The loud expressions of support for free speech have been so striking because they contrast with the everyday silence on the subject.
In normal circumstances we in the West spend far more time discussing how to restrict and outlaw harmful or hateful speech than how to defend and extend that precious liberty. Almost everybody in public life, barring perhaps the Islamic State supporters' club, pays lip service to the principle of free speech. Scratch the surface, however, and in practice most will add the inevitable 'But…' to button that lip and put a limit on liberty.
Even in the aftermath of the Charlie Hebdo massacre, it was not long before the 'Buts' were back, from the feminist blogger who called the attack on the offensive magazine 'understandable', to the European editor of the Financial Times who accused the 'stupid' Charlie Hebdo of 'editorial foolishness'. Nobody said they were asking for it, but…
Of course, everybody with a shred of humanity condemned the cold-blooded mass murder by Islamist gunmen. Well done. Now, what have you got to say about the right of Charlie Hebdo or any other section of the Western press to publish whatever it believes to be true or just funny, regardless of whether it upsets Muslims or Mumsnet, Tories or the transgender community?
The right to be offensive is about more than offending Islam
The right to be offensive has been a theme pursued by some of us for 25 years, since the backlash against Salman Rushdie's Satanic Verses. Suddenly after Charlie Hebdo, it seemed that everybody was talking about it.
Yet most appear to endorse a very restricted idea of that 'right'. They insist on their right to offend Islam or Christianity. But they show little tolerance for anything that offends their own cherished notions, such as the 'homophobic' attitudes of traditional religions. The Financial Times even felt obliged to amend its European editor's offending column about 'stupid' Charlie Hebdo last week, after an outraged response online. No right to offend against this consensus, clearly. Some of us prefer to have all such crap out in the open where we can deal with it in honest no-holds-barred debate.
In the UK we have witnessed a remarkable display of double standards from leading liberals who have backed the crusade to sanitise the 'offensive' British tabloids, yet now expect us to believe that they are freedom fighters for the satirical and scandal-mongering French press. It brings to mind the response of one surviving veteran Charlie Hebdo cartoonist, when asked what he thought of the sudden expressions of support from the Western establishment: 'We vomit on such people.'
The murderers acted as the armed wing of today's You Can't Say That culture
We need to face the hard fact that the Islamic gunmen who attacked the offices of Charlie Hebdo acted less as the soldiers of an ancient Eastern religion than as the armed extremist wing of a thoroughly modern Western creed.
As spiked has consistently argued, the West today is dogged by a creeping culture of conformism. From the official censors of the police and political elite to the army of unofficial censors online, the cri de coeur of these crusaders against offensive speech is You Can't Say That.
The Islamic gunmen took that attitude to a murderous extreme. Like others today, they seemed motivated less by deep principles than by thin-skinned sensitivities, seeking to prey on the self-censoring uncertainties of mainstream society.
There was outrage when USA Today published an article by London-based radical Islamic cleric Anjem Choudary, blaming the French government for allowing Charlie Hebdo 'to continue to provoke Muslims, thereby placing the sanctity of its citizens at risk'. Yet the vile Choudary was spelling out the implications of what others apparently now accept: that causing offence can be the worst offence of all.
From 'Je suis Charlie' to 'Nous sommes Voltaire'
Those ubiquitous 'Je Suis Charlie' slogans have brought millions together in a show of solidarity. Now we need to go further.
The truth is you don't have to be Charlie, read Charlie or like Charlie in order to defend it. Free speech is not the same as 'me speech'. It is always primarily about defending what a US Supreme Court justice once famously described as 'freedom for the thought that we hate'.
And it is only the offensive or outrageous – whether Charlie Hebdo or Anjem Choudary – that needs defending on free-speech grounds. As George Orwell said, if liberty means anything it must mean the right to tell people what they do not want to hear. Or, we might add, to laugh at.
France is the land of Voltaire, the eighteenth-century revolutionary writer whose views on tolerance and free speech were famously paraphrased a century ago by his English biographer, Evelyn Beatrice Hall: 'I disapprove of what you say, but I will defend to the death your right to say it.' It would be a fitting tribute to the Charlie Hebdo journalists if we could rekindle that spirit. Nous sommes Voltaire – now more than ever, we should all be with Voltaire.
Mick Hume is spiked's editor-at-large. His book, There is No Such Thing as a Free Press… And We Need One More Than Ever, is published by Societas. (Order this book from Amazon(UK).) Visit his website here.
To show solidarity with Charlie Hebdo, sign our freedom manifesto – for free speech, no ifs or buts.
To enquire about republishing spiked's content, a right to reply or to request a correction, please contact the managing editor, Viv Regan.