The Franklin expedition: a Victorian-era moon landing
New light is being shone on the brave but disastrous 1845 Arctic journey.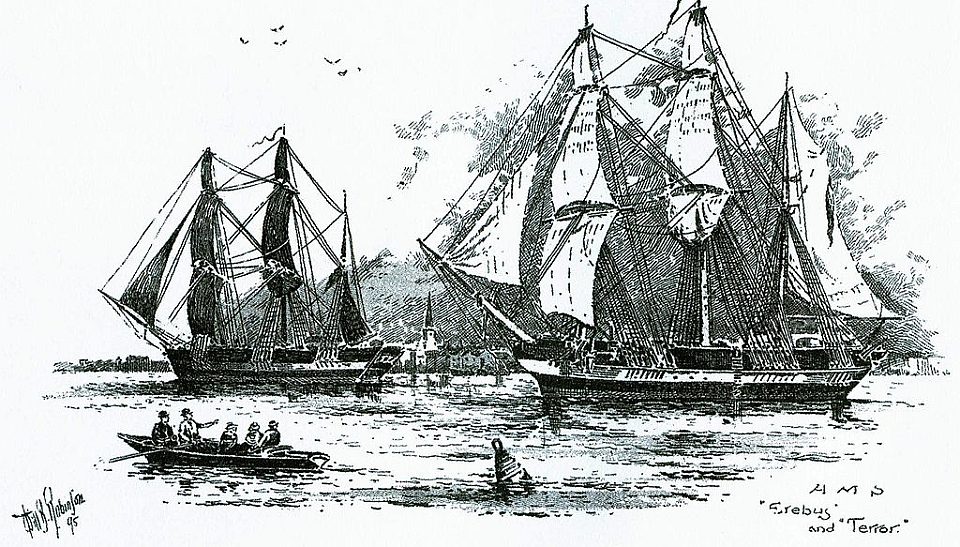 In May 1845, two Royal Navy ships, HMS Terror and Erebus, embarked from London on a voyage with ambitious aims. The mission would forge a passage through the partially mapped channels of northern Canada and pioneer the Northwest Passage. This route from Greenland to Alaska via the icy channels on the Arctic Circle would open new trading routes and allow vessels to forgo the dangerous and lengthy passage around Cape Horn. The attempt would use new technology pioneered in Britain – coal-fired engines powering propeller screws for locomotion, and tinned food.
The Admiralty decided on a large party in two ships under the command of Arctic veteran Sir John Franklin. Hostile conditions, the use of new technology, and – critically – operating beyond immediate assistance of the few trading forts and whaling stations to the south, meant the expedition was the equivalent of a Victorian-era moon landing. If men, supplies, technology, knowhow or leadership failed, then deaths could be expected. However, experience suggested that if the attempt met insurmountable obstacles there was a fair chance of retreating with only minor casualties, if leadership was decisive enough.
For the purposes of communication, the expedition was supplied with watertight brass tubes to hold written messages, to be left behind in coastal cairns. Provisions for three years were supplied, as it was expected that two overwinterings, locked in sea ice, would have to be borne. Without coal and food depoted ahead, and without a supply ship following the next season, the Admiralty's plan left Franklin perilously reliant on his own resources.
In July 1845, the ships sailed out of Baffin Bay and were never heard from again. After two years of silence, the alarm was raised in Britain and rescue ships dispatched, but they did not know the exact course Franklin had taken and had to operate in uncharted territory. The rescue missions endured fierce storms and temperatures so low that mercury froze. Firsthand narratives of those explorers have been made newly accessible via Cambridge University Press. CUP has selected some of the most notable texts on polar exploration for its print-on-demand service. For those who want new copies of long-out-of-print titles (and do not want to settle for scanned copies online), this service is ideal. The quality of paper, printing and binding is equal to standard-edition paperbacks.
One CUP title is Elisha Kent Kane's account. He led an expedition which discovered Franklin's first overwintering site. Kane's haunting description of relics and graves reads like a Victorian murder mystery. Kane's party was baffled as to why no message was left for followers. Clements Markham's survey of polar exploration gives an expansive overview of the context. He himself served in one of the Franklin search missions and describes the grinding labour of dragging sledges over sea ice.
It became plain, as search parties brought back the few clues, that 129 officers and men had died in the greatest single disaster in Arctic exploration. A rough outline became clear. All had started well but the ships had been woefully underpowered by their engines and relied on their sails. Much of the tinned food – produced by a contractor who was the lowest bidder – turned out to be rotten. A later expedition, using identical tins, discovered that much of their provisions were inedible. Some tins of meat included bone, which reduced the edible content to half of what it should have been. Loose beads of solder may have caused lead poisoning and inadequate preparation of tinned food may have given rise to cases of botulism. Franklin's ships became beset during their second and third summers, rendering them prey to tidal movements in ice and leaving men dangerously short of supplies. Their margin for survival had been cut to a bare minimum, as evidence of a terse note (the only one ever found) demonstrates. The message said that Franklin had died and survivors were abandoning the ships to head south with rowing boats. It was an impossibly long journey for starving men. (One of those boats – with skeletons – was discovered.)
The fate of the last survivors was established by John Rae, who (in the 1850s) met Eskimos who had met a small group of starving white men huddled on the coast. The men had been reduced to cannibalism – news the British press and public of the time discounted as slanderous falsehood. In recent years, forensic analysis of European bones discovered in the region found evidence of cuts from metal knives, confirming the Eskimo testimony. Rae saw Franklin artefacts which the Eskimos had received in return for seal meat.
The loss of Franklin's expedition has been cited as a failure caused by imperial hubris and inflexibility. Disaster is rarely due to single catastrophic causes but is usually an accumulation of contributory factors. In Franklin's case it seems severe weather, inadequate technology and provisions and the absence of messages for rescuers to follow doomed the party. Such a large party could not survive by hunting as the Inuit did. When Roald Amundsen finally navigated the Northwest Passage for the first time, he used a small vessel, a tiny crew and employed Inuit snowcraft and tools – the exact opposite of the Royal Navy approach.
Establishing the exact causes of the catastrophe has taxed scientists and historians, who failed to find further written messages or the abandoned ships. Then, in September last year, the Canadian government announced the discovery of HMS Erebus and showed video footage of the wreck. A full archaeological survey is being conducted and we are sure to learn much more about the Franklin disaster in the coming years. Now is a good moment to encounter historical accounts of Franklin's story before modern analysis supplies us with insights into an important event in British history.
Alexander Adams is a writer and art critic. He writes for Apollo, the Art Newspaper and the Jackdaw. His book The Crows of Berlin is published by Pig Ear Press. (Order this book from Pig Ear Press bookshop.)
The Lands of Silence: A History of Arctic and Antarctic Exploration, by Clements R Markham, (ed) FHH Guillemard, is published by Cambridge University Press. (Order this book from Amazon(UK).)
The US Grinnell Expedition in Search of Sir John Franklin: A Personal Narrative, by Elisha Kent Kane, is published by University of Michigan Library. (Order this book from Amazon(UK).)
To enquire about republishing spiked's content, a right to reply or to request a correction, please contact the managing editor, Viv Regan.