Where is the Je Suis Chelsea march?
The Chelsea fans on the Paris Metro have spurred on football's censors.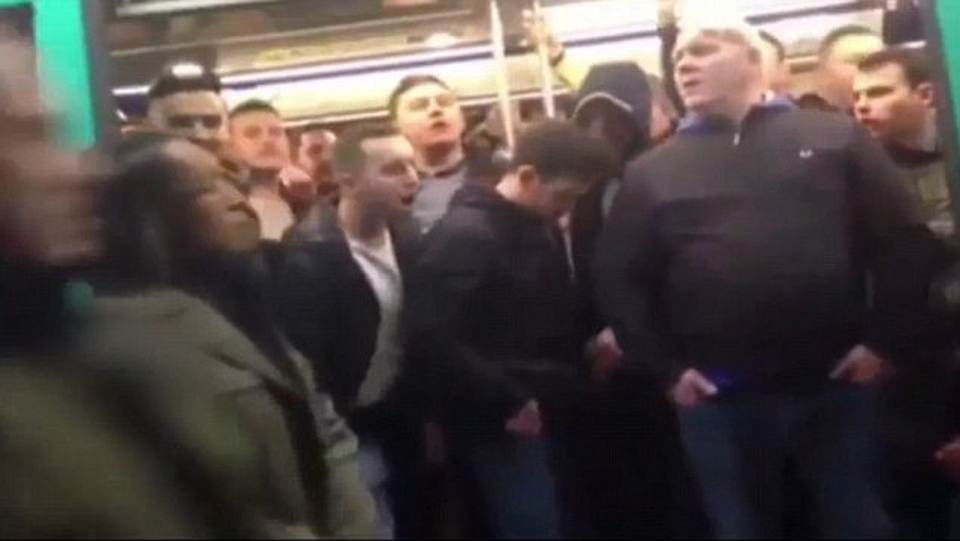 Last week's Copenhagen shootings have provoked another bout of phoney libertarian posturing. We saw the same gushing lip service paid to the principle of free speech after the Charlie Hebdo massacre last month. Everyone wanted a slice of the 'Je Suis Charlie' action, including those without a libertarian bone in their bodies. Every right-thinking person, it seemed, fully supported the right to offend, insult, ridicule and blaspheme. Naturally, we shouldn't have believed a word of it. You only have to look at football to see how hollow the commitment to freedom of expression really is.
Exhibit A, m'lud, is the race row which has blown up over the video clip of Chelsea fans behaving oafishly on the Paris Metro. The video shows fans singing 'We're racist, we're racist, and that's the way we like it', and pushing away a black passenger trying to board the train. It has provoked widespread condemnation. Chelsea FC issued a statement saying: 'Such behaviour is abhorrent and has no place in football or society.' The club is appealing for witnesses and says it will impose banning orders on the fans involved. London's Metropolitan Police say they will 'examine the footage with a view to seeing if we can apply for football-banning orders'.
This incident has been gleefully seized on by those who believe that racism in football never really went away. Scratch the surface and you'll still find ugly bigotry. 'We know that prejudice is on the increase and that in itself leads to hateful attitudes and this sort of conduct', said Kick It Out chairman Lord Ouseley. 'There is a greater shame here because we foolishly, naively, believed the issue of racism among our football supporters was a thing of the past', laments Neil Ashton in the Daily Mail. The Guardian's Barney Ronay says the incident is no surprise. '[F]or decades this kind of thing has happened, continues to happen, and most troubling, appears to be happening a little more now', he writes.
I think we need a sense of perspective here. The video appears quite shocking to us precisely because it's extremely rare to hear overtly racist chants sung by football fans. It's certainly not something you're likely to hear at Stamford Bridge. And we also need to bear in mind that this was a handful of fans – a tiny fraction of the 2,000 supporters who travelled to Paris. We've come a long way from the bad old days when Chelsea fans booed one of their own players, Paul Canoville, because of the colour of his skin. One isolated, unpleasant incident certainly doesn't signify a resurgence of racism.
I think we can all agree that the 'we're racist' chant was abhorrent. It is indisputable that the behaviour of those Chelsea fans was puerile, idiotic, rude and boorish. But should it be a crime to sing insulting and bigoted songs in a public place? Not in a free society. Should behaving like a complete uncouth moron on public transport be an arrestable offence? As I said, not in a free society. Freedom of speech: it's not such a difficult concept to grasp, is it? In a free society, we don't lock people up for expressing opinions which cause offence. We don't arrest people just because they have insulted us. And we certainly don't impose criminal sanctions for behaving like dickheads in public. If those supporters had kicked or punched passengers on the train, then they should of course have been charged with assault. But being rude, insulting and odious on public transport should not be a criminal offence.
I'm struck by the deafening silence from the advocates of civil liberties on this question. Where, one wonders, are all the 'Je Suis Charlie' types now? David Cameron described the Paris Metro incident as 'extremely disturbing and very worrying'. Yes, that's right, the same David Cameron who went on the Charlie Hebdo march last month and who told Channel 4 News that we should be 'allowed to offend people'. In a similar vein, deputy prime minister Nick Clegg was also grandstanding as a champion of free speech after the Charlie Hebdo massacre. 'You cannot have freedom unless people are free to offend each other', he said. 'We have no right not to be offended.' Admirable sentiments, but shouldn't that freedom extend to football fans singing racist songs? Are some forms of offensive speech more worthy of defending than others? Is it okay to lampoon jihadists but completely verboten to chant a stupid racist ditty?
Much as it might stick in the craw, the freedom to offend should apply to bigoted football fans, too. You can't be selective about which forms of expression should be permitted. You can't be 'Je Suis Charlie, but…'. We can't make exceptions or impose conditions. Freedom of speech should have no 'get out' clauses. Does that mean we turn the other cheek to racist chanting involving football fans? Certainly not. We should argue with, rebuke and confront the idiots. But arresting people for singing songs that we find distasteful has no place in a free and democratic society.
Duleep Allirajah is spiked's sports columnist. Follow him on Twitter: @DuleepOffside
To enquire about republishing spiked's content, a right to reply or to request a correction, please contact the managing editor, Viv Regan.