After Oklahoma, who will defend free speech?
Why did so few free-speech advocates stand up for the racist singing frat?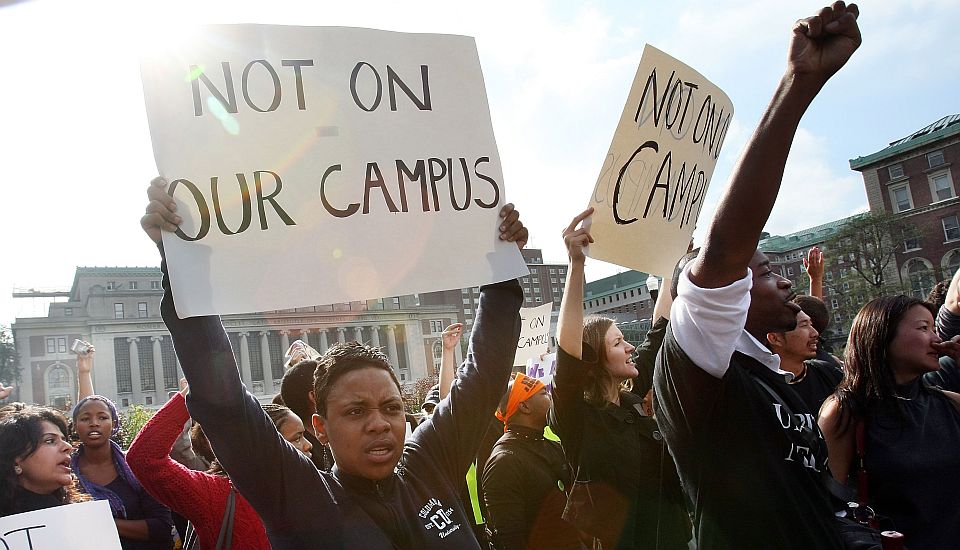 Referencing lynching and celebrating the exclusion of 'niggers', the videotaped chant by the Sigma Alpha Epsilon (SAE) fraternity brothers at the University of Oklahoma was a particularly vicious expression of racism. It dominated the news for days, sparking widespread outrage and the prompt shutdown of the Oklahoma SAE chapter by the national fraternal organisation. So far, so good. As a private association, the fraternity had a right and, arguably, an obligation to shutter the offending chapter.
Then, a mere two days after the release of the videotaped chant, university president David Boren summarily expelled two alleged ringleaders of it. He condemned them informally for engaging in 'threatening racist behaviour', and, in his official expulsion letter, claimed they had led a 'racist and exclusionary chant which has created a hostile educational environment for others'. Boren's action was entirely predictable but clearly unconstitutional, as numerous free-speech advocates and law professors pointed out. The University of Oklahoma is a public university, bound by the First Amendment, which protects racist speech and other loathsome forms of expression.
Of course there are exceptions. 'Actual threats' are unprotected, and the creation of a 'hostile environment' is a form of actionable harassment (and a frequent vehicle for trampling speech rights). But the racist speech at issue here didn't qualify as a threat, or the basis for a hostile environment charge.
What constitutes an actionable threat? Legal standards are a little unsettled, but as a general and sensible rule, intimidating speech must be targeted – directed at a particular person or persons – to qualify as a constitutionally unprotected threat. Not only was the fraternity chant not targeted, it was not even sung within earshot of students whom it might have threatened. It was private, off-campus speech confined to a bus. Yes, it was videotaped, but the offending fraternity brothers didn't disseminate the tape. It was leaked and posted by a black student alliance called Unheard, presumably with the intent of exposing fraternal racism.
Did the chant create a harassing, hostile environment? Not according to standards set by the Supreme Court, which has held that alleged harassment must be 'severe and pervasive', in addition to objectively offensive, and must effectively deny targeted students equal access to education. Besides, it's a stretch to blame the fraternity for creating a hostile environment on campus with racist speech that was only heard on campus because an offended group leaked a tape of it.
So, it's safe to say that the expulsion of students in this case violated the US Constitution (as well as the university's own guarantee of due process). But First Amendment rights and free-speech principles in general are increasingly unpopular these days, especially on college campuses and among many self-identified liberals and progressives. Free-speech advocates are increasingly lonely. How lonely? Even the American Civil Liberties Union (ACLU) abandoned them in the University of Oklahoma case, at least initially.
While constitutional law professors publicly defended the student's right to engage in racist speech, the ACLU defended the university's censorious reaction to it. What did it say about the students' speech rights? Nothing. The ACLU's immediate reaction to the controversy was a strong condemnation of racism, a weak reference to the due-process rights of racist students, and no reference to their speech rights. Only after the ACLU was criticised in the press for its failure to defend free speech did it belatedly agree that the summary expulsion of students in this case probably violated the First Amendment.
But even that concession to free speech was included in a statement that subtly undermined it. The focus of the ACLU statement was the university's appointment of a vice-president for diversity, a move applauded by the ACLU as a way of protecting students from a 'hostile learning environment'. Never mind that diversity administrators often focus on ensuring diversity or 'inclusiveness' by limiting speech they consider 'exclusionary'. Then, the ACLU concluded its statement with praise for the 'brave and thoughtful students whose public dialogue on race and the rights of all minority students in response to the incident have embodied the spirit of the First Amendment'.
Yes, these protesting students, appropriately outraged by racism, did indeed exercise their own First Amendment rights. But they didn't exactly 'embody', much less understand, 'the spirit of the First Amendment'. They supported the summary expulsion of others for engaging in private, off-campus, racist speech. They are not free-speech heroes so much as free-speech opponents, and the support they enjoy within the ACLU is an ominous measure of the dramatically diminished support free speech enjoys nowadays — even among those who used to be its foremost defenders.
Wendy Kaminer is an author, lawyer, and civil libertarian.
Picture by: Getty
To enquire about republishing spiked's content, a right to reply or to request a correction, please contact the managing editor, Viv Regan.