India's 'rape epidemic': an ugly colonial myth reborn
Western feminists have resuscitated the myth of the rapacious foreigner.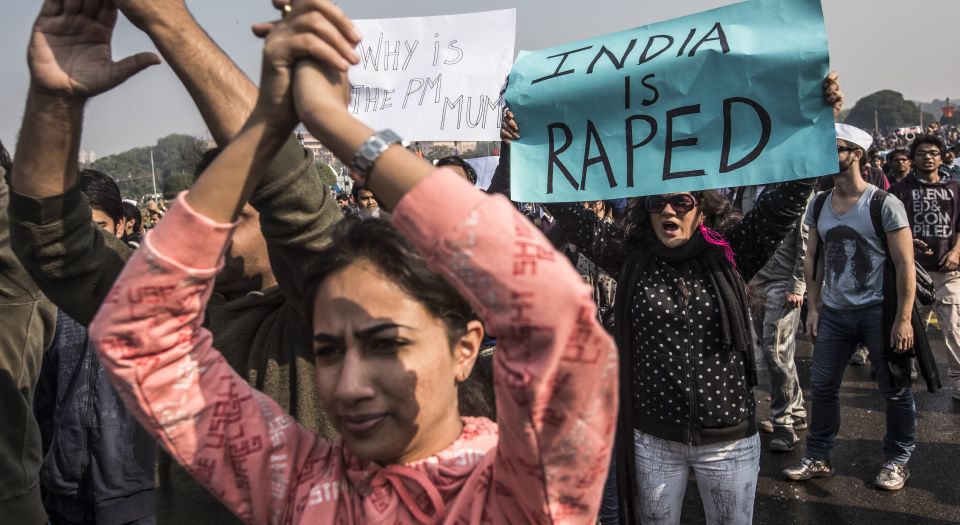 Nearly two-and-a-half years on from the brutal gang rape of 23-year-old student Jyoti Singh on a bus in Delhi, it seems India's 'rape problem' has become a permanent fixture in the Western media. And little wonder. That crime has become a grim cause célèbre for Western feminists and campaigners keen to present it as evidence of India's depravity. As they see it, India is little more than a country of perverts.
Now, a BBC documentary on the Delhi gang rape, India's Daughter, has reinforced this impression. Not that the Indian government has helped matters. By banning the documentary, it has prompted even more intense finger-wagging from the West. India is turning a blind eye to its 'rape problem', critics say, and it is quashing free speech. According to the Daily Telegraph: 'India is in denial about its rape culture, which the BBC film exposes.'
In fact, if you were to scan Western news sites, you would be left in little doubt that India is in the grip of a rape epidemic, with potential rapists on the prowl across the country. But there is one problem with this view of India: it is simply not true.
In 2012, for example, the Indian government put the number of rape cases reported at 24,915. This accounts for less than 0.00005 per cent of the Indian male population — it is, statistically speaking, insignificant. To further complicate matters, rape in India is not a straightforward category. This is revealed by a detailed six-month study of all 583 cases of alleged rape that came up before district courts in Delhi in 2013 (carried out by the Hindu): 'One-fifth of the cases were wound up because the complainant did not appear or turned hostile. Of the cases fully tried, over 40 per cent dealt with consensual sex, usually involving the elopement of a young couple and the girl's parents subsequently charging the boy with rape. Another 25 per cent dealt with "breach of promise to marry". Of the 162 remaining cases, men preying on young children in slums was the most common type of offence.' And of these 162, the accused was known to the complainant in all but 12 cases. Yes, it is a small sample, but it does show that the idea of rapacious Indian men roaming the street looking for women to attack remains just that: an idea.
Indeed, much of what is reported and recorded as rape needs to be contextualised. In India, sex outside of marriage is still not culturally acceptable or widespread (although that is changing). What this means is that consensual sex on a false promise / pretext of marriage is often reported as rape and then recorded by the police as such. In November 2014, the Mumbai police commissioner reported that 71.9 per cent of rapes reported that year were related to consensual sex that did not lead to marriage. In India, it is perfectly legitimate to pursue such cases.
Still, given the focus on India's 'rape problem', you would expect India to experience a higher rate of reported rape than elsewhere in the world, wouldn't you? You would expect India to be the rape capital of the world, right? So how does India compare with other countries? Well, according to a 2010 UN survey of national rates of reported rape (per 100,000 people), India was ranked 'below the lowest quartile with a rape rate of 1.7 per 100,000'. South Africa and Australia topped the list with 91.6, and the US recorded a rape rate of 30.2. Of course, all these statistics are influenced by local and cultural factors, including a willingness, or otherwise, to report alleged rapes. But nonetheless, as one Indian journalist put it, the figures show that 'India is not a rape capital and very few Indian men are actually rapists'.
There is no international campaign patronisingly telling the US government that it must not 'go to sleep' on its rape problem. There are no commentators telling the US that it is 'in denial'. There is no battery of Western feminists claiming that rape is the 'norm' in Australia. And yet, Western pundits and campaigners continue to fulminate against India's supposed rape culture and happily demonise Indian men. While rape is seen as a crime in the US or in Australia, in India it is considered a symbol of Indian society.
This homogenising view, based on a perception of how men 'over there' behave, harks back to colonial times, when Victorian memsahibs lived in fear and loathing of the 'brown rapist'. Today's cultural explanation for rape — so-called rape culture — rehabilitates the colonialist view of the rapacious indigenous man posing an eternal threat to women. In The Times (London), Libby Purves wrote that 'murderous, hyena-like male contempt [for women] is a norm' in India. India's Daughter has added to this colonialist dynamic, with commentators now berating the Indian government for ignoring its apparent rape crisis, for failing to listen to a documentary produced by the BBC, voice of the British establishment. Once again, it seems Britons wants to tell Indians how to run their society.
There's little doubt that some of the material in India's Daughter is hard to stomach, especially the interviews with one of the men convicted of raping Singh and with his lawyer, both of whom express loathsome views on women and rape. But should they be seen as representative of Indian men in general?
What's particularly striking about the Delhi rape case is that it's not being treated simply as a terrible crime that its perpetrators ought to be held responsible for; it is being used as evidence for Westerners' view of Indian men as a rapacious, sick breed. As one commentator asserts, 'what has made the comments [from the lawyer and one of the convicted] so outrageous is not just the callousness and victim-blaming expressed by this one rapist, but the degree to which his comments reflect attitudes that are disturbingly common in India, and that are central to its climate of hostility towards women and, often, impunity for male violence against them'. According to the UK Independent, India's 'profoundly misogynistic culture' produces men like the interviewed rapist. It is an incredibly insulting bit of conflation. The views of one convicted rapist are all too easily being treated as the views of all Indian men. Even if we do assume that these views are common in India, the facts show that very few men actually rape, despite their conservative views about women's lifestyles and choices.
The director of India's Daughter, Leslee Udwin, believes she is holding a mirror up to Indian society. But there is clearly something else going on here. This is the White Man's Burden revisited; or rather, it's the White Woman's Burden. The likes of Udwin want to save the brown woman from the brown man. Hence a Telegraph journalist congratulates Udwin for 'exposing an unpleasant truth – a deep-rooted cultural problem in this supposedly modernising nation [India]'. The implication is clear: India must drop its pretensions to modernity and face to up to the fact that it is still a morally inferior nation. It was precisely this sense of moral superiority that justified the Raj.
The narrative of India's culture of rape presents a particularly horrific, violent crime as a social and cultural norm. It takes away nuance and context. It demonises Indian men while presenting women as natural victims. This is clear from the recent case of the German professor who cited her 'concern about rapes in India' when refusing to take on an Indian male intern. It seems that the mission to civilise India, once pursued by British colonialists, has now been rehabilitated and taken on by Western feminists.
Sadhvi Sharma is a PhD student in the Rajaratnam School of International Studies (RSIS) at the Nanyang Technological University in Singapore.
Picture by: Getty/Daniel Berehulak
To enquire about republishing spiked's content, a right to reply or to request a correction, please contact the managing editor, Viv Regan.