Universities: the environmentalist enemy within
A vital new report shows how sustainability poses a threat to academic freedom.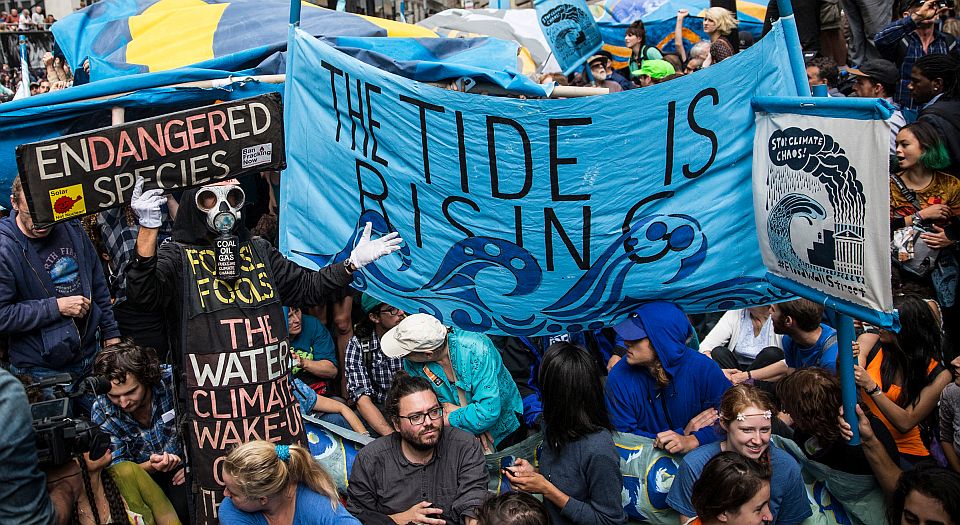 Most students and lecturers are confident they can spot threats to academic freedom. In the UK, there have been petitions, letters to the press and Twitter campaigns against the government's proposed anti-terror legislation and the onus it will put on universities to monitor external speakers and supposedly vulnerable students. Similar proposals in Canada are also being met with protest. In America, there are longstanding complaints against tighter restrictions placed on the allocation of research funds post 9/11. In Hong Kong, the threat to academic freedom is said to come from the Beijing government. All around the world, many in higher education are quick to decry the undue influence of big business or wealthy private donors on the direction of scholarship. The verbal tic of 'neoliberalism' is used to alert fellow sympathisers to the potential danger.
Everywhere, threats to academic freedom that emerge from outside the university are triumphantly exposed and, thankfully, challenged. However, the satisfaction that comes with signing a petition or a bit of forceful re-tweeting can give a false sense of mission accomplished. In reality there are many restrictions on what can and can't be said in higher education today. Academics often compromise and conform to satisfy the demands of student customers, peer reviewers and funding councils. They self-censor so as not to breach institutional equality and diversity policies, speech codes and safe spaces. Thinking out loud, and ultimately thinking itself, is checked and brought into line with the dominant green, feminist, state-enamoured perspective.
Pressure to self-censor and conform is rarely outed as a threat to academic freedom because it emerges from within universities, and more specifically from well-meaning fellow staff and students. A recently published report from the American National Association of Scholars (NAS) raises important questions about the threat to academic freedom that comes from the orthodoxies built up around the issue of environmentalism. As James Woudhuysen explored on spiked, Sustainability: Higher Education's New Fundamentalism reveals how, 'over nearly 25 years', the campus sustainability movement (CSM) and its elite backers have 'succeeded in transforming much of the curriculum and the practice of US higher education'.
Sustainability provides a comprehensive account of the many ways often well-funded green interest groups pose a threat to academic freedom. It suggests green-backed restrictions are not accidental but integral to the politics of sustainability, which assumes 'curtailing economic, political, and intellectual liberty is the price that must be paid now to ensure the welfare of future generations'. The report's central argument is that sustainability on campus has become an all-consuming tyranny that aims to shape the thinking and behaviour of academics and students. Furthermore, it is a movement that brooks no dissent.
The authors of Sustainability are careful not to take any position on the existence of anthropomorphic global warming. Instead they argue that 'all important ideas ought to be open to reasoned debate and careful examination of the evidence'. Indeed, for over a century scepticism and the ultimate contestability of all truth claims underpinned not just the scientific method but the entire liberal academic project. Advancing and challenging truth claims made criticism a meaningful exercise and intellectual progress possible.
The sustainability movement, 'whose declared position is that the time for debate is over and that those who persist in raising basic questions are "climate deniers"', adds to the myriad attacks on the pursuit of knowledge that have come from within universities over the past four decades. Campus environmentalists can easily jettison fundamental tenets of the academic project because, as the NAS report reminds us, 'sustainability is not a discipline or even a subject area. It is an ideology.' As such, the intellectual liberty to question everything is not welcomed as the way to advance knowledge but rather poses a threat to the central beliefs and values of environmentalism.
When higher education becomes separated from the aims of advancing new knowledge and rigorously critiquing existing understanding, it is left in search of a mission. This is where the campus sustainability movement comes into its own with a raft of values for students and academics alike to take on board, with success measured in the inculcation of behaviour changes. Sustainability outlines numerous ways that campus busybodies seek to nudge everyone into making eco-friendly lifestyle choices, from doing away with trays in the canteen to the edict that students should study in well-populated areas of the library so as to minimise the use of lighting.
Green league tables that rank universities in a national competition to promote recycling and minimise resource use are now common in the UK as well as in the US. In Britain, the NUS-backed Green Impact Project encourages teams of staff and students to compete for points gained through making behaviour changes such as 'meat-free Monday' and 'walk-on Wednesday'. The NAS are absolutely correct to demand universities stop nudging and 'leave students the space to make their own decisions about sustainability' because 'the decision of a college to "nudge" rather than persuade sounds a note of disdain for the right of students to make up their own minds'. At present the peer pressure of eco-nudging carries weight because instead of hearing counterarguments to the sustainability movement in their lectures, students see faculty succumbing to the requirement that they 'report yearly on their efforts to advance sustainability' through their teaching.
Scholars seeking to challenge such restrictions on their academic freedom and the orthodoxies that have built up around the sustainability movement more broadly often face difficulties from their own colleagues. The NAS report points out the long 'history of efforts to suppress the publication and expression of contrary views' through processes of peer review. Academics soon learn that securing publications and promotion depend upon conforming to disciplinary and institutional norms.
The NAS report notes that those who do raise difficult questions often face a 'tyranny of transparency' where freedom of information requests are used to get 'deniers' to reveal details of private email exchanges and funding sources. Ironically, such demands are frequently made under the guise of academic freedom. These attempts to redefine academic freedom enact a double standard: scholars who go along with the consensus and receive funding from climate-change charities and campaign groups are held to a different standard than those who do not. If knowledge, and not values, was the driving force of the academy then ideas would be judged on their merit and not on the context in which they were produced.
The NAS report provides a timely and badly needed corrective to the illiberal campus sustainability movement. It reminds faculty and students of the imperative to question everything rather than accept 'doctrinaire declarations'. We need to be suspicious of all attempts to promote values antithetical to intellectual liberty. Most important of all, Sustainability reminds us that sometimes threats to academic freedom do not come from outside the academy but from within.
Joanna Williams is education editor at spiked. She is also a senior lecturer in higher education at the University of Kent and the author of Consuming Higher Education: Why Learning Can't Be Bought. (Buy this book from Amazon(UK).)
To enquire about republishing spiked's content, a right to reply or to request a correction, please contact the managing editor, Viv Regan.