Happy Human Footprint Day!
Forget Earth Day – it's time to celebrate humanity's impact on the planet.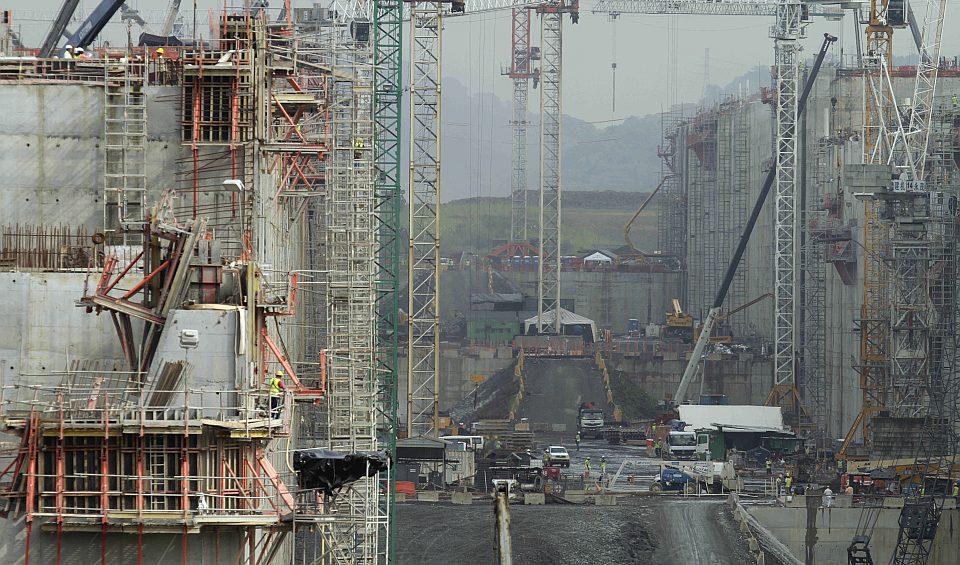 On this forty-fifth Earth Day, some are no doubt celebrating the small and the insignificant and urging us to reduce our impact on the planet. But we at spiked think that sounds pretty miserable. So, instead of cowering from our collective shadows, we thought today would be a good time to highlight some of the boldest, ballsiest and biggest footprint-producing projects that humanity is undertaking in 2015. Humanity's mastery over the planet, and the ever improving standard of living this provides us, is something of which to be proud, not ashamed. We don't want to sit back and calculate our carbon footprint while eating a sustainably sourced Kale salad. No, we want to stamp our mark on the environment and attempt to improve it for everyone.
So, if you are a Gaia-worshipping hipster, you may want to have a sit down on your upcycled, plant-based floor cushion before reading on. Below are five of the most spectacular and ambitious engineering projects of our time, and we salute those men and women making lives better across the planet by turning these incredible human ideas into reality.
1) The Panama Canal expansion project
No list of engineering wonders could be complete without mentioning the century-old Panama Canal. But, in 2007, with the increasing size of mega-container ships becoming a wonder in themselves, the Panama Canal Authority started work on doubling the canal's capacity. At a projected cost of $5.25 billion, the project (pictured above) will add access routes, deepen existing shipping channels and also add an additional set of impressive locks. Forget Regent's Canal in London, these locks are being built to take ships up to 49-metres wide, 366-metres long and 15-metres deep. This means that by the time the project is completed in 2016, a lot more cargo and goods can be moved efficiently and quickly through the canal, from ocean to ocean, and into people's homes.
2) LAPSSET (Lamu Port Southern Sudan-Ethiopia Transport corridor project)
The people of Kenya, South Sudan, Ethiopia and Uganda have joined together to embark on one of Africa's biggest and boldest infrastructure projects. With plans for a port, a hydroelectric power station and transmission lines, new railways, a road network, oil refineries and pipelines, airports and resort areas, LAPSSET has the potential to transform this area of East Africa for the better. The incredible social and economic benefits that consistent electricity supply, 1,900 kilometres of roads and reliable petroleum supplies will bring, not to mention the job growth and wealth creation made possible by the sheer gumption of this project, is inspiring stuff.
3) Crossrail
It may be causing a headache for Londoners today, but Crossrail is one of the few exciting and much-needed British infrastructure projects on the go. And once all the digging and building is over in 2018, Londoners will be better served than ever by an additional 10 stations, 21 kilometres of twin-bore tunnels, more connections, decreased journey times and better commuting options. Some estimate Crossrail will carry 200million passengers a year on its 100-plus kilometres of track. Now, if only there was a high-speed way to get to the north of England.
4) South-North Water Transfer Project
Not since ancient Rome has anyone made such an audacious attempt to control their water supply. But California, and other drought-stricken areas, take note; with sufficient will and big enough aspirations, you, too, can get water wherever you need it. Just look at this astounding project taking place in China. The Chinese government is creating three water-transfer projects (in the west, the centre and the east) to move over 44 billion cubic metres of water a year from the south of China's Chang Jiang River to the drier north. The central transfer line alone moves water over 800 miles and will cost over $30 billion to build. In a feat of incredible engineering, it manages to move the water this distance by gravity alone. With the much-needed water arriving in Beijing and the heavily populated and industrialised north, any potential droughts have been averted.
5) National Highways Development Project, India
It may not be the most glamorous of projects, but in terms of its goal and reach, India's National Highways project is putting the pot-holed roads of the US and Europe to shame. Through the early part of 2015, the project has modernised and paved over 50,000 kilometres of highways and bridges, making transportation of people and goods easier and more efficient between major Indian cities and ports, including Mumbai, Kolkata, Delhi and Chennai. The project is not slated to end anytime soon. In fact the National Highways Authority plans to widen existing roads and increase access to more rural and remote portions of the country.
And finally…
Although the word footprint isn't quite right… yet, just think of all the mind-blowing marks humans are making across the solar system, from several vehicles exploring Mars to landing on comets. We are witnessing the beginning of our ability to shape an increasingly accessible environment further afield. So, happy Human Footprint Day!
Neil Ross is US programme director at spiked.
To enquire about republishing spiked's content, a right to reply or to request a correction, please contact the managing editor, Viv Regan.