UK transport: going nowhere
While Japan is building floating trains, British politicians are promising (slightly) lower fares.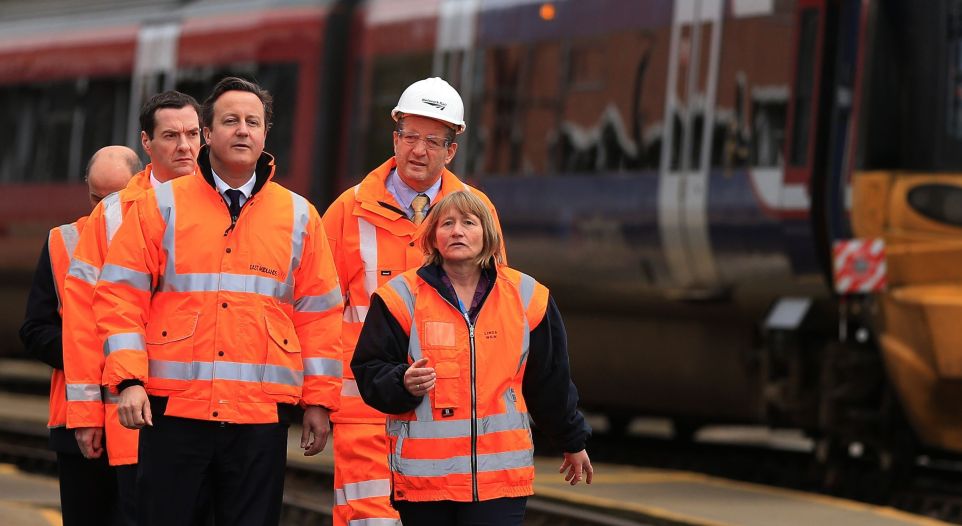 In April, Central Japan Railway, the main railway company operating in the Chubu region of central Japan, demonstrated that trains on its magnetic-levitation test track near Mount Fuji could run at more than 600 kilometres per hour (kph), which is the equivalent of 372 miles per hour (mph). These maglev trains use magnets to move carriages above the tracks. For a cool £67 billion, the company plans to use this wheel-less form of transport, running at a careful 505 kph (314 mph), to link Tokyo with the city of Nagoya by 2027.
Now, contrast this with the policies on transport contained in the election manifestos of the UK Labour and Conservative parties. Immediately, Japan, for all its 'lost decades' in economic affairs, exposes the immobilisme of British political life.
In its manifesto, Labour acknowledges that building world-class infrastructure will be 'crucial' to economic growth in Britain. So just how world class are its proposals? Despite previous prevarications, it now supports the High Speed 2 (HS2) rail line, phase one of which will connect London to Birmingham. But Labour, according to its manifesto, will 'keep costs down'. It will set up an independent 'National Infrastructure Commission', which will 'assess how best to meet Britain's infrastructure needs' and – a nice democratic flourish, this – 'hold government to account'. It will also establish a new national rail body to plan and supervise rail, giving us childlike passengers a 'greater say' in how trains operate. Oh, and it will improve and expand rail links in the north of England, review the rail franchising process, allow the state to take over rail lines, cap rail fares nationally and not charge VAT on them.
Inspiring stuff! Japan pioneers a whole new kind of land-based transport, one that only encounters friction from the air, not the track. Meanwhile, Labour stays vague on high-speed trains, more than 50 years after Japan first introduced them. In the usual fashion, Labour gives no detail on its National Infrastructure Commission, or how that new bureaucratic device will be 'independent'. How will rail passengers be given a greater say in what goes on? No answer. Ah, but no VAT on fares – now there's a vision.
In the usual evasive manner, Labour has just one sentence about the main form of transport in Britain: the car. Emissions of CO2, by contrast, get a proper outing, and cycling two separate mentions. Still, Labour says it will support investment in roads, provided they are 'strategic'. It will 'address' the neglect of local roads – though it does not say how. Oh, and whenever Howard Davies, a knight of the realm, completes his thoroughly independent review of airport capacity in the south east, Labour will make 'a swift decision' about it.
That's about the only time in its manifesto that Labour seems interested in the time it takes to get from A to B. Congestion, which among rail passengers alone can be a danger to life and limb, gets no mention. What about the need to tunnel through obstacles in the landscape, as Japan will do in order build the maglev line? Not a word about it.
The only other way Labour pretends to be ambitious about transport in its manifesto is to, er, devolve power over public transport to England's city and county regions. Hooray for that idea – especially as it is mirrored in the Conservative manifesto (though applied only to large cities).
At least the Tories are more specific about transport. While Labour promises to freeze rail fares for only a year, the Conservative Party says it will do that – for commuters only – for the whole of the next parliament. The Tories like HS2, too, and also plan to 'upgrade' three motorways – the M1, M5 and M62 – and no fewer than four A roads. But they won't add any new motorways or main roads. Still, they have discovered electricity: they will bring it to the Great Western Main Line and the Midland Main Line. Yet the main thing that exercises Tories about transport is immigrants putting pressure on it, together with what it calls the 'disproportionate' impact of strikes by transport workers.
As we know, Tories don't actually use public transport. If they did, they would find that immigrants staff much of it, especially in London. Their remarks about immigrant pressure on transport recall the tasteful excuse given by Nigel Farage for failing to show up at a UKIP event in December: apparently he couldn't make it down the M4 because there are just too many immigrants with the temerity to drive cars.
As for strikes on the railways or on the buses, the Tories will only grant them legality if they have the support of 'at least' 40 per cent of all those entitled to take part in strike ballots. Here, the Tories want one law for workers in essential services, but another for, say, British voters electing members of the European Parliament. Since 1979, UK voter turnout for the European elections has never reached 40 per cent. So, for all their anti-Brussels bluster, did the Tories declare these ballots invalid? Hardly.
Ever since the Costa Concordia cruise ship capsized off the coast of Tuscany in January 2012, a series of international transport disasters has occurred, including the Sewol ferry disaster in Korea and the disappearance of the Malaysian Airlines flight MH370. The causes of these disasters have been varied, complex and sometimes unknown; but although ships and planes have an excellent safety record, that record could always be better. More importantly, all transport problems – safety, speed, congestion, comfort, noise – nowadays reflect a deeper and thoroughly unpalatable reality. As has been argued before on spiked, 'worldwide demand for transport remains broadly unmatched by both capacity and reliability'. Nowhere in the West is this statement truer than in Britain.
What, then, are we to conclude from the treatment given to transport in the main parties' election manifestos? It is glib, complacent and lackadaisical, certainly. Neither of the two main parties have any intention of closing the gap between demand and supply. Above all, though, they make no commitment to raising the technological level and productivity of transport, and thereby driving down prices. Labour says its National Infrastructure Commission will 'help reinforce Britain's status as one of the world's greatest centres of science and engineering'. But how can a new, unelected body, whose membership is as uncertain as its independence, be relied upon to do that, exactly? The Tories touch on engineering four times in their 80-page manifesto, compared with just one mention in Labour's equally lengthy screed. Yet they mean engineering for schoolchildren, for 'skills', for Midlands manufacturers, and for Trident.
Maglev trains for Britain? Forget it. Indeed, forget roadbuilding (1), and probably HS2, and probably any new runway near London. Why? Because while the parties know that transport users are fed up, they identify much more with the power of 'public opinion' – NIMBYs, Greens, the media – to thwart new developments in transport, as in energy and housing.
What Oscar Wilde wrote about in a very different context, in The Critic as Artist in 1891, applies very well to British transport today. 'England', he wrote, 'has done one thing; it has invented and established public opinion, which is an attempt to organise the ignorance of the community, and elevate it to the dignity of physical force'.
The real public knows and cares a lot about transport. But in this field, as on every other issue, the two main parties display a wholly forceful ignorance.
To enquire about republishing spiked's content, a right to reply or to request a correction, please contact the managing editor, Viv Regan.