Labour's loss has been UKIP's gain
The election confirmed the UK's purple-tinted political shift.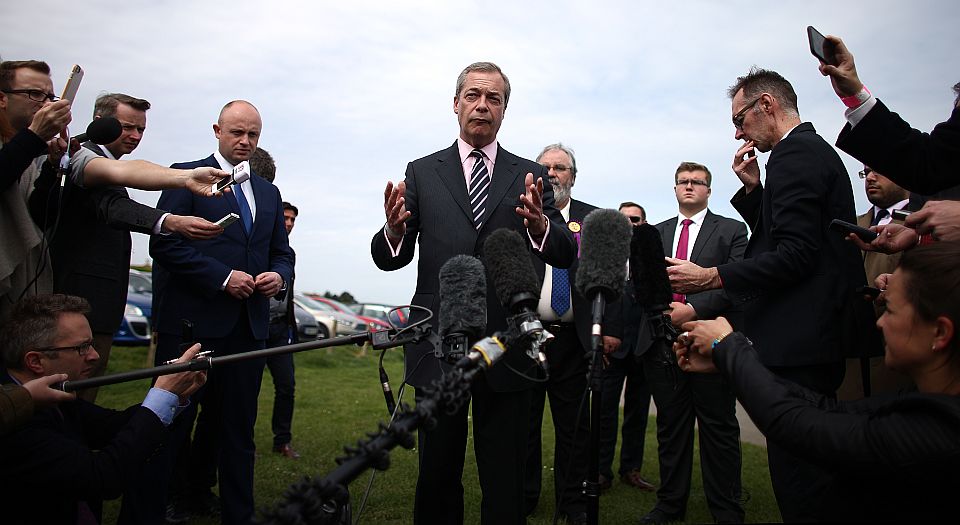 From the look of the blue-yellow complexion of the General Election map on Friday morning, it certainly looked like a bad night for UKIP. And from the sound of the chorused media crowing, as UKIP leader Nigel Farage grinned his way through his defeat in South Thanet, it sounded like a bad one, too.
At face value, of course, UKIP didn't do well. After winning the European Parliament elections last year, kipper hopes were high. Come Friday lunchtime, these hopes had been thoroughly dashed. UKIP had won a grand total of one seat out of a possible 650 – and that belonged to Douglas Carswell, the popular Tory MP for Clacton since 2005 who switched from blue to purple last year. Farage's response to the deflation was suitably singular: a defiant post-defeat speech followed by a stroppy strut off stage and then a resignation that may only last until after the summer, when he said he will consider standing again for leader.
And yet that only tells a part of UKIP's election-night story. Seen without purple-loathing spectacles, there was much to suggest that UKIP did well – 'the best performance of a new political party since the Second World War', as one observer noted. The stats are stark: UKIP won 14 per cent of the vote in England (and 12.6 per cent across the UK); it finished second in more than 120 seats and won 20 per cent in at least 45 seats; and, in total, it accrued approximately four million votes – that's as many votes as the SNP, Plaid Cymru and the Lib Dems put together.
But more striking still is where and among whom UKIP picked up votes. Because while it did well in its supposedly traditional hunting ground of the south east, it also did well in the north, Wales and the Midlands. In fact, it was in these areas, where it ate into support for Labour, that UKIP arguably had its greatest and most significant impact, and not just by helping the Tories out by devastating Labour. Rather, UKIP showed that it was not just speaking for the disgusted of Tunbridge Wells, but also for the disenfranchised of Hartlepool and the disdained of Merthyr Tydfil. In what are seen as predominantly working-class areas, UKIP picked up 20 to 30 per cent of the vote. It gained support from people whose traditional, expected party of choice, Labour, has long since stopped speaking to them. As William Cash, UKIP's candidate for Warwickshire North – Labour's No1 target marginal – put it: 'The reason the Tories have won the key battleground of the Midlands is that UKIP came to their rescue. We rode into the flanks of the white working class and captured them [from Labour].'
This is not a new story. Research and anecdotage have long suggested UKIP's appeal was far broader than the complacent media stereotype suggested. It isn't just a refuge for retired colonels, fed-up Tories and frustrated racists. It appeals equally to the less well-off, to those who live 'oop north', indeed to those who might even once have considered themselves Labour supporters. In fact, as pollster Peter Kellner reported last November, 'UKIP's support has become less representative of the electorate as a whole. These days, 43 per cent of Britain's voters are working class. UKIP's initial support was already tilted that way, with 51 per cent working class. The figure for recent converts [since January 2013] is much higher: 61 per cent.'
UKIP's popularity among the sort of people Labourites still insist on counting as their natural supporters must stick in their craw. According to Twitter and Russell Brand, Labour is supposed to be the party of the put-upon, the party that represents the downtrodden, the party that will rally the afflicted against 'Tory cuts'. And yet it seems that the left-leaning's jargonised, soundbited guff about 'social justice', sticking up for society's 'vulnerable' and tackling 'inequality', appeals far more to its self-righteous advocates and their circle of metropolitan friends than it does to actual people. Even some Labour MPs recognised that their party was embarrassingly estranged from those whom it and its media cheerleaders blithely assumed would support it. John Mann, the MP for Bassetlaw in Yorkshire, told Labour strategists that they needed to 'get out of their ivory towers and get back into the real world'.
And that's what is interesting about UKIP's gains in Labour areas. Where the focus-grouped messaging of Labour's policy wonkers falls flat, UKIP resonates. It talks in a recognisable language, and it addresses not just people's economic insecurities, with immigration to the fore, but also their cultural insecurities, too. UKIP addresses the all-too-recognisable sense that society seems to be being remade in another's image, the sense that longstanding social traditions and informal rituals, from marriage to smoking in a pub, are just so much material for state-driven, EU-justified reform. Where Labour speaks at people, UKIP, with Farage to the fore, speaks to them. And in doing so, it shows how far removed the party-political establishment, and Labour in particular, is from, as Mann puts it, 'the real world'.
In this, this slow-mo conquest of Labour's one-time social constituency, this ability to speak to people and promise to take back what Westminster has taken, UKIP's rise has an unexpected echo: the Scottish National Party. Yes, the SNP is pro-EU, and doesn't like cigarettes or booze – both of which would have Farage turning in his political grave. But the parallels are there. Both parties, rhetorically at least, resist the ceaseless cosmopolitanism of a distant elite, and both play upon a sense of cultural imperilment. The Tories may have won the election, but the political shift is not Conservative – it's something rather more populist than that.
Tim Black is deputy editor at spiked.
To enquire about republishing spiked's content, a right to reply or to request a correction, please contact the managing editor, Viv Regan.