Why I'm not celebrating Billy Elliot's 10th birthday
This film/musical is nasty piece of ideology from which no one may dissent.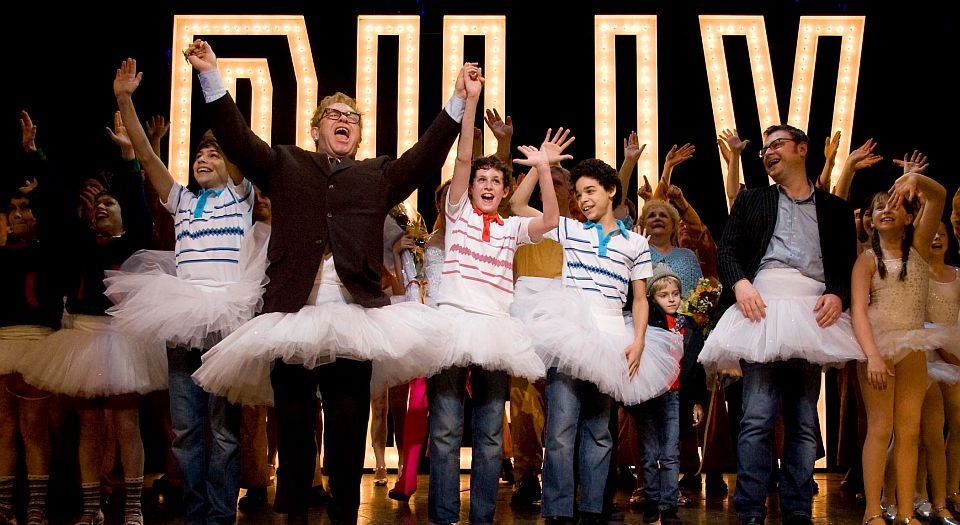 Billy Elliot the Musical is 10 years old this month. The world of theatre is supposed to be whooping with joy and tipping its hats to what the former Daily Telegraph theatre critic Charles Spencer greeted in May 2005 as the greatest British musical of all time. But I for one have always been faintly disgusted by this cynical ideological confection.
Unless you've been living on Mars these past two decades you will know that the musical was a stage spin-off from Stephen Daldry's 2000 film about the 11-year-old boy from the Durham mining village of Easington who wants to be a ballet dancer. Set during the 1980s Miners' Strike, this desire causes universal consternation among the working-class men of his community who are painted as Palaeolithic bigots, scorning all such effeminacy and sticking to vast quantities of beer in working men's clubs.
One of the key features of Lee Hall's story is that Billy's mother is dead and he has only his personal drive and ambition to count on. He is, however, mentored by his ballet teacher, who serves as a surrogate mother, and this female role, played by Julie Walters in the film, connects to a no less archaic stereotype of the caring female who is in touch with her true feelings. On top of this, even though the story's gay message is officially displaced on to Billy's friend Michael, Billy Elliot is also an implicit affirmation of enlightened homosexuality over the benighted heterosexuality of the miners. The politics of solidarity are clearly traded in for the politics of identity.
But although it dismisses older forms of social identity associated with these backward Durham miners from the 1980s, Lee Hall's story nonetheless poses as a gesture of posthumous solidarity with the miners. There is a sense in which Billy is the phoenix that rises from the ashes of the mining communities destroyed by Margaret Thatcher. Hall's story is therefore believed by many to be a socialist allegory and is lauded for putting these defeated workers back on the map – sprinkling their flat caps and embarrassing jumpers with showbiz glitter.
A moment's thought, however, reveals the story to be no more socialist than Tony Blair or Margaret Thatcher before him. Billy Elliot is a direct product of the New Labour era which dressed up Thatcherism in the tutu of nostalgia for what it had destroyed. The governing principle of the story is not the solidarity of the community, but an absolute belief in the power of self-realisation. The only escape from the police and their riot shields is a form of uncompromising independence that demands we follow and monetise our dreams. This kind of individualism was Thatcherism in a nutshell. By this account, Billy Elliot is nothing more than the cute little brother of Michael Douglas as the dreadful Gordon Gekko wittering about greed being good in the film Wall Street.
Billy Elliot's director Stephen Daldry is well known as being one of the most charming schmoozers and shakers in the film and theatre industries. But as an erstwhile self-made gay man he has more than just a financial stake in this gravy train. It serves as a spiritual indulgence, too. Daldry was once the director of the Royal Court Theatre in Sloane Square before making his name with this feelgood eye-moistener on film. But at the Royal Court, he championed the work of much tougher playwrights, including Sarah Kane. Following her play Blasted, she went on to become one of the most radical, coruscating writers of her generation, before her death in 1999.
Daldry has since kept his own radical reputation alive by returning to the theatre to direct plays by the doyenne of the old left, Caryl Churchill, and former New Labourite David Hare – who has now recanted his support of Blairism. Since 2005, Billy Elliot the Musical, with folk and rock score by Elton John, has kept Daldry's socialism well stocked with champagne. God forbid that we should shrink from aspiration or demand that socialists should also be ascetics, but if you follow the money Billy Elliot is revealed as a global franchise that perfectly absolves us of the now settled economic inequalities of our times.
Billy Elliot is a piece of ideological obfuscation from which we are forbidden to dissent. People of all political creeds and colours love it and it is running all over the world, from America to Australia, Poland to South Korea. Its global success is due to its ability to sustain consensus by disavowing its central contradiction between collectivism and individualism. It endorses today's popular notion that we are in it together for ourselves. That our private interests are the interests of our community. That individualism is enlightened and that the good of the many derives from the prospects of the few. We must all sweat under the yoke of being true to our dreams, of tirelessly breaking convention and reinventing ourselves to achieve fulfilment. But this is a brazenly ideological formula that destroys communities and isolates individuals.
This doctrine of resourceful individualism is the cornerstone of today's market politics, with its insistence on economic adaptability. Thanks to Elton John and songs including 'Solidarity' and 'Expressing Yourself', this is dressed up in Billy Elliot as glitzy, feelgood schlock. If this seems overstated or jaundiced, it is worth remembering that Billy Elliot has had its casualties, too. The mild-mannered theatre critic Matt Wolf was dismissed from his job at Variety magazine after he gave the show a mixed review 10 years ago. Wolf's mistake was to speak of the show's 'uneasy mixture of rabid political invective and in-your-face sentimentality'. That was enough to get him sacked.
Like all myths, Billy Elliot is a story that creates not only new ways of seeing the world, but also ignorance and denial of other ways of seeing it. Wolf's deeper analysis is meant to remain hidden so that, as Lytton Strachey might have said, 'happiness can be the perpetual possession of being well deceived'. In this instance, saying the king has no clothes is a species of thoughtcrime. It is time to acknowledge the cynically exploitative, wilful self-delusion that lies at the centre of this seemingly genial and benign piece of harmless entertainment we call Billy Elliot. Like Coca-Cola it gives you a buzz in the head but rots your teeth. It should be kept well away from children.
Patrick Marmion is a freelance journalist, playwright, founder of Soapbox debating forum and a part-time tutor at the University of Kent. Visit his website.
To enquire about republishing spiked's content, a right to reply or to request a correction, please contact the managing editor, Viv Regan.