MONA: desperately seeking sincerity
This zany Tasmanian art gallery lays the limits of contemporary irony bare.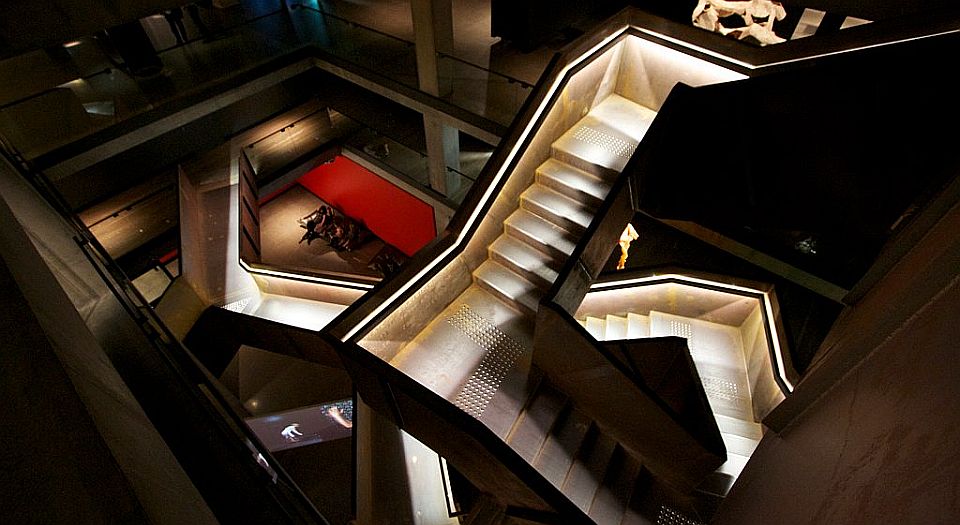 On a recent trip to Australia, I visited MONA, a new art gallery in Hobart, Tasmania. Established by maverick art collector and billionaire professional gambler David Walsh, MONA (Museum of Old and New Art) is celebrated in Australia and internationally. It's credited with boosting the crumbling Tasmanian economy and with taking the art world by storm. I have my doubts, but the embrace of MONA has certainly got me thinking about what the international art world values today. It feels curmudgeonly to be critical of a wealthy person's decision to spend so much money on the arts and then open up his collection to the public, but I find myself at odds with Walsh's project.
Walsh grew up in a working-class part of Hobart. His decision to set up MONA in Hobart reflects his desire to find some purpose and meaning in his life as a wealthy (but, as a professional gambler, ultimately unproductive) middle-aged man. He started collecting art as a way of exporting his winnings from places like South Africa, where he bought and exported an ancient Yoruba carved door because he couldn't take cash out of the country. Since then, he has spent millions on antiquities, including many Ancient Egyptian artefacts, and, more recently, contemporary art. First of all, he established MONA as a small museum, building it on a vineyard he bought near his childhood home. After it attracted little attention, he decided to create something much bigger and more eye-catching – something that would serve as a kind of tribute to his 'ill-gotten gains'.
There is much to enjoy about MONA. It is in a beautiful setting and many of its features are decorative and engaging. Alongside the artworks, visitors can also enjoy MONA's programme of music and film festivals, and its elegant restaurants, stocked with good food, boutique wine and beers.
However, a strong sense of irony pervades both the way Walsh describes his project and the way Australian and international critics have praised it. This is what I have a problem with. Commentators seem to enjoy the irony of a working-class lad turned professional gambler investing so much in art and creating a far-out (as in weird) gallery in a far-out (as in distant) corner of the world. They enjoy the irony of luxury tourism and international cutting-edge artworks being put on display on the edge of a rundown community. And they enjoy the irony of a man who has made his money out of thin air choosing to invest it in thin air.
Then there's the building itself. Hewn out of sandstone, its design is reminiscent of the tombs in the Valley of the Kings in Egypt. Excavated out of a cliff on the River Derwent, its walls are made of exposed rock and bare concrete. The ceilings are low and the lighting is dim. You arrive at MONA on the specially designed ferry from Hobart's harbour, and, as you approach, the site of the gallery's rusted, galvanised-steel cladding conjures up a fortress. But there is a purposeful sense of vulnerability in the building's design, too. Walsh believes that rising sea levels caused by climate change could flood the gallery within the next 50 years, washing his investment into the South Pacific.
While the climb up the stairs from the ferry has been described as evoking a kind of pilgrimage to an ancient temple, the galleries contain artworks that reveal Walsh's iconoclastic tastes. Ancient and contemporary artefacts are displayed randomly, side by side, with no reference to their historical development or the artistic traditions they represent. Yet, he also seems to laugh at his own iconoclasm. In the forecourt outside the gallery, there is a tennis court and parking spaces for himself and his wife labelled: 'Reserved: God / God's Mistress.'
Walsh says his collections reflect his preoccupations with sex and death. However, he refuses to place explanatory labels next to artworks so that visitors can decide for themselves what they think of the art. With MONA, Walsh set out to 'piss off the academics' and turn the assumptions of traditional museums on their head. For those who want information to support their visit, a handy mobile device with GPS gives you access to audio recordings and articles about each work. But here, again, you are invited not to take any of it too seriously – or trust what you hear. Two buttons on the device labelled 'artwank' and 'gonzo' offer more zany perspectives, provided by curators, artists and Walsh himself.
Like much contemporary art, many of the works in MONA's collection reflect contemporary prejudices and preoccupations. Erwin Wurm's sculpture 'Fat Car' plays on concerns about both obesity and excessive wealth. Meanwhile, Greg Taylor's series of sculpted vulvas, 'Cunt and other Conversations', are meant to make us confront our attitudes to female genitalia.
Walsh wanted to kick sand into the face of the establishment with MONA, and he revelled in the early shocked reviews. But this initial disparagement soon gave way to overwhelming praise. The great irony here is that, for all his alleged iconoclasm, his project has clearly connected with the cultural zeitgeist. This should come as no surprise. Contemporary artists such as Damien Hirst, Tracey Emin and Marina Abramovic have been 'shocking' us for years. Now, each of them are firm members of the artistic establishment.
MONA's cheerleaders seem to revel in Walsh's embrace of transience and his denigration of Western civilisation: the solidity of the gallery's sandstone walls and fortress-like ironwork standing threatened by the ravages of the, allegedly, oncoming climate apocalypse. Similarly, critics celebrate Walsh's contribution to supporting contemporary artists, even though they recognise that the art on display in MONA may be worth nothing in a decade or two. One work symbolises this anti-art perspective perfectly: the horrifically smelly work by Wim Delvoye, 'Cloaca'. It consists of a machine that replicates the human digestive system, turning food into faeces and excreting it. It seems to laugh in the face of art's traditional mission of beauty and truth.
In art, irony can be charming in its self-aware and self-deprecating humour. It can also be disturbing in that it makes us doubt our perceptions. But there is something suspiciously self-obsessive about contemporary irony. Revealingly, Walsh confessed as much in a recent interview. 'I'm not sure that art is so important for me', he said. 'It is the relentless dissecting of myself, to bring me closer to an understanding of why I do what I do, that seems to be important to me.'
To enquire about republishing spiked's content, a right to reply or to request a correction, please contact the managing editor, Viv Regan.