Which is worse: FIFA or the Blatter-bashers?
It's a political game of displacement that doesn't have much to do with football.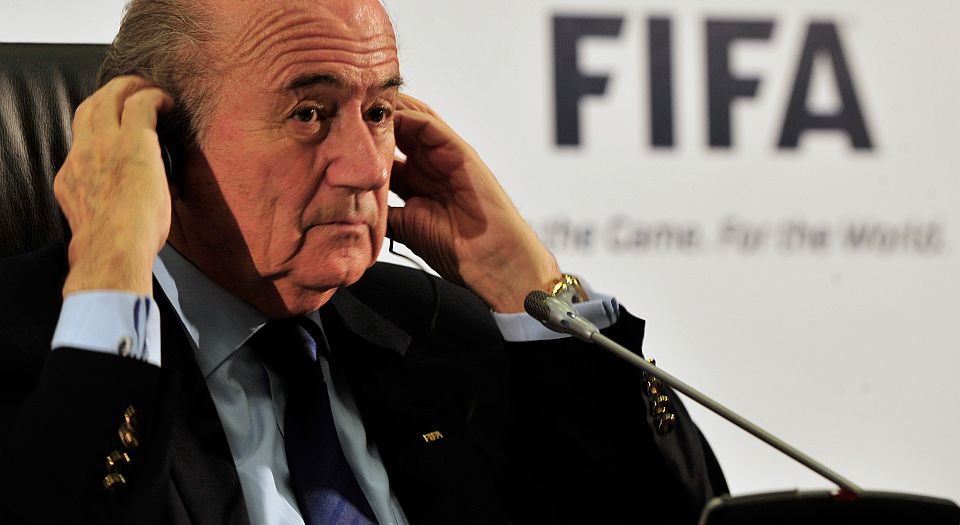 Following the 'battle for the future of football' between Sepp Blatter's FIFA and the FBI-led alliance ranged against it is like watching an overhyped football match in which you don't really want either side to win, and would probably prefer the pitch to open up and swallow them both.
FIFA is of course a rotten little self-serving club. But the notion that we would do better entrusting the future of football to the US state's FBI, Michel Platini's UEFA, the English FA, a cross-party team of UK politicians or the British royal family seems as ludicrous as Blatter's claim to be the new broom that can clean out his own stables.
In any case, none of this has much to do with football. The headline-dominating war of words over allegations of corruption and the granting of the next two World Cups to Russia and Qatar is a championship-sized displacement activity, in which both sides are playing political games. How much easier it is to shout about tackling corruption in international football than to address any of the profound economic and political problems facing the world today.
The US and UK authorities might not be able to do much to stop the young militants of ISIS, but they can give those old blokes from FIFA a good kicking in the media! The football battlefield is an artificial pitch on which all sorts of discredited political and other players can try to strike moral poses and look like the good guys for once, by scoring tap-ins against the 'tyrant' Blatter, described as the new 'Bond villain'.
On spiked in recent years we have tracked the way in which the status of football has been ridiculously over-inflated to fill the gap where proper political and public life should be in states such as the UK. The ruckus over FIFA corruption marks a further expansion of that trend on to the global stage, a new moral crusade that serves as a displacement from facing up to more pressing problems of the world economy and international politics.
Let's have a brief look at how the two sides line up in this unappetising match. The home team is the FIFA elite led by 79-year-old Swiss operator Blatter, president of the ruling body of world football since 1998 and just re-elected for a fifth term in office. Despite denials, FIFA has often been caught up in international politics since it was founded with just eight members in 1904; the British football federations boycotted it for political reasons from the end of the First World War until the end of the Second. And decisions about who gets to host the World Cup have often been mired in political and financial controversy since the first tournament in 1930 was awarded to Uruguay, leading to a boycott by most European teams, and the second World Cup held four years later was handed to Mussolini's fascist Italy.
It is since the 1970s, however, that FIFA has really become the beast we know. Blatter's predecessor was the Brazilian Joao Havelange, FIFA president from 1974 until 1998. Havelange, a friend and collaborator of the ruling military dictators in both his native Brazil and Argentina during the Sixties and Seventies, turned FIFA into the goliath it is today. On one hand, he attracted billionaire sponsors such as Coca-Cola to back the World Cup. On the other, he courted developing and Third World states with promises of money and prestigious tournaments, building a personal power base in Latin America, Africa and Asia to counter the old football powers of Europe.
Since becoming president in 1998, Blatter (who served under Havelange as FIFA secretary-general) has continued his predecessor's policies of commercial and political expansion, winning support by granting the World Cup and other riches to new countries and continents. He might be compared to tyrants and ogres in the West, but in April his acolytes in the North and Central American and Caribbean football federations compared Blatter to Winston Churchill, Nelson Mandela and Jesus Christ. FIFA now comprises 209 member associations; in 2013 this supposedly charitable, not-for-profit outfit reportedly had revenues of $1.3 billion and cash reserves of more than $1.4 billion.
As Blatter's FIFA has become more bloated, so the scope for the sort of graft and backhanders now being investigated has also expanded. The bizarre-looking decision to award the 2022 World Cup to the tiny oil-rich desert state of Qatar has attracted most criticism. Yet it was really the same sort of politically motivated, financially oiled deal as the one that made South Africa the first African nation to host the World Cup in 2010 (and which it is now admitted involved payments of $10million to FIFA officials in America alone). The only difference is that, compared to the football-mad nation of South Africa, it is blatantly obvious that there could be no sporting rationale for holding the World Cup in Qatar.
The response to the latest corruption allegations from Blatter and his allies has been classic FIFA defensive displacement politics. Rather than answer any questions, Blatter has painted himself as the victim of an Anglo-American imperialist plot, while the Qataris have accused their critics of racism and Islamophobia. They have, in football terms, parked the bus and erected a defensive wall. Except that football has nothing to do with it.
What of the away team launching the attack on Blatter's FIFA? This collection of Western policemen, politicians and public figures might seem, if it were possible, an even less attractive-looking outfit. They have set Blatter up as the latest incarnation of the international villain, against whom they can strike moral poses – as if he were the 'soccer' equivalent of Saddam Hussein or Colonel Gaddafi, holed up in his Swiss bunker. It looks like political history repeated as footballing farce.
Why should the US Federal Bureau of Investigations, which cannot even bring itself to use the word 'football', have suddenly become concerned enough to launch a transatlantic operation and have top officials arrested at FIFA's congress in Zurich? Displacement has long been one of the FBI's favourite games, as it looks to hit easy and high-profile targets that can distract from its failures to tackle serious problems in American society. Like other big cases, this one more or less fell into the FBI's lap; the operation has essentially been a sting involving an informant (FIFA's former top man in the Americas, the suitably morbidly obese Chuck Blazer) rather than detective work. It has provided the flagging FBI with an easy and all-too-rare opportunity to strut about the world stage, declaring its determination to clean up 'soccer' and crack open 'the World Cup of fraud', reliving the glory days of US power in a melodrama staged for the global media. Never mind the failures in the war on terror/drugs/crime – we're gonna kick these FIFA fat cats' asses!
The UK politicians and public figures who have rushed to join the rag-tag team attacking FIFA are also on a displacement kick. The initial investigations into FIFA corruption by The Sunday Times and BBC's Panorama involved some excellent journalism, as indicated by the way that they infuriated Blatter. But these well-researched tales of financial skulduggery have since been turned into the pretext for much baseless political posturing.
Greg Dyke of the English FA has seized upon the anti-FIFA crusade as a welcome opportunity to make the FA suits and blazers appear to be fighting on the side of the angels rather than messing everything up for the fans. David Cameron, the Tory prime minister, was never going to miss the chance to demand regime change at FIFA, an easy opening to play the noble statesman/saviour again and forget about the mess his government has made of its foreign policy from the EU to Libya.
An even more blatant attempt at grandstanding came from Labour's Andy Burnham, leading contender to be his party's next leader, who declared on Sunday that England should go it alone in boycotting not Qatar in 2022 but the 2018 World Cup in Russia, because of 'the alleged corruption in FIFA and then the situation with Russia and the Ukraine'. Never mind that Western meddling in the Ukraine has exacerbated that crisis at every stage, or the relative powerlessness of Britain on the world stage today – what matters for Labour's prospective leader is to demand more pointlessly self-aggrandising gestures. (Burnham's sense of the footballing balance of power must be even shakier than his grasp of geopolitics, if he imagines anybody would notice England's absence from the next World Cup.)
That this is all a politically motivated displacement activity based on bluster becomes clear when you glance at the solutions being offered by the anti-Blatter forces. A UEFA-wide boycott of the World Cup? That ignores the small matter of not only Russia but also the European powerhouses of France and Spain having apparently voted to re-elect Blatter last week. Press Coke and Visa and the other big sponsors to force Blatter out and clean up FIFA? So the same commercial interests widely blamed for helping to ruin football by many fans are now put forward as guardian angels to save the game on behalf of those Prince William called, in his anti-Blatter speech before the FA Cup Final at Wembley, 'the broad and diverse society who play and love our game'. Don't hold your breath.
Amid the high-profile arrests, in a little-noticed incident at FIFA's congress last Friday, the Palestinian delegation first proposed that Israel be kicked out of international football, and then demanded that a special committee be formed to monitor Israeli football-related actions. President Blatter responded by insisting that FIFA should not get involved in political conflicts, stating 'We want to be in sport and not in politics. This would be a very dangerous precedent.'
It is a bit late to be worrying about that, Herr Blatter. FIFA has long since helped turn the game into a 'political football', and has now itself been turned into an international political circus by the assorted stars of Displacement United. I have no brilliant idea as to what the best solution to the crisis in FIFA might be. But it surely won't be this sorry politicised spectacle, which involves all the worst aspects of football exhibitionism from showboating to diving, projected on to the field of international diplomacy.
Mick Hume is spiked's editor-at-large. His forthcoming book, Trigger Warning: Is the Fear of Being Offensive Killing Free Speech?, will be published by Harper Collins on 18 June 2015. (Pre-order this book from Amazon(UK).) Visit his website here.
Picture by: Wikimedia Commons/Marcello Casal Jr./ABr
To enquire about republishing spiked's content, a right to reply or to request a correction, please contact the managing editor, Viv Regan.