Controlling guns, controlling blacks
Those demanding gun control post-Charleston need a history lesson.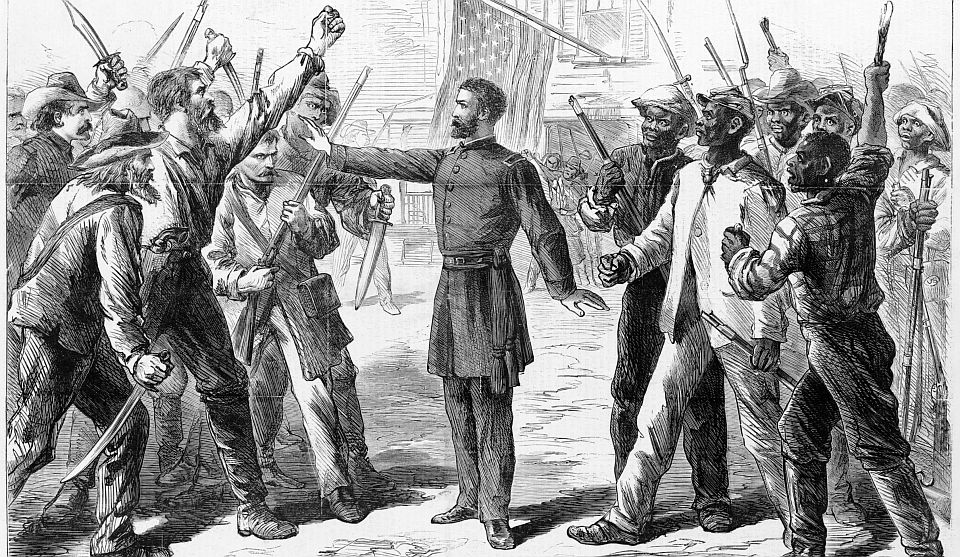 Given their emotional calls for gun controls in the wake of the Charleston massacre, most liberals, it seems, have forgotten the long history of African Americans' relationship with guns. In fact, US gun controls originated in the attempt to prise guns out of black hands, not to protect people.
Just as those worshipping in Emanuel AME Church were easy targets for Dylann Roof, so is 'gun culture' for right-thinking politicians and pundits. US president Barack Obama, bitterly referring to gun-control defeats in the past, noted that 'at some point, we as a country will have to reckon with the fact that this kind of mass violence does not happen in other advanced countries. It doesn't happen in other places with this kind of frequency.' Democratic presidential hopeful Hillary Clinton chimed in, noting that 'massacre after massacre' makes passing gun-control legislation ever-more urgent.
In the UK, those who delight in giving finger-wagging lectures to ignorant Americans did not hold back. The Guardian had a field day. Columnist Gary Younge argued that 'without gun controls, racism will keep killing blacks'. He then attacked 'the nation's twin pathologies of racism and guns', before claiming that 'both are deeply rooted in the nation's history since its founding: neither are going anywhere soon'.
Obama's determination to conduct the debate on Twitter shows that he lacks confidence when discussing the issue in any real depth – and with good reason. In 2013, after the Sandy Hook school massacre, Obama hoped to ban so-called assault weapons, limit the size of magazines, and force all states to do background checks on all gun purchases. But Roof used a pistol with a regular magazine, not an assault weapon. And, according to the New York Times, he reloaded five times. None of the proposed laws would have made any difference in Charleston.
It is also wrong to say, as Obama did, that 'this kind of mass violence does not happen in other advanced countries'. Over the past 15 years, Norway, Finland and Switzerland have all had a higher number of gun fatalities per 100,000 people than the US. Of course, the single worst shooting spree in history, the massacre of schoolchildren and young people by Anders Breivik in Norway, skews the data (and underlines how rare such attacks are). But the US is hardly alone in having to endure violent massacres; China suffered several mass knife, hammer and cleaver attacks last year, from the case of one man stabbing 22 children to the massacre of 29 people at a railway station.
Disarming blacks
Historically, gun controls in the US were largely devised with African Americans in mind. For instance, Nat Turner's slave revolt of 1831 inspired Tennessee politicians to revise the state constitution, changing the right of freemen to keep and bear arms to the right of free white men to keep and bear arms. Similar amendments were made by Arkansas in 1836 and Florida in 1838 (1).
The reason for the gun controls was obvious: firearms gave the most powerless in society some semblance of equality. Speaking to both fugitives and freemen in 1854, Frederick Douglass advocated, 'A good revolver, a steady hand and a determination to shoot down any man attempting to kidnap… Every slave hunter who meets a bloody death in his infernal business is an argument in favour of the manhood of our race.'
In the period after the American Civil War, blacks rushed to buy firearms and formed militias to protect their newfound rights. Anti-slavery activists like William Lloyd Garrison were indignant that African Americans had their right to bear arms curtailed. In a publication issued shortly after the war, the African Methodist Episcopal Church – the very same church targeted by Roof – noted the importance of the Second Amendment to African Americans: 'We have several times alluded to the fact that the Constitution of the United States guarantees to every citizen the right to keep and bear arms.'
After the Fourteenth Amendment was passed in 1868, gun controls became ostensibly race-neutral, but everyone understood that they were really about blacks. As a South Carolina newspaper noted in 1896: 'A prosecution under the concealed-weapon law is never heard of except when some unfortunate negro falls into the hands of the law officers and a pistol is found on his person.' (2)
A stark illustration of the racist precedents for the idea of 'gun culture' can be found in an article in the Atlanta Journal, written after the Atlanta race riot of 1906: 'Disarm the negroes… A good negro is contaminated by the possession of a weapon in a time like this; a bad negro is made very much worse the moment he places a pistol in his pocket.' (3)
At the turn of the century, accommodationist African-American leaders like Booker T Washington took at face value southern whites' advocacy of prohibition on weapons, and supported the campaign for gun controls. But radical black voices like Ida B Wells and WEB Dubois urged blacks to arm themselves. The case of Dr Ossian Sweet, who was charged with first-degree murder in Detroit in 1925 after a member of a mob was shot outside Dr Sweet's home, attracted none other than über-liberal lawyer, Clarence Darrow.
It is also worth remembering that the first act of the Black Panthers in the 1960s was to protest against a gun-control proposal – the Mulford Act (1967) – being put through the California legislature specifically to stop armed Panther patrols. Carrying shotguns and rifles, the Panthers continually promoted armed self-defence. Arrayed against them were Republicans Richard Nixon and Ronald Reagan.
In his book, The Saturday Night Special, anti-gun journalist Robert Sherrill frankly admitted that the Gun Control Act of 1968 was 'passed not to control guns but to control blacks'. The National Rifle Association (NRA), which had been supportive of gun controls, even claimed credit for the 1968 act.
It was really only in the late 1960s and 1970s that the focus turned from the black finger on the trigger to the gun itself. This allowed the liberal elite to continue to campaign to disarm the powerless, while avoiding accusations of racism. Psychologists Leonard Berkowitz and Anthony LePage published a much-quoted article entitled 'Weapons as aggression-eliciting stimuli'. Berkowitz flatly stated that, 'Guns not only permit violence, they can stimulate it as well. The finger pulls the trigger, but the trigger may also be pulling the finger.' References to the 'virus' or 'epidemic' of guns show that this fetishisation of firearms has only grown and strengthened since the 1960s.
Today, such history is conveniently forgotten by those like Joan Burbick, who, in her 2006 book Gun Show Nation, protested that the gun 'reeks of white power'. Those who understand the history often seek to distance themselves from racist gun controls by insisting that it is different today.
But who is the target of today's gun-control laws? As ever, it is African Americans. The typical person arrested for gun crimes is more likely to be black. In 2013, African Americans accounted for 47.3 per cent of those convicted for federal gun crimes – a racial disparity larger than that for any other class of federal crime, including drug crimes. All of which shows that, after more than 200 years, gun-control laws still have a disproportionate impact on the least powerful in American society.
Kevin Yuill teaches American studies at the University of Sunderland. His latest book, Assisted Suicide: The Liberal, Humanist Case Against Legalisation, is published by Palgrave Macmillan. (Buy this book from Amazon (UK).)
Watch 'African Americans and guns: an illustrated lecture' here:


(1) '"Never intended to be applied to the white population": Firearms regulation and racial disparity – the redeemed South's legacy to a national jurisprudence', by Robert J Cottrol and Raymond T Diamond, Chicago-Kent Law Review, 70 (1994–1995), p1317
(2) 'Untitled', the Watchman and Southron, 28 October 1896, p1
(3) 'Disarm the Negroes', the Atlanta Journal, 25 September 1906, p6
To enquire about republishing spiked's content, a right to reply or to request a correction, please contact the managing editor, Viv Regan.