Plane Stupid: return of the snobs
Air travel always brings out greens' anti-masses prejudices.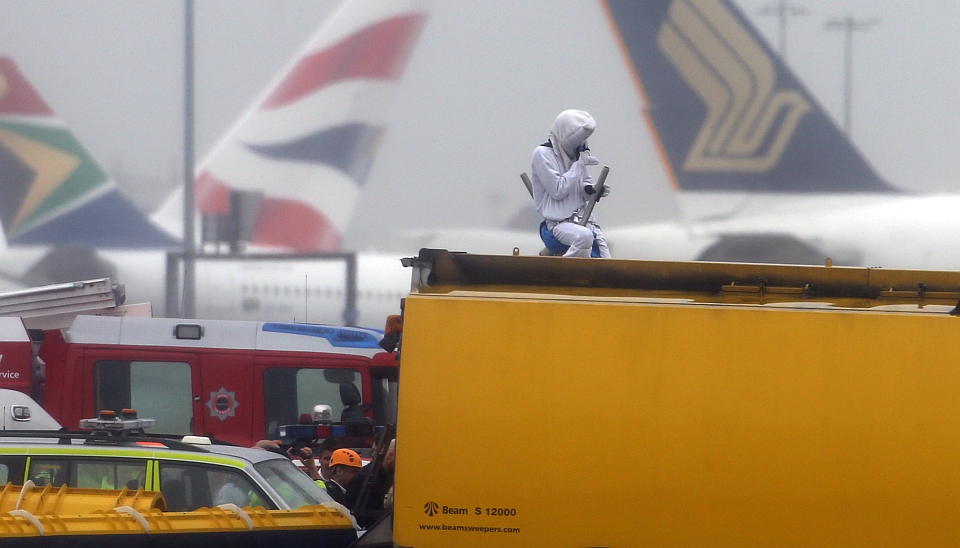 The stupid stunt. The costumes – one polar bear, 12 smug tossers. And the miserable, joyless 'down with your aeroplanes' message. It's as if Plane Stupid hasn't been away – which, given its objective, it probably hasn't.
But a good few years after its headline-seeking peak, when barely a week passed without a politician being gunged by a slumming-it Hooray, or a roof being redecorated by a gang of Ruperts, Plane Stupid is back in the media spotlight, sticking two disdainful fingers up at the lifestyles of a vast swathe of humanity. This time, as the gurning selfies on its Twitterfeed told us, Plane Stupid activists had cut themselves into Heathrow, chained themselves together and to some sort of metal tripod, before lying down in the corner of the north runway. They were eventually moved, but not before over 20 flights were cancelled and countless others delayed. A good day for Plane Stupid; stupidly annoying for everyone else.
The ostensible prompt for Plane Stupid's bumptious re-entry into public life is the prospect of a new, third runway at Heathrow, a development that picked up momentum last week with news that the Airports Commission had given a 'clear and unanimous' recommendation that an extra runway should be built. This was clearly too much for Plane Stupid. So, armed with just a fence-cutter, a two-for-one offer at I'm Mad, Me fancy-dress supplies, and a face-full of rosy-cheeked entitlement, Plane Stupid decided to forgo public debate, not to mention the tiresome act of having to win support from actual people, and instead simply imposed its vision of the Not-So-Good Life on people.
This is not to say that Plane Stupid doesn't make arguments. It's just the ones it does are so deadeningly familiar and unpersuasive. Another runway will mean more flights, and therefore more carbon emissions. As one Plane Stupid activist put it: 'Building more runways goes against everything we're being told by scientists and experts on climate change. This would massively increase carbon emissions exactly when we need to reduce them; that's why we're here.' Or, as the anti-runway protester's paper of choice described it, more people flying will contribute to 'the planet's slow cooking'.
But as always with environmentalists, the cleaving to The Science, and the retelling of the same interminable apocalyptic narrative, is fuelled by something else, too: a loathing of the lifestyles, the ambitions and the wants of the vast majority of Western society. A loathing, in short, of other people. That's why Plane Stupid was always such a revealing manifestation of green politics. Its vainglorious disdain for people, for their desire to consume in the 'wrong' way, to go on holiday, to get lagered up and enjoy themselves, was always so close to the surface. Air travel was never really a practical target (its total carbon emissions amount to just six per cent of the UK's carbon emissions). It was a symbolic target, a symbol of modernity, a symbol of man's refusal to accept natural limits, and, as it became ever cheaper, a symbol of something else, too: the vulgarity and crassness of the easyJet-flying hordes. 'We're not saying that everybody who wants to fly is a bad person', protested one anti-runway activist a little too much.
Admittedly, this loathing of the lifestyles ever-cheapening air travel facilitates was more palpable during Plane Stupid's previous incarnation in the mid- to late-2000s. Then, with a gang of public-school wallies at the helm, the anti-masses prejudice latent in environmentalism bloomed. Targeting budget airlines like Ryanair in particular, Plane Stupid uncorked green snobbery and let it flow: 'There's been an enormous growth in binge-flying, with the proliferation of stag and hen nights to Eastern European destinations', wrote Plane Stupid co-founder Joss Garman, contempt dripping from his quill. '[These destinations are] chosen not for their architecture or culture but because people can fly there for 99p and get loaded for a tenner.' It was all too obvious. The object of Plane Stupid's attacks was never really cheap flights; it was the cheap, uncultured plebs doing the flying.
The snobbery is less overt this time round. Plane Stupid's new cadre of activists desperately stick to the environmentalist script, complete with its neutral-seeming carbon-emissions stats and sciencey tone. But behind the evidence-based sheen, the aloofness lurks. Plane Stupid is still setting itself apart from the oiks, still denouncing their lifestyles, still standing in the middle of a runway and saying to the onlooking public, their holidays and business jaunts on hold, 'We're better than you, more ethical, more tasteful'.
The mask slips, and the leering self-aggrandisement appears, when Plane Stupid complains about 'unnecessary' flying, the fact that, as one of its tweets reads, 'growing UK aviation demand driven entirely by leisure, not business'. That's what bugs its activists, that's what sticks in their craw – the ever-increasing number of people choosing to travel, not because they have to, but because they want to, in order to enjoy themselves. To Plane Stupid, it appears indulgent, excessive, a sign of the West's decadence. Of course, Plane Stupid is aware of the snobbish implications of its anti-flight strictures – hence it said that a third runway would benefit 'the rich'. And no one likes the rich, do they?
But the figures tell a different story. Those going on holiday from Heathrow aren't gallivanting yahoos; they're pretty average in financial terms. As of 2013, the average household income per year of those going on holiday from Heathrow was £53,656. Given that the average annual income for an individual is just over £26,000, and the fact that many people do live with other wage-earners, the average household income of Heathrow holidaymakers seems less than super-rich. Indeed, the average income of a family with two kids is just over £50,000. Far from being the preserve of wealthy pleasure seekers, Heathrow, and air travel in general, is increasingly serving the pleasure-seeking ends of everyone.
And that's a good thing. But it's also the reason why environmentalists are drawn to air travel, like snooty moths to a terribly tasteless lamp. It embodies mainstream choices and desires; a choosing to travel far and wide, and a desire for an enjoyment and pleasure (whatever shape that takes). And this, for the sort of people who join Plane Stupid, is tasteless. It is why they think they are better than us. It is why they are willing to appoint themselves as our judges. It is why they are willing to lie down on a runway and ruin hundreds of people's plans.
Tim Black is deputy editor at spiked.
To enquire about republishing spiked's content, a right to reply or to request a correction, please contact the managing editor, Viv Regan.