Lenny Bruce: the Dapper Laughs of his day
Nearly 50 years after Bruce's death, 'sick comedians' are still in the firing line.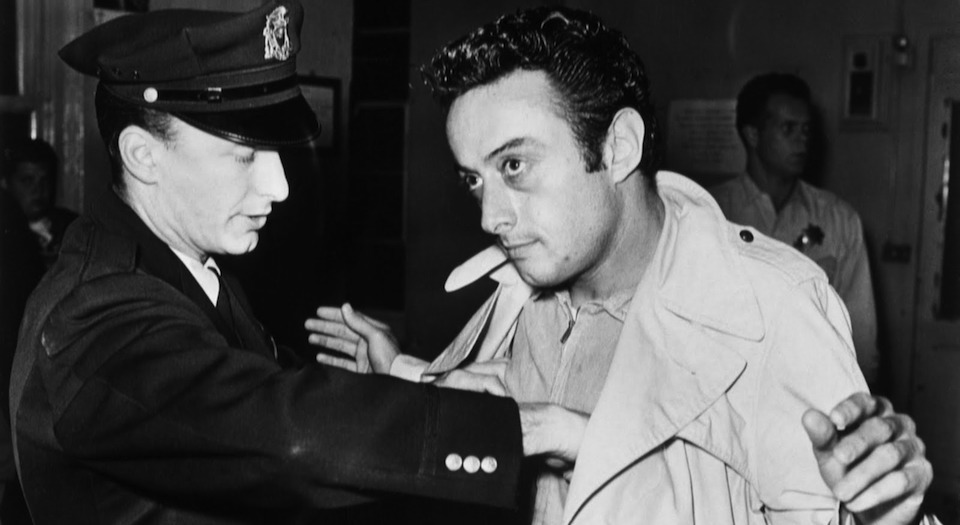 On 3 August 1966, Lenny Bruce was found dead on the bathroom floor of his Hollywood Hills home. It marked the tragic end of a years-long official campaign to have the comedian prosecuted for the 'obscene' content of his stand-up. He died while on bail and seeking appeal after a Manhattan court convicted him of obscenity and sentenced him to four months in a workhouse. While the cause of death was an apparent drug overdose, those closest to him were sure that it was this long-drawn battle that drove him to let his own life slip away.
The tragic tale of Lenny Bruce, the comedian whose caustic, expletive-filled satires of US society effectively created modern stand-up as we know it, is today held up as a kind of morality tale for comedy. His demise is a reminder of the Bad Old Days, in which even laughing at the absurdities of the mainstream was enough to mark you out for slaughter. In 2003, he became the first person to receive a posthumous pardon from the state of New York. Then NY governor George Pataki called it 'a declaration of New York's commitment to upholding the First Amendment'. But, in so many ways, it seems the lessons of Bruce have still not been learned.
Bruce was born Leonard Alfred Schneider in 1925 in Mineola, a small town to the east of New York City. His interest in comedy started early. His mother, a dancer and singer turned stand-up, known to the stage as Sally Marr, introduced Lenny to showbusiness at a young age. Beginning as an impressionist and straight-up gag man, he soon found his own voice, suffusing Yiddish humour with a jazz cat delivery – all sharp suits and hip slang.
He was a complete natural. And his formidable gift of the gab lent as much to hustling as it did to stand-up. He narrowly avoided jailtime for impersonating a clergyman and fraudulently raising $8,000 in 'donations' for a leper colony in Guiana. And, after joining the navy aged 16 and serving in the Second World War, he orchestrated a semi-honourable discharge after he performed, in drag, for his shipmates and then complained to the ship's medical officer of holding homosexual urges.
But it was in the sleazy stripclubs of California that Bruce really honed his craft. Working as an emcee and comic in the San Fernando Valley in the late Fifties, he found in this shady, sticky-floored world a space in which he could let his inhibitions and creative energy run free. As Bruce's biographer, Albert Goldman, wrote: 'His ideal was to walk out there like Charlie Parker, take that mic in his hand like a horn and blow, blow, blow everything that came into his head, just as it came into his head, with nothing censored, nothing translated, nothing mediated, until he was pure mind.' It wasn't until Bruce sunk to the 'lowest of the low', says Goldman, that he could free himself of 'all the restraints and inhibitions and disabilities that formerly had kept him just mediocre'.
Bruce made a name for himself among California beatniks, wild-heart jazz musicians and civil-rights activists as a kind of foulmouthed hepcat soothsayer. He waxed lyrical about sex, religion, hypocrisy and segregation – as a Jew, he once said, he always had an affinity with anyone who was 'schlepped around'. He quickly shot to prominence, graduating from stripclubs to playing cafes, nightclubs and theatres. By 1961, he was playing to a sold-out crowd at Carnegie Hall – the first time, no doubt, in the concert hall's history that the words 'faggot', 'schmuck' and 'schtup' were flung around so liberally on its stage.
His fame continued to grow in spite of a concerted effort on the part of TV producers, 'respectable' nightclub owners and moral crusaders to have him blacklisted. He was branded a 'sick comedian' by the press and found it more and more difficult to get big media gigs; during his entire career he only appeared on television six times. When he eventually appeared on The Steve Allen Show, his material was heavily censored. And it wasn't just the bad language. Anything that was liable to offend anyone was promptly cut out. (He even enraged the 'continuity team' by persisting to do a bit about sniffing airplane glue without prior clearance.) Word soon spread across the Atlantic, too. In 1961, after playing a gig at Peter Cook's private London nightclub The Establishment, Bruce was branded an 'undesirable alien' by the Home Office and banned from entering Britain.
His caustic, no-holds-barred satire won him enthusiastic plaudits from hip intellectuals and writers. He was casually compared to Jonathan Swift or Aristophanes; praised, not as a 'sick comedian', but as a performer who was holding up a mirror to a sick society. To Bruce nothing was sacred, and he jibed at modern mores with caustic irreverence and wit. His main targets were censorship and hypocrisy. He was left baffled when the shower scene in Hitchcock's Psycho was pilloried by the press, not for the violent, psychotic murder of Janet Leigh's tragic heroine, but for the scene's sexualised nature. 'So it's violence – yes; but schtupping – no', he said. Meanwhile, his attacks on organised religion made for some of his most hilarious routines, including a bit, immortalised in the recording of the Carnegie Hall show, in which Jesus and Moses pay a visit to a New York Catholic church. 'Their route took them through Spanish Harlem, and they wondered why 30 Puerto Ricans were living in one room, while this guy was wearing a ring that was worth eight grand.'
Yet as much as Bruce is feted as a man who dared to speak out, who railed against intolerance and exploitation, it was his act's obscene nature, his willingness to offend sensibilities as well as ideas, that really put a target on his back. In October 1961, in the wake of the Carnegie Hall show and at the height of his powers, Bruce was arrested for making obscene jokes at a show at the Jazz Workshop in San Francisco. The Jazz Workshop was across the street from the City Lights bookstore, the beatnik hub at which Allen Ginsberg first read Howl. After failing to convict Ginsberg for obscenity for Howl, city officials with damaged egos and something to prove felt Bruce was an easier target. In the end, his crime was not making jokes railing against the political status quo, but saying the word 'cocksucker'.
While Bruce was eventually acquitted, the San Fran bust began a domino roll of arrests and police harassment. He was submitted to constant drug searches, and undercover police officers began sitting in the crowd at his shows, listening patiently, before carting him off after the curtain fell. It all came to a head in 1964, when Bruce and a club owner were arrested for obscenity and subjected to a gruelling six-month trial. Despite support and testimony from the likes of Woody Allen, Bob Dylan, Allen Ginsberg and Charles Baldwin, they lost the case. As Bruce and his lawyers pushed tirelessly to have the case taken to the Supreme Court on First Amendment grounds, his drug use increased, his comedy appearances became more chaotic and sour, and he eventually all but lost the will to live.
Too often today, Bruce's tragic end serves as a morality tale not about the wretchedness of censorship, but the mean-spiritedness of the old elite. He is hailed as someone who was on the right side of history, and thus deserves our utmost respect. But this is to miss the point. Bruce was not some militant political dissident. He was a comedian who refused to be told what he could and couldn't say, who felt that self-censorship, intolerance and taboo poisoned society. And it was his willingness to offend, to say things that were considered obscene, that made him so important.
Indeed, Bruce was prepared, even, to offend his own audience – to push the buttons of the bohemians and progressives who lapped up his every word. It was this impulse that gave us his most daring and ingenious routine, in which he would look around the audience, and ask 'are there any niggers in tonight?'. With the audience stunned into silence, he would proceed to count all of the races in attendance using every racial epithet he could think of. But by the time he finished reeling off his roll-call, finishing with 'two dykes, four kikes, and eight niggers', the room would erupt. The bit was about the importance of defanging words, of taking the power away from those words that we feel are most primed to offend us. If everyone used the word, he mused, then no longer would black children run home from school crying because 'some oh-fey motherfucker called him a nigger'.
If there is a lesson to be drawn from Lenny Bruce, it is that just as we should not cower from speaking truth to power, so we should strive to expose and challenge our own sensitivities. Today, in an age when comedians can be twitch-hunted for fantasising out loud about news anchors; when stand-ups from Bill Maher to Dapper Laughs can be banned from the sorts of universities that once formed some of Bruce's most enduring fanbases; and when comedians are hectored and shamed for daring to laugh at that which we are told should not be laughed at, it's clear that we're as far away as ever from the kind of open, robust society that Bruce fought for.
To enquire about republishing spiked's content, a right to reply or to request a correction, please contact the managing editor, Viv Regan.