Kids Company: consumed by child-abuse hysteria
Batmanghelidjh was brought down by a panic she helped propagate.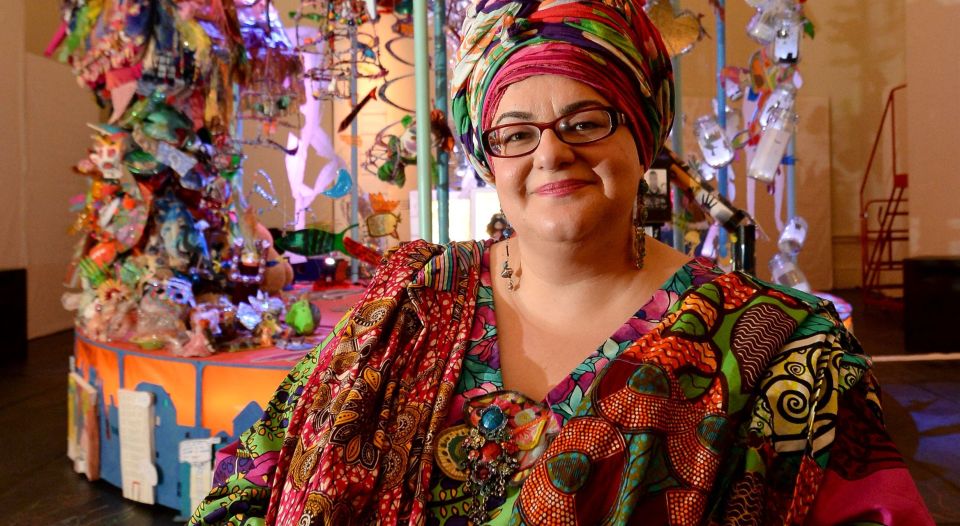 For a while it looked like Kids Company – the UK-based charity that, according to its website, 'provides practical, emotional and educational support to vulnerable inner-city children, young people and families' – might just survive. It had withstood the drip-drip revelations of seeming financial mismanagement and the government's funding-backed threats; it had shrugged off the tales of spliffed-up Fridays; and it had even brass-necked its way around the increasingly gaudy portrait emerging of its chief executive, Camila Batmanghelidjh, the eccentric queen bee of Kids Company.
But then came the final blow, the straw that broke even Camila's back: Kids Company was accused of being involved in child abuse.
The police are now investigating, but it's all pretty much unsubstantiated at this stage. The central contention seems to involve a client of Kids Company allegedly sexually abusing girls he met through the charity. Staff were supposedly notified but failed to pass the information on. Other allegations are vaguer still: indecent images of children circulated around some unspecified part of Kids Company; staff-on-staff groping at after-work drinks; and a blind eye turned to youthful criminal enthusiasm. But all this taken together has created a sufficiently sulphurous stink to do what neither financial ineptitude nor government haranguing could do. It has brought Kids Company down, and with it, Batmanghelidjh, the former political darling of the third sector.
The increasingly vindictive pursuit of Kids Company, decked out in the jargon of financial records and impact assessments, had finally found Batmanghelidjh's Achilles heel. Alan Yentob, Kids Company director and BBC bigwig, admitted that until the child-abuse allegations broke at the end of July, it looked like the charity had won the support of a sufficient number of donors to keep going. But after the allegations? Not a chance. As Yentob put it: 'With these allegations around, we will not be able to fundraise because people will say "What's going on?"'
It doesn't matter that nothing has been proven. It doesn't matter that Kids Company, for all its whacky wrongheadedness and unconvincing neuroscientific musings, is almost certainly not staffed by child abusers. It doesn't matter because the logic of the child-abuse panic depends not on evidence of actual crimes, but on rumour and speculation, on a sheer sense of evil. It's a sensibility that breeds and flourishes in conditions in which trust between adults, and in institutions, has all but decayed, conditions in which every adult is deemed suspect, and every institution is deemed a potential haven for child abuse. No one is innocent, no institution is immune – there are no boundaries to the mistrust engendered by the child-abuse crusade. And once the taint of corruption exists, exculpation is virtually impossible.
Kids Company is far from alone, of course. Just look at the way in which key British institutions are currently stuck in the vice-like grip of the child-abuse crusade. The Houses of Parliament are the ongoing subject of an inquiry into establishment paedophilia; the BBC has been turning itself inside out with a flurry of inquiries, all in an attempt to purge itself of all trace of Jimmy Savile; and the NHS has been engulfed by the steady traffic of investigations into countless hospitals visited by Savile. Reports have been issued, and more inquiries planned, but it's never enough to quell the suspicion that somewhere, someone is getting away with it.
We're not talking about disreputable institutions, either. Just as Kids Company was for a while, the NHS and the BBC are, for those of a liberal-left hue, two semi-sacred entities, sources of near nationalistic pride. As Labour's Harriet Harman said at the time the Savile scandal broke: 'What has deepened the revulsion [over Savile] is that this happened at the BBC, an institution so loved and trusted it is known as "auntie".' That the BBC and the NHS are interminably tearing themselves apart, because of the actions of one individual, captures the infernal, corrosive seep of child-abuse suspicion. Nothing, no matter how celebrated, can resist its innuendo.
This Kids Company, the charity once beloved of politicians and celebrities, has found to its cost. But sympathy for it and its chief executive ought to be limited. Since Kids Company's emergence two decades ago, with Batmanghelidjh its crusading lifeforce, it has ceaselessly and adeptly exploited the moral panic of the day, first profiting from the spectre of happy-stabbing youth gangs, symbolised by the killing of 11-year-old Damilola Taylor in 2000, before broadening its campaigning remit to speak out on behalf of threatened and terrorised young people in general. Batmanghelidjh hit all the right notes. She spoke of vulnerability, she evoked an unseen epidemic of abuse, and she spoke for the child, that moral absolute in an age of corrupted and corrupting adults.
In doing so, Kids Company not only exploited that all-too-familiar erosion of social solidarity; it also exacerbated it, further undermining relations of trust between adults. So while Batmanghelidjh spoke out for the child, she simultaneously spoke against parents, casting a universal aspersion. In 2006, for example, she gave evidence in parliament claiming black mothers were prone to levels of 'rejection and cruelty' towards their men and boys. And she talked continuously, albeit in neuro-pseudo science, of what amounted to an inescapable cycle of deprivation and abuse in which young people necessarily remained trapped until she and her third-sector ilk extract them. The adult world was rotten in Kids Company's worldview, a site of abuse, degradation and brain-shrinking trauma. No wonder, in 2012, she could speak so blithely of the state-rearing of children: 'if the biological carers can't care for children, the state must become the best possible parent.'
Over recent weeks, as the pressure on Kids Company has been ramped up, and Batmanghelidjh has started to unravel, she has even painted herself as the victim of a shady paedophile-protecting elite. 'There is more [than we know about child abuse] that is being suppressed, and some of it involves historic sexual abuse of children, involving very senior members of the establishment', she said. 'As I sit here, in years to come the truth will unfold. People who are really outspoken and really challenge government about the way they are doing things, especially in poor communities, are being silenced.'
That's right – a child-abusing establishment is silencing Kids Company with allegations of… child abuse. But the truth is rather more straightforward than the conspiracy. The infernal, suspicion-spreading logic of the child-abuse crusade, of which Batmanghelidjh was a Knight Templar, leaves no one untouched. Once suspected of everyone, child abuse will proceed to find itself everywhere. So Kids Company is a victim, but not of an establishment trying to silence its critics. No, it's a victim of the hysteria it and others have helped to foment. There are no tears to be shed over Kids Company's demise; but there is nothing to celebrate either.
Tim Black is deputy editor at spiked.
To enquire about republishing spiked's content, a right to reply or to request a correction, please contact the managing editor, Viv Regan.