The biggest threat to comedy? Self-censorship
Yes, most comedians can say what they want. But they don't.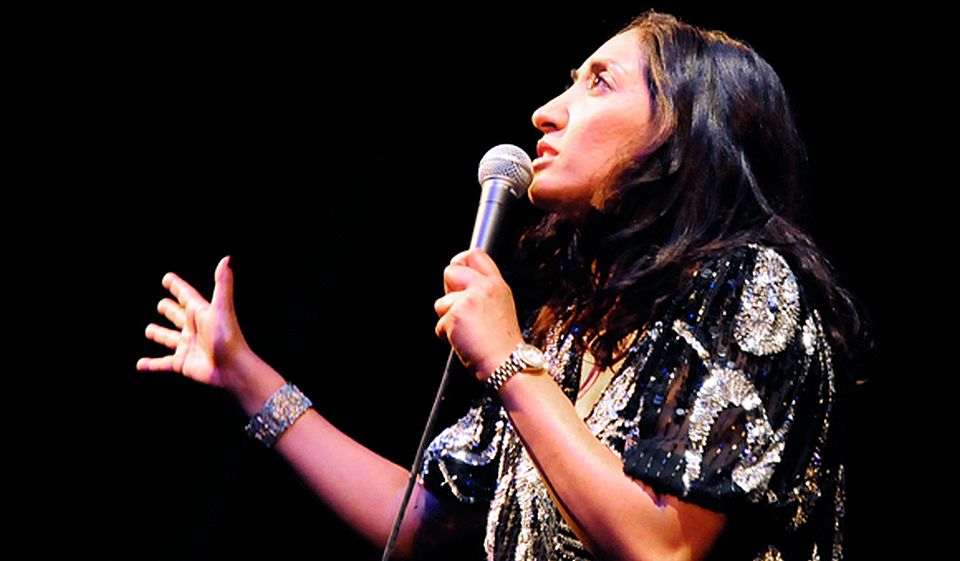 'A powerful declaration of the primacy of freedom of expression, not always the most fashionable view at a liberal arts festival.' It's lines like this that prove we live in strange times. This caught my eye in a review of character comic Sarah Franken's new Fringe show Who Keeps Making All These People?, a searing satire of the Islamic State, political correctness and the gutlessness of modern Western culture. I wonder if the reviewer recognised the irony.
Yes, the fear of offending is once again the talk of Fringe. Whole routines, whole shows, even, are devoted to it this year. And the air is thick with discussion. There's been no big censorship scandal. Not yet, anyway. But, in the past year, the PC war on comedy has reached new and illiberal heights. From the banning of Dapper Laughs to the twitch-hunting of Louis CK, the intolerant climate around comedy is becoming intense. And comedians are having to pick sides.
Shazia Mirza's Work In Progress offers a searing take down of offence-culture. The blurb for her show warns: 'There will be anger, confusion, some laughter and mostly danger. No doubt someone will still walk away saying: "I'm offended, well I think I am. If not, I am definitely offended on my husband's behalf, and he's offended on behalf of his accountant."' Mirza's earned the right to feel cautious.
The show is being developed for a run at the Tricycle Theatre. Originally she wanted to call it The Road to al-Baghdadi, in a nod to the Islamic State's caliph, Abu Bakr al-Baghdadi. But, the staff at the Tricycle, who are no strangers to censorship, were concerned it would 'attract the wrong sort of attention'. Now, the show is called The Kardashians Made Me Do It.
Elsewhere at the Fringe, Ria Lina's Taboo Raider jibes at the conveyor belt of new politically correct terms. Lina, who is half Filipino and half German, grew up calling herself 'oriental'. Until, that is, she was accused of othering herself by making her sound 'like a rug'. And Franken's aforementioned show offers a masterful dissection of the PC mania that seems to take over the response to any act of terrorism. In one inspired skit, the prime minister of Australia responds to a terror attack by saying 'diversity, multiculturalism, melting pot' over and over again.
But there are also those who aren't so convinced. Nish Kumar, who is selling out at the Fringe this year with his political stand-up show Long Word… Long Word… Blah Blah Blah… I'm so Clever, slammed comics who are piping up about PC in an interview with the Guardian. 'For years, a lot of comedy in Britain was overtly right-wing and quite unpleasantly so', he said. 'We've moved beyond that – and I'm not sure why a lot of people are trying to undo that and the whole alternative comedy movement of the 1980s.' In his set, he takes on the issue with even more pious outrage.
But the consensus that seemed to form over the course of many a late-night pub row is that comedians are still allowed to say what they like. Comedians and comedy audiences, after all, are still pretty thick-skinned. 'All of the stuff you're saying we can't say', one comic told me, 'we say them at the Fringe every night'. Another journalist chimed in: 'Katie Hopkins still has a newspaper column. Frankie Boyle still sells out arenas. They're not being censored.'
It is this sentiment that has made stand-up Andrew Lawrence the butt of performers-bar jokes. Last year, Lawrence was savaged by his colleagues when he published a long and scathing Facebook comment that took aim at the 'liberal back-slapping' on TV panel shows: 'Aging, balding, fat men, ethnic comedians and women-posing-as-comedians, sit congratulating themselves on how enlightened they are about the fact that UKIP are ridiculous and pathetic.' He was quickly dismissed as 'bitter' and 'self-delusional' and more or less kicked out of the comedy fraternity.
This year, in response, he's brought his new show, Uncensored, to the Fringe; it's his most uncompromising and politically charged yet. Pledging 'absolutely no concessions made to political correctness', he goes after the comedy establishment – reserving special bile for Stewart Lee – before taking on the burning issues that PC crusaders keep us from discussing, from immigration to Rochdale.
The show is a little low on the gags, but that's not the point. It's like a public exorcism, a release of all the pent-up fury this right-wing comedian has had to keep a lid on during his years on the circuit. But there are those who seem unconvinced by Lawrence's tirade against the censoriousness of PC. Comics will point out that the fact that he's still performing Uncensored as planned proves that, for all his caterwauling, he can say what he wants. He may have lost some friends, but not his liberties.
But the way in which comedians closed ranks against Lawrence reflected the new threat to artistic freedom today. It's not jackbooted censorship, or even blue-rinse crusaders against bad language – it's a culture of conformism. A refusal, even on the part of edgy comics, to entertain contrary opinions. It's for this reason that closeted right-wing circuit comedians like Lawrence eventually explode after years of self-censorship. And why comics outside the circuit, like Dapper, are vilified for breaking rules they never knew existed.
The Fringe is still chock-full of comedians pushing boundaries and probing taboos. But, in such an intense climate, no one can be complacent. You don't need risk-averse theatres or crusading feminist petitioners if comics are prepared to censor themselves.
Tom Slater is assistant editor at spiked.
Picture by: Carlos Delgado / Wikimedia Commons.
To enquire about republishing spiked's content, a right to reply or to request a correction, please contact the managing editor, Viv Regan.