The Islamic Republic of France
Michel Houellebecq's Submission is a powerful novel about the fragility of Western culture.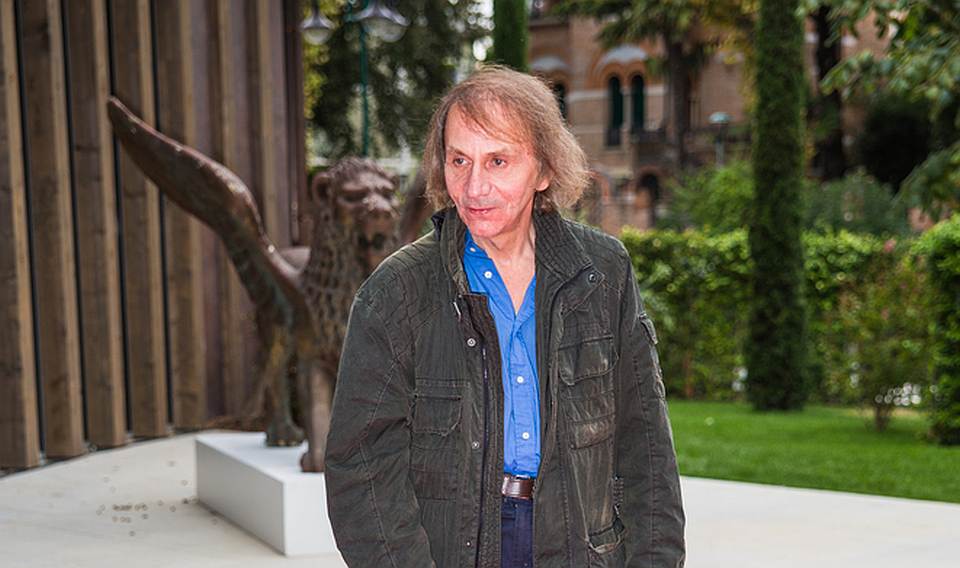 The history of modern France has been punctuated by a series of seismic shifts in ideology. Ever since the revolution of 1789, not only have regimes fallen – sometimes with considerable bloodshed – but whole concepts of governance and nationhood have been swept away nearly every generation or so. No other Western European nation has endured such huge and frequent changes during the modern era. Yet, endured France has. Human nature being what it is, a strong continuity persists. And even while revolutions, sieges and insurrections take place, the bourgeoisie finds a way of maintaining its social customs, moral standards and duplicities. The French have had to be so adaptable simply through necessity. So the central conceit of Michel Houellebecq's novel Submission, about a France under the governance of an Islamist-headed government, is not an inconceivable dystopia, but an elaborated extension of French history of the last 200 years.
Submission begins by sketching out the ethnic factionalism and the loss of faith in secular institutions that leads to a Muslim Brotherhood compromise candidate winning (with the backing of the Socialists) a 2022 presidential election against Marine Le Pen of the Front National. The story is, of course, satirical, but Houellebecq tempers it with realism. The Socialists would rather see Islamists in power than nationalists, while the Islamists, during their rise to power, merely have to play a waiting game – immigration and higher birth rates mean the secularist, ethnic French are shrinking as a demographic group. The Socialists find it easy to deal with the Islamists, who demand only a more combative foreign policy regarding Israel and control of education. Under their rule, only Muslim men are permitted to teach, and female students will only be educated to basic level before being channelled towards marriage and motherhood.
François is a typical Houellebecq protagonist. He drifts into a professorship of literature at the Sorbonne, which has a certain social cachet and career security. 'I didn't like young people and never had, even when I had numbered among them.' He disdains the young's 'certain enthusiasm for life'. He finds relationships with female equals unsatisfying, and affairs with students, supplemented by his perusal of porn websites, fulfil his libido without challenging his amorous lassitude. Nineteenth-century literature is vitally important to François, but he understands it is a luxury pursuit of diminishing relevance to society. A parallel is drawn between François's discipline, which faces imminent extinction in an increasingly unlettered and multicultural society, and the fate of the French Fifth Republic, which creaks towards collapse. As victory for the Muslim Brotherhood approaches, people scramble to open alternative bank accounts and transfer assets out of the country. French Jews emigrate to Israel en masse.
Houellebecq is a confirmed misanthrope and sceptic, disillusioned by the banality of the French social and intellectual culture of his lifetime. He has expressed admiration for the fiction of HP Lovecraft, one of the most profoundly misanthropic writers who has ever lived. Lovecraft's powerfully original view is of mankind infinitely insignificant within a cosmos that is indifferent to human existence. Houellebecq (like Lovecraft) is disgusted by humanity, partly due to temperament, partly due to self-loathing, partly due to simple detached perspicacity.
But he is also a fierce moralist. His novel Atomised presented a scathing critique of the vacuous hedonism of the soixante-huitard generation, which left a swathe of middle-class French people in a state of perpetual emotional adolescence. By revolting against institutions of state, church and family, and thereby abjuring commitment to the nuclear family, the group who came of age during the protests of 1968 left a legacy of parental neglect. Part of Submission's proposition is that secular Europeans have forfeited any claim to moral supremacy and security due to selfishness and mediocrity. This is why they face being swept away by more vital, aggressive cultures.
Houellebecq can be stingingly funny. His mordant contention is that nothing short of revolution would unseat a Parisian professor. As François sits at home with a girlfriend, waiting for an agonisingly slow delivery from Rapid Sushi, he cannot decide whether he wants a blowjob or wants to die. He is paralysed by apathy and fear, watching mass rallies on TV while eating microwaved dinners. He is passive and apolitical; he has abdicated any responsibility for the world around him – a pitiful descendant of existential man.
In order for François to teach at the Islamic University of Paris, he must convert to Islam. What ideological or practical constraints prevent such a conversion? None, it turns out. The world around him is changing. North African countries are entering the EU. The purging of women from workplaces is leading to full employment for men. Polygamy is introduced. The patriarchal family, rather than economic growth, becomes the cornerstone of government policies.
Anyone expecting immersion in this alternate reality will be disappointed by the scant 250 pages of Submission. Houellebecq is not that kind of writer. François responds to the Islamisation of France with honest self-interest, and so the full scale and impact of what has happened is never quite clear. Houellebecq has always been a novelist of ideas, and at times this is all too apparent. While crucial negotiations take place in Paris, François wanders around the medieval battlegrounds of la France profonde, meditating on the turning points of history. Submission is essentially a presentation of ideas rather than a narrative, though it is always an engaging read.
What is most striking about Submission is the way Houellebecq suggests that modern European man can adapt painlessly and profitably to conversion in much the same way the peoples of Africa and the near East did when they were conquered and converted by Arabs. Islamisation is presented not as an affront or a nightmare, but a matter of accommodation. Narrow self-interest and an absence of religious belief make François's conversion – his submission – at the end of the book inevitable and natural. Surrender seems the easiest path for François and for France. Houellebecq sees no alternative; certainly he does not suggest one in this novel.
It seems unlikely that any book – fiction or non-fiction – will be published in 2015 that is more important than Submission.
Alexander Adams is a writer and art critic. He writes for Apollo, the Art Newspaper and the Jackdaw. His book The Crows of Berlin is published by Pig Ear Press. (Order this book from Pig Ear Press bookshop.)
Soumission, by Michel Houellebecq, is published by Editions Flammarion. (Order this book from Amazon(UK).)
To enquire about republishing spiked's content, a right to reply or to request a correction, please contact the managing editor, Viv Regan.