Hey, grown-ups: put down the colouring pens!
Adult colouring-books speak to the infantilisation of the West.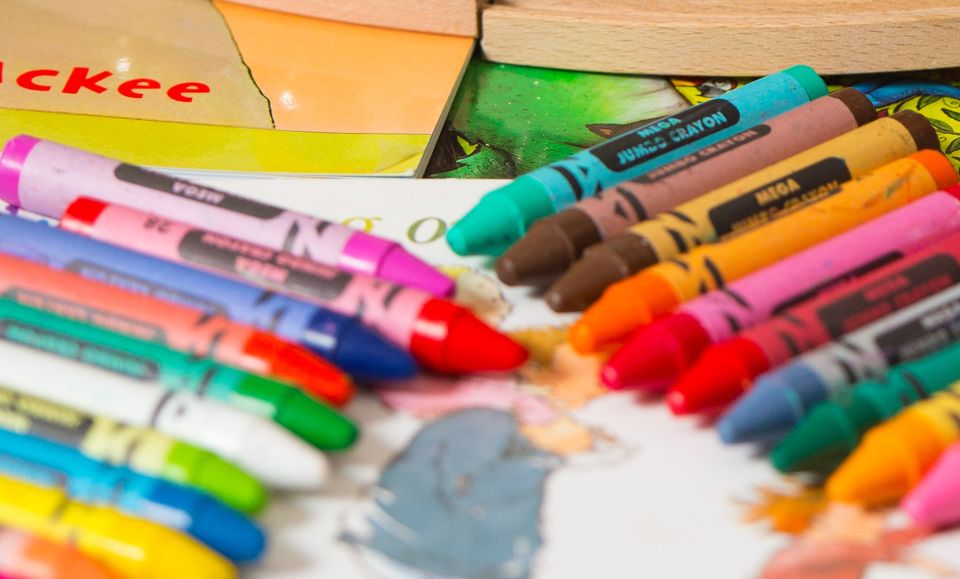 They seem to be everywhere. I enter an airport giftshop on my way to Chicago, and a stack of adult colouring-books stares me in the face. Go into any major newsagent, supermarket or bookshop and you'll find a prominent display of adult colouring-books. Four out of the 10 bestselling books on Amazon UK are adult colouring-books. One, Animal Kingdom, by the illustrator Millie Marotta, has sold half-a-million copies since its publication last year.
The sociologist in me is always interested and sometimes puzzled by the ascendancy of a new fad. Why are so many adults rediscovering an activity they left behind when they made the transition from childhood to teenage life? Is this just a readily accessible activity with which to while away moments of boredom? As someone who's constantly on the lookout for new forms of displacement activity, I can readily relate to adults who purchase a doodling book. I'm always rearranging my books, making endless to-do lists, and inventing other novel distractions. So I have no problem empathising with the impulse to engage in mindless distractions. And yet, what I find curious, and mildly disturbing, about the colouring-book phenomenon is that this mindless displacement activity has been successfully rebranded as a 'mindful' therapy for anxiety-ridden adults.
The huge sales of adult colouring-books are symptomatic of the growth of the therapeutic market in Western societies. In recent decades, a growing range of products is being sold not simply in terms of their intrinsic use, but also on the grounds that they have a supposed beneficial therapeutic effect. So adult colouring-books are promoted on the basis that they don't only offer a pleasant distraction, but also help to relieve stress, make you 'mindful', and allow you to get in touch with your real self.
The McDonaldisation of the mind
The adult colouring-book industry is a spin-off of the marketisation of wellbeing and mindfulness. In an era when therapy culture dominates the Western imagination, the transformation of the childish hobby of colouring-in into a worthy adult pursuit has been made possible by its association with some mental-health benefits. In a world where 'mindfulness' is successfully marketed as a panacea for the existential problems of humanity, it isn't surprising that colouring books are sold as a remedy for stress.
To take a few examples… Lucy Mucklow and Angela Porter's Color Me Stress-Free: 100 Coloring Templates to Unplug and Unwind (Zen Coloring Book) is advertised as 'the perfect book for stressed-out adults who want to reconnect, simply and easily, with their inner creativity'. It is apparently a 'simple and inexpensive way to relieve stress' and an 'alternative to stressors, ultimately aiding in reversing the effects of anxiety'. Magical stuff. Mucklow and Porter have also produced Color Me Calm and Color Me Happy, for customers wishing to purchase a calm or a happy life.
The 'Color Me' franchise of unwinding to a simple template follows the marketing strategy profitably pursued by the McDonald's fast-food model. This is not surprising, since mindfulness represents a form of junk-therapy – the functional equivalent of junk food.
There is also Tiddy Rowan's more hardcore Colour Yourself Calm: A Mindfulness Colouring Book. This publication is explicitly sold as a 'mindful colouring book for adults'. It exhorts punters to 'relax, meditate and banish stress' and advises us to 'release unconscious knowledge and calm thought through painting and colouring'. The blurb for the book hits all the right buttons of therapy culture. It boasts that the book has 'gathered inspirational quotes to accompany' its 'original images and enhance the experience, offering an easy way to relax the mind, body and spirit, while expanding the imagination and creating a sense of wellbeing'. 'Easy way of relaxing the mind' – that's the book's great selling point.
Consuming wellbeing
The reason adult colouring-books have become bestsellers is that they resonate with the zeitgeist, which communicates the idea that we live in a uniquely stressed-out, anxious world. The popularisation of the idea of wellbeing is itself culturally significant. The perception that wellbeing is something that needs to be achieved through therapy promotes the impression that it is not the norm. The default of 'not being well' serves as the foundation for the mindfulness industry's assertion that we need help in order to achieve the state of wellbeing. This idea is foisted not only on adults, but on schoolchildren, too.
Once society is encouraged to stop taking its wellbeing for granted, its members become susceptible to the claims of the therapy industry's entrepreneurs. As for the astounding range of benefits attributed to the fad of mindfulness – you couldn't make it up! Mindfulness allegedly helps individuals gain greater 'self-control', 'objectivity'; it also boosts tolerance, equanimity, concentration, mental clarity, emotional intelligence, and the ability to relate to others with kindness, acceptance and compassion. It helps you sleep, and gives you more energy. Moreover, this veritable panacea for the existential problems of humanity can apparently also reduce cancer risks among teens, prevent drug and alcohol relapse, and help stressed-out workers deal with chronic pain and manage depression. Moreover, it can make you more charismatic. And it improves your chances of getting pregnant! So get on with colouring in that template.
Mindful colouring-books speak to today's wider process of the McDonaldisation of therapy. Simple, banal bite-sized therapy, divested of complexity and rigour, is now offered by schools and by both public-sector and private organisations as an effective stress-busting tool.
In and of itself, the only harm caused by the mindfulness industry is to distract people from finding their own way to manage the challenges thrown up by everyday life. Of course, colouring books are a simple pursuit, which may or may not have meaning for some adults. But whatever their calming effect, they are clearly an inferior alternative to art therapy. The colouring-in of mass-produced designs probably won't challenge your creative powers. Free drawing, making your own art and design, is far more likely to engage and enhance your imaginative insight.
The infantilisation of the therapeutic imagination
It is a sign of the times that this new method of relaxation for adults is marketed through an appeal to the nostalgia of childhood. In the 21st century, the motif of escape back into childhood is frequently promoted as the best way to attain existential security. 'We are just children that grew up', says the blurb for Adult Coloring Book: Stress-Relieving Patterns and Mandalas. This makes an undisguised appeal to the child within us. It insists that 'we want to relax and explore our creativity' and 'we want to play with different colors'.
But actually, adults are not simply 'children who grew up'. The difference between children and adults is not merely one of biological maturation: it is a cultural achievement, a realisation of moral independence and autonomy. At a time when Western culture distracts adults from taking themselves and their responsibilities seriously, the invitation to grown-ups to return to the sandpit reinforces the trend for infantilising everyday life. Sadly, the paternalistic appeal to the adult-child within us is often presented as a means of recapturing the sensitivity and emotional literacy that grown-ups have apparently left behind. Exploiting the fantasy of an emotionally superior childhood attitude is probably the most insidious aspect of the McDonaldisation of therapy.
Buying colouring books is a pretty unobjectionable activity. But don't delude yourself about their supposed therapeutic benefits. Whether we like it or not, there can be no escape back into childhood.
Frank Furedi is a sociologist and commentator. His book, Therapy Culture: Cultivating Vulnerability in an Uncertain Age, is published by Routledge. (Order this book from Amazon (UK).)
To enquire about republishing spiked's content, a right to reply or to request a correction, please contact the managing editor, Viv Regan.