Why the fight for women's choice must go on
Forget 'reproductive justice' – let's stand up for women's autonomy.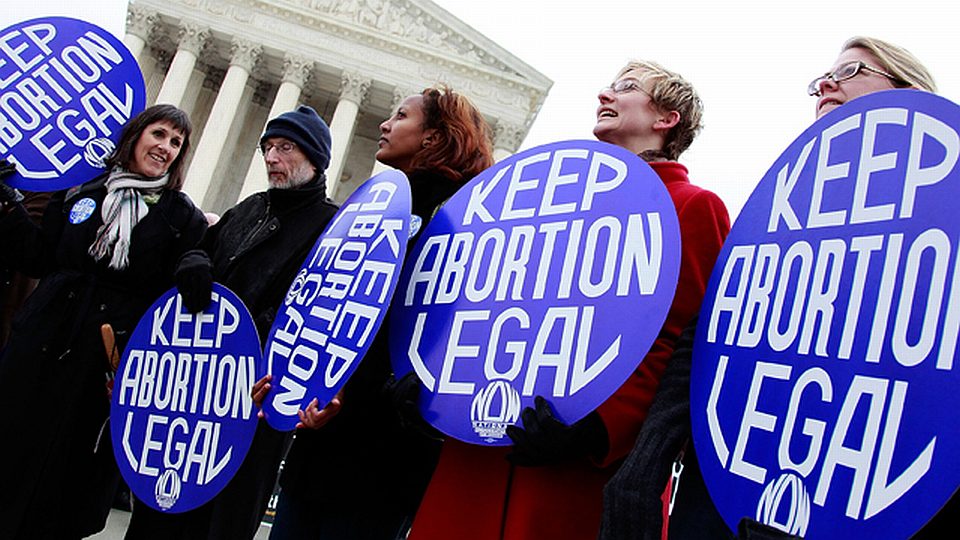 On Saturday 17 October, in Philadelphia, Ann Furedi of the British Pregnancy Advisory Service told a conference of medical students from across the US that they should put women's individual reproductive choice at the heart of their advocacy. Here is what she said.
There are many debates about the language that is used in reproductive healthcare. But most of them don't matter very much. Should we talk about 'termination of pregnancy' or abortion? About a fetus or a baby? Most of the time we are led by the language used by our patients. We adapt to how they view their procedures.
When it comes to advocacy, however, language does matter. Because when we change our language, we are changing our ideas, we are changing what we say. Today, some of our sisters are arguing that we should drop the term 'reproductive choice' and replace it with reproductive health or justice. And I want to give a personal account of why I don't agree, and why I am delighted that you, the Medical Students for Choice, have asked me to talk on 'Why the Fight for Reproductive Choice Matters'.
For me, there is a difference between supporting women's choice and supporting their reproductive health. It can be the same sometimes, yes; but it can also be very different. I witnessed this for the first time when I was living in east London about 30 years ago, in an area known as Tower Hamlets, which had a large Bangladeshi population. This was a time when there was a significant level of racist attacks, and I was one of the organisers of a group called East London Workers Against Racism. We helped to organise community defence against physical attacks by activists from the far-right National Front.
As it turned out, while we were focused on this explicit racism, the women of the community were being subjected to a more insidious form of racism. It was being perpetrated, not by skinheads with knives and bottles, but by liberal doctors, very like ourselves, motivated by (probably genuine) concern for the health and wellbeing of the community.
They held the view that women must be feeling exhausted by their large families, that children suffered from overcrowding in small flats, and that women would therefore benefit from better contraception. Depo-Provera injections seemed a good solution. There were no complicated instructions to confuse women who had low literacy skills, and controlling husbands didn't need to know about it. The main problem was that in the desire to get women to do what the reproductive-health doctors thought best for them, little attention was paid to making sure the women knew exactly what the injections were for. And it gradually emerged that many of these women, given long-acting injectable contraception, thought that they were receiving vitamins or being immunised against disease. No one had asked them about their preference. Their decision – their choice – about childbearing had been taken out of their hands, in the interests of public health and a doctor's opinion about what was most beneficial for the community.
The treatment may have been well intentioned. Some of the doctors involved may have thought they were helping women who were powerless and uneducated and unable to take control of their lives. But in truth, they were taking control away from the women. They treated these women like children, incapable of making choices for themselves. Actually, they treated them like animals, as less than human.
To stay with reproductive health in the UK: compared to the US, much of what we have in Britain is good. We benefit from a National Health Service that pays for abortion for almost all British residents. And those abortion services are safe and regulated. But, here's the rub: no woman can freely decide of her own volition to end her pregnancy. Two doctors must certify that she meets the legal grounds for abortion, which are that the abortion will be better for her health than having a child would be, or that there is a substantial risk of serious birth defects. The law is interpreted liberally, but still, granting an abortion is in the doctor's gift. In effect, women can only obtain an abortion by claiming that they can't cope with a child. It's degrading and demeaning, and it denies the woman control over her body.
There is no recognition in the law that women are competent to decide by themselves if they wish to be pregnant. There is no respect for a woman's autonomy, or for her moral determination about what is right or wrong for her or her family. The most personal, intimate decision – whether or not to have a child – is taken out of her hands. The law works to protect reproductive health, but it denies women the ability to make their own choices. It has no respect for women's dignity.
We need to think carefully about what we advocate for. What kind of laws do women want and need? This question is posed starkly in the Republic of Ireland, where there will soon be a referendum that is likely to remove the constitutional ban on abortion. But what should it be replaced by? Unless we start to build a case that women can be trusted, and that abortion can and should be left out of criminal statutes and treated as a private decision, as a matter of 'choice', then it is likely that the British 'health' model will be adopted in Ireland, with all of its limitations but perhaps without the will to work around them.
So why is it so difficult to accept that the idea of choice should be defended? Why the rush among even those who support the provision of abortion services to replace 'choice' with the rallying cries of 'justice' or 'health'? Does choice seem too whimsical? Are we afraid that, left to themselves, women will make a 'wrong decision'? But who can make a better decision than the woman herself about her own circumstances? And, crucially, if she doesn't make the decision, how can she take responsibility for it?
I've been told that women cannot make choices freely; that women do not choose abortion, but are driven to it; that women say they have 'no option'. But this doesn't really make sense, in anything other than a rhetorical fashion anyway. Because different women make different decisions, even when they are in the same circumstances. Not every woman with a fetal diagnosis of Down's syndrome chooses abortion. Some will see it as an opportunity to bring a different kind of person into their family. Some women deserted by their partners may hate the idea of their baby; others will see the baby as a legacy of the love two people once shared. We are not determined by our circumstances. Our social circumstances shape us, for sure, but they don't determine what we do. We choose differently.
I've been told that choice is a too consumerist phrase, that it's an economic term. Who made this up? Look up choice in Webster's Dictionary, and you will see it defined as a 'preferential determinant between things proposed'. The Oxford English Dictionary puts it even more simply: choice is 'a decision between two or more things'. There is nothing consumerist about the word choice. If people believe this word is trivialising, what they're really saying is that there is no value in decision-making — and we need to put them right on that.
Of course, the choice between having a child and having an abortion is not the same as a choice between two pairs of shoes, or between a latte and an espresso. But surely we believe that it's not beyond understanding that all sorts of choices in life are different, and that some are more serious than others — and indeed that some are brutally difficult, with neither option being what you want. Women know this, and they cope with it because this is the context of many decisions in life.
I've also been told that choice is 'privileged'. That only privileged women are concerned with choice, and only privileged women can exercise choice. Well, tell that to the Bangladeshi women in east London who were presumably seen as too underprivileged to appreciate the choice not to accept Depo-Provera. Tell that to the abused woman who has chosen to leave her husband, or indeed the one who chooses to stay for the sake of her children. Because sometimes, knowing that you personally have made a decision is what gives you the courage to follow it through.
I cannot think of a more patronising, degrading way to talk about oppressed and marginalised people than to say that they have no choice about their pregnancy. What choice will we next decide they 'can't exercise'?
We need to make a stand for choice, for our ability to state a preference. Making choices, and trying to make our choice a reality, is one thing that, as individuals, we all share. When we acknowledge the importance of choice, it shows that we respect people for the individual, rational and reasonable creatures they are. It shows that we 'trust women', as the great Dr George Tiller advised us to. And that we trust them, not in an empty, rhetorical way, but because we see them as individuals who can make decisions, take responsibility, and determine their destinies.
Ann Furedi is the CEO of bpas, the British Pregnancy Advisory Service. The above is the speech she gave to Medical Students for Choice on 17 October 2015.
To enquire about republishing spiked's content, a right to reply or to request a correction, please contact the managing editor, Viv Regan.