Want to help refugees? Then stop sobbing
The EU is exploiting the false distinction between migrants and refugees.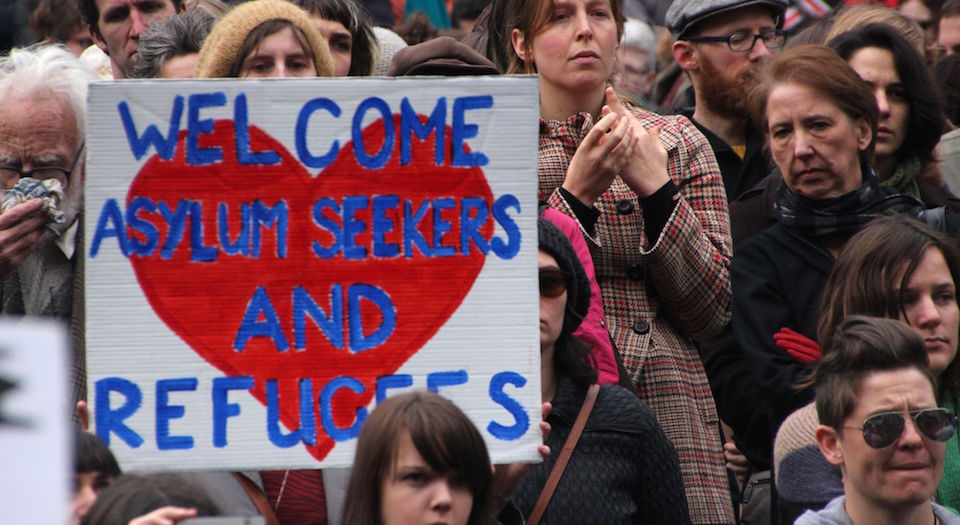 Remember that week when everyone became in favour of open borders? When social-media platforms were covered in selfies with people holding up signs proclaiming 'refugees' lives matter'? When politicians began promising to let refugees live in their spare rooms? Remember all the grassroots activism that seemed to emerge spontaneously on British streets, with food and clothes collections springing up almost overnight?
Fast forward a few weeks and the discussion of migration is changing rapidly. The British government is about to pass one of the most draconian pieces of anti-migrant legislation we have yet seen. The Immigration Bill 2015 – introduced shortly after home secretary Theresa May's speech at the Conservative Party conference – received its second reading in parliament last week. The bill would make it a crime to house illegal migrants, and would give landlords the power to terminate tenancies and kick residents out on to the street if it turned out they were in the country illegally. The bill would make working while an illegal migrant, or employing an illegal migrant, illegal as well. Even if migrants do get through the tunnel from Calais, they will find it almost impossible to do anything once they are in Britain. What's more, these measures will make it harder for even legal migrants to find a place to live and work if they haven't got their papers in order.
Things are no better across Europe. Angela Merkel, the German chancellor, initially threw open Germany's borders to Syrian migrants; now she and the rest of Western Europe are trying desperately to redistribute refugees into countries that never wanted to accept them in the first place. Last week, she had to strong-arm Turkey – which already houses around two million Syrians – into agreeing to accept more migrants in exchange for pushing forward Turkey's EU membership application and offering increased visa liberalisation for Turkish citizens in the meantime.
In September, the European Commission put forward its cack-handed quota idea, which would force EU countries to take a share of 120,000 registered refugees currently moving through the continent. But this was a far from an altruistic gesture. Last week, The Times leaked an EU document revealing how Western European countries were making arrangements for mass deportation of those migrants whose asylum claims had failed. While the quota system will benefit those who have already been registered as refugees, so-called economic migrants arriving in wealthy Western countries will find themselves rounded up and shipped out. By maintaining the arbitrary distinction between 'refugees' and 'economic migrants', European states have been able to keep vast numbers of people out, while still posing as sympathetic to refugees.
Meanwhile, poorer Eastern European countries have never been happy about being forced to take on a share of the migrants. Hungary, Poland, the Czech Republic and Slovakia have announced a co-operative border-control pact, and Slovakia may still challenge the EU's quota decision through the European Court. You can understand the frustration: these countries have never been consulted about the quota and democratic control over their borders has disintegrated in the hands of a technocratic European elite.
Paradoxically, the compassion people feel for refugees has allowed European authorities to clampdown on migrants and trample the will of the European people in the process. By drawing a hard line between refugees fleeing in fear of their lives (good) and economic migrants who are merely looking for a better life (bad), the compassionate, 'pro-refugee' argument has provided the elites with the perfect moral language with which to demonise economic migration. As Ella Whelan pointed out on spiked last week, even pro-refugee demonstrations argue for the resettling of refugees as a humanitarian gesture, rather than as a step towards increased economic migration for all. The right-wing press is often at pains to point out that the majority of the so-called refugees in Calais are single men with no families, and that genuine refugees would be better off if economic migrants went back to where they from. Yet, in the weird world of the contemporary immigration debate, this has become a view that is endorsed across the political spectrum; economic migrants are demonised in the name of upholding our duty to refugees.
If we want to have open borders, we need to argue for them on the basis of solidarity not just with refugees, but with economic migrants, too. This solidarity needs to extend also to the people who stand to be affected by open borders – that is, the people of Europe. This means respecting people's right to make the decision to open or close their own borders in the context of a democratic political debate. We need to accept that countries like Hungary and Poland, which are themselves economically struggling, need to be able to govern their borders for themselves in the interests of their own populations. There is no way the people of Europe can be expected to respond positively to increased migration if they do not feel as though they have had any say in the matter. The emotional outpouring over the refugees and the unthinking bureaucracy of the EU's response have put the cause of open borders back, not taken it forward.
Luke Gittos is law editor at spiked, a solicitor practicing criminal law and convenor of the London Legal Salon. He is the author of Why Rape Culture is a Dangerous Myth: From Steubenville to Ched Evans. Why Rape Culture is a Dangerous Myth: From Steubenville to Ched Evans. (Buy this book from Amazon(UK).)
To enquire about republishing spiked's content, a right to reply or to request a correction, please contact the managing editor, Viv Regan.