#KillAllWhiteMen? What about #KillAllMuslims?
The case of Bahar Mustafa shows we're in a state over free speech.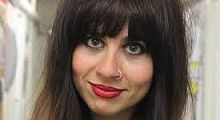 The announcement that UK prosecutors have dropped the charges against a students' union official accused of tweeting #KillAllWhiteMen has been hailed as a victory for free speech by supporters who led the protests over her arrest. Well, it's a start. But there is little prospect of turning the tide in the free-speech wars unless and until such people also campaign against official and unofficial censorship of those with whom they disagree. And will even defend free speech for those they despise.
Yes, it is all well and good to defend Bahar Mustafa, the Goldsmiths student diversity officer arrested and charged under UK communications law. As the free-speech lobby English PEN claims, noting that the hashtag #KillAllWhiteMen 'was clearly a joke' rather than a real threat: 'It was a political statement, however inadvisable it was for an elected students' union official to post it.'
So, what about the #IStandWithBaharMustafa crowd defending freedom of expression for other objectionable jokes and political statements – such as the hashtag, which Mustafa claims she was responding to, #KillAllMuslims? Would the entire civil-liberties lobby be so outraged if some other idiot was arrested for tweeting #KillAllBlackWomen? Not quite, the record suggests.
Yet this is the acid test for anybody who is serious about making a 'StandWith' those whose free speech is under attack. As US Supreme Court justice Oliver Wendell Holmes (who was, admittedly, a white man) put it 86 years ago, the principle on which a free society stands is 'the principle of free thought – not free thought for those who agree with us but freedom for the thought that we hate'.
Or, if you prefer, as black US civil-liberties lawyer David Baugh put it 16 years ago, while defending a cross-burning Ku Klux Klan leader who, he assured the jury, hated black men like him: 'In America, we have the right to hate. And we have the right to discuss it.' Baugh lost that case on a point of law. Today he might be widely considered to have lost his mind. Yet he was right.
In a civilised society, if we are talking about thoughts and words – however vitriolic – rather than violent deeds, all must be free to hate what or who they choose, whether that means Muslims, Christians, bankers or Bono. The best way to counter hatred and ideas we despise is not to try to bury them alive, but to drag them out into the light of day and debate them to the bitter end.
Of course there are ideas that people find hateful, offensive, beyond the pale. Yet when it comes to standing up for the principle of free speech in practice, it is only such extreme and offensive ideas that really need defending. The mainstream can look after itself; nobody ever tried to ban an argument for being too mundane.
The ridiculous case of Bahar Mustafa reveals some new ways in which free speech is threatened in the UK and the West today – and the dangers of the partial, selective fashion in which that precious liberty is being defended. As full-time diversity officer of that London students' union, the 28-year-old Mustafa is effectively a professional offence-taker, on the look-out for language and images to be outraged by and protest against.
The trouble is that the culture of You Can't Say That cuts both ways. So, after Mustafa told white people in general and men in particular to stay away from a meeting on diversifying the college curriculum, she found herself in trouble when others declared her words to be offensive, and more than 25,000 people signed an online petition demanding she be ousted from her role. Somebody dug up tweets she was alleged to have sent, including that hashtag #KillAllWhiteMen. The Metropolitan Police and the Crown Prosecution Service – more comfortable with patrolling tweets than the streets these days – stepped in. In October, Mustafa was charged both with sending a communication conveying a threatening message and sending by public communication network a 'grossly offensive' message.
This case bore several hallmarks of an age when free speech is out of fashion: the state authorities acting as the agents of the thin-skinned tendency; the attempt to treat offensive opinions as a criminal offence; and mixing up the catch-all, subjective label 'grossly offensive' with the specific crime of issuing a concrete threat. Who exactly was supposed to be threatened by the shrill infantilism of Mustafa's tweets? 'All white men'? Speak for yourself, PC Plod.
There were cheers this week when the CPS announced it was dropping the daft charges against Mustafa. Yet she and some of her supporters appear to have learned little from the experience about how to stand up for free speech.
After the CPS announcement, Mustafa told Vice magazine that 'I am absolutely for free speech and I think that these people who accuse me have a very misguided understanding of free speech. I don't condone anyone being in prison for what they said – whether it's a far-right extremist or a fascist.'
Then, inevitably, came the 'But…', as Mustafa explained that 'No Platforming, however, is a practice that the far-left organisations and feminist movements have been practicing for a while and it is something that I do believe in… We have the right to say we don't want to listen to your bullshit.' So, official prosecutions for speech offences are bad, but unofficial censorship of offensive opinions via students' unions' reactionary and ever-expanding No Platform policies is apparently good. And if 'we don't want to listen to your bullshit', then we reserve the right not just to oppose or ignore you, but to deny your right to speak.
Mustafa also spelled out her own 'misguided understanding of free speech'. For those 'right-wing pricks' in the media, she said, 'free speech means the right to be as offensive as possible', and that's wrong. Whereas for 'social-justice warriors' and identity group activists such as her, 'free speech means the right to bring the injustices of the state to the fore so that we can organise against it without fear or intimidation, prison, or death'.
In fact, free speech must mean precisely 'the right to be as offensive' to other people's beliefs as you see fit – including the right to offend white men or Bahar Mustafa. Once you depart from that principle, and start claiming a special status for speech of which you approve – such as speech by identity groups and victims – then free speech ceases to be a right and becomes a privilege. Like it or not, that is an invitation to the state to intervene and decide who 'deserves' to enjoy it.
Thus Mustafa was initially charged after complainants claimed to be offended by her words. And no sooner had the CPS dropped those charges than it announced that she might be prosecuted after all, because 'one of the complainants has now requested a review of this decision under the Victim's Right to Review Scheme'. Those who live by victim culture can perish by it, too.
The state remains the most powerful enemy of free speech in our society. For all of its anti-state posturing, the fact remains that the divisive, offence-sensitive, No Platforming outlook of identity politics is the ally of the official thoughtpolice. What we need to make a difference today is a defence that recognises free speech as an indivisible liberty, for white men, Muslims, fools, fanatics, 'far-right extremists' and even student diversity officers.
Mick Hume is spiked's editor-at-large. His book, Trigger Warning: Is the Fear of Being Offensive Killing Free Speech?, is published by Harper Collins. (Order this book from Amazon(USA) and Amazon(UK).)
To enquire about republishing spiked's content, a right to reply or to request a correction, please contact the managing editor, Viv Regan.