Russian Olympic scandal, or dopey Western stunt?
It's much easier to lecture Putin over drugs in sport than bombs in Syria.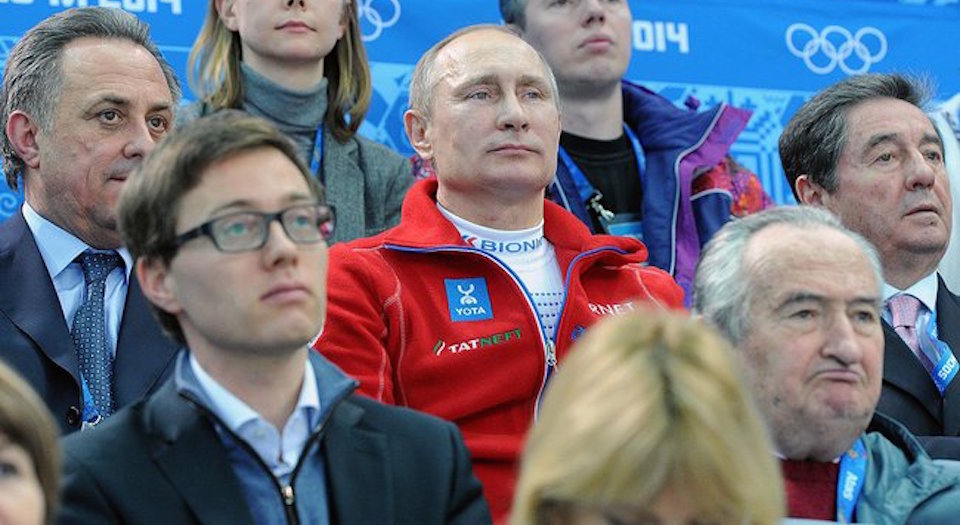 According to this week's top-level report from a World Anti-Doping Agency commission, Russia has been guilty of running a 'state-supported' doping programme in athletics, and its drug-fuelled athletes and bribery 'sabotaged' the 2012 London Olympics. Dick Pound, chairman of the WADA commission, wants the All-Russia Athletics Federation kicked out of next year's Rio Olympics. The ruling body of international athletics is due to pass sentence on Friday.
The head of the US Anti-Doping Agency, Travis Tygart, has now stoked the fire higher, declaring that 'the Olympic dream and the Olympic values, including fair play, have been reduced down to a nightmare by the Russian Athletic Federation'.
Oh, those Russians, as Boney M warned us long ago. To judge by the bellicose language being directed against them over the doping scandal in the Western media, some might think that the Russian authorities deserve not just to be banned, but bombed.
However, it surely does not require any expert report to see that Russian athletes and coaches are far from the only players up to no good here. Behind the lofty talk of 'Olympic values', there are some dodgy double standards on display in Western attitudes towards Russian sport. And the high-minded invocation of the 'Olympic dream' of 'fair play' looks like a cover for the US and the West to play some low political games, staging a sort of sporting Cold War to demonstrate their moral superiority over the eastern barbarians.
The double standards applied to Russia over alleged doping should be obvious to all. No doubt there has been rule-breaking among some Russian athletes and coaches, as even the authorities there concede. Why that should be an excuse for kicking Russia out of the Olympics is quite another matter.
Nobody who is not under the influence could suggest that doping is unique to Russia. Tygart, the US athletics' anti-doping crusader, is the same official who got champion American cyclist Lance Armstrong banned for life for doping. Yet so far as I recall, there was no international chorus demanding that all Americans be kicked out of international cycling or sport because of what Armstrong did. So why should the unearthing of some alleged Russian Lance Armstrongs spark high-level demands to send Russian athletics into sporting exile?
Nor is Russia alone in being accused of an official cover-up of doping by its athletes. We are all now supposed to forget, for example, how the American athletics establishment covered up 114 positive tests on top athletes between 1988 and 2000 – and then denied doing so until the evidence was overwhelming. Among the beneficiaries of this official largesse was sprinter Carl Lewis, the multiple Olympic gold medallist depicted as the champion of fair play against the convicted drug cheat Ben Johnson. We now know that Lewis failed three US drug tests in the run-up to that infamous 100m race at the 1988 Olympics. Asked if it was unfair that the American authorities allowed him to compete anyway, Lewis later insisted that 'there were hundreds of people getting off. Everyone was treated the same.' So that's all right then.
As for the suggestion that those cheating, chemically enhanced Russians almost single-handedly 'sabotaged' the London Olympics in 2012 with their doping antics? If success at those games really was all about drugs, one can surely only conclude that other states must have had as good or better chemists than the Russians. Their men won only two athletics golds – in the high jump and the, err, 50km 'walk' – which was one fewer than each of Britain, the US and Jamaica. Russia's women originally won six track-and-field golds — the same number as the US — one of which, for the 3,000m steeplechase, has since been withdrawn over a later failed drug test. All of their medallists, as the Russians pointed out this week, passed the UK's stringent testing regime in London.
That tale of the London Games illustrates a point that spiked writers have consistently made in relation to these issues: that there is always a powerful air of moral panic surrounding discussions of drugs in sport, which usually bears little relation to reality. Contrary to the impression often given, pills are not magic potions that can turn clod-hopping no-hopers into Olympian thoroughbreds; the line between those supplements deemed legal and illegal is thin and constantly shifting; and there is no such thing as 'pure' athletics in a world where all countries and competitors will use every new material, training method, trick and treat they can get their hands or feet on to gain that all-important extra hundredth of a second.
Whenever the everyday, complicated matter of drugs in sport suddenly gets turned into a major black-and-white issue of Good v Evil, it is generally safe to suspect that there is a political agenda involved. Does anybody seriously imagine that it is merely a coincidence that the new crusade to have Russia kicked out of international sport has emerged at a time of headline tensions between the West and President Vladimir Putin in world affairs?
Putin's Russia has emerged once more as the bête noire of the Western powers, blamed for everything from war in the Ukraine to conflict and plane crashes in the Middle East (even when its own airliners are the ones exploding). The US, the UK and their allies are keen to strike principled poses against Putin and assert themselves on the international stage.
However, that is easier said than done in the real world of geopolitics and power, where the West lacks the authority to boss or control events from Eastern Europe to the Middle East, and cannot even decide, for example, whether it should really be for or against Russian military intervention in Syria. How much easier, then, to stage some political games over international sport and give the Russkies a pious lecture about 'fair play' on the games field!
We are left with a sort of recreational version of the Cold War, a poor man's Berlin Wall being erected across the athletics track. That is probably more a reflection of the petty weakness of the Western 'hawks' than any malign power of the 'Russian bear'.
The pretext might be transparently false, but the consequences are real enough. This sort of grandstanding helps to stoke up genuine global political tensions. And it can only intensify public cynicism about the excitement of sport, sucking a little more joy out of life.
Ever since the birth of the modern Olympics and international competition, it has been naive to imagine we could 'keep politics out of sport'. We might still, however, make an effort to keep sport out of politics, and object to the inspirational Olympics being reduced to another grubby tool of great power games.
How about a little less cynicism about the 'corruption' of Olympic athletics and sporting excellence, and a bit more criticism of the politicisation of sport?
Mick Hume is spiked's editor-at-large. His book, Trigger Warning: Is the Fear of Being Offensive Killing Free Speech?, is published by Harper Collins. (Order this book from Amazon(USA) and Amazon(UK).)
Picture by: Wikimedia Commons.
To enquire about republishing spiked's content, a right to reply or to request a correction, please contact the managing editor, Viv Regan.