Political lactivism: why breast isn't always best
The pro-breastfeeding push smacks of middle-class prejudice.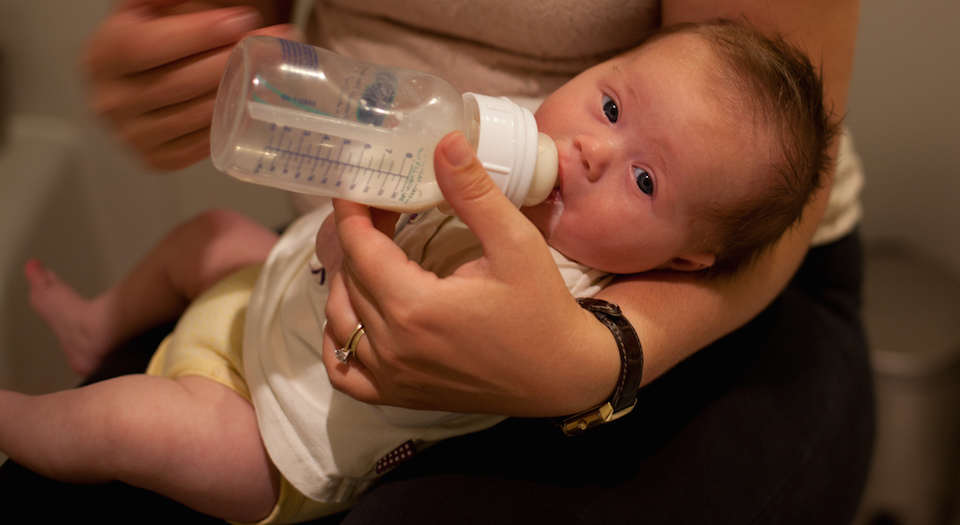 Last week, Labour MP Jess Phillips made the headlines for suggesting that women should be allowed to breastfeed in parliament. This came after Phillips' colleague, Stella Creasy, had argued for an end to the tampon tax and giggled until Tory MP Bill Cash gave in and used the word 'tampon' instead of 'product'.
In principle, I'm in favour of both these ideas – a woman should be able to breastfeed wherever she needs to, and there are plenty of things I'd like to be cheaper, tampons included. However, the shrill argument for 'equality for women' in parliamentary politics has done far more to inhibit women's freedom than expand it.
The plea for breastfeeding in the Palace of Westminster from several Labour MPs is a case in point. It is not about expanding women's freedom to do what they choose. Rather, it is about encouraging women to behave in a certain way, in this case to breastfeed in public. Central to this badgering of mothers is Start4Life, the new campaign launched last month by Public Health England (PHE), which aims to combat the stigma around breastfeeding in public. This new NHS website is a spin-off of Change4Life, complete with a matching annoying plasticine family, and is targeted at pregnant women and new mothers. PHE reported that six in 10 women wanted to cover up, and one in 10 did not breastfeed in public at all because they felt that doing so would be frowned upon. However, the same poll revealed that 72 per cent supported breastfeeding in public.
Following a high-profile case of a young woman being asked to cover up while breastfeeding in Claridge's Hotel, breastfeeding has become a political weapon. Militant lactivists, spurred on by the recent #freethenipple campaign, claim that women are being forced to cover up and hide their breasts while feeding their infants in public. And now Start4Life claims to be fighting the stigmatisation of breastfeeding.
Except there really is no stigma around breastfeeding. By and large, breastfeeding is seen as a completely normal and unproblematic part of life. The fact that most women cover themselves while nursing their infants is owing to the fact that it's an intimate relationship between child and mother. In fact, if there is any stigma at all, it is around bottle-feeding. After all, the 'breast is best' campaign suggests that if a woman does not devote herself exclusively to breastfeeding, she is somehow neglecting her child. Start4Life even lists the supposed benefits of breastfeeding: it burns calories; it helps prevent breast cancer; it provides the child with antibodies; and, Start4Life stresses, it allows you to bond with your child. But the only real benefit to breastfeeding, as Jan Macvarish has pointed out previously, is the transmission of natural antibodies to the child. Everything else on the list is either stretching the truth or just plain daft. The idea that the only way to bond with your child is to have him or her latched on to your nipple, rather than a bottle teat, shows the quackery behind this state-backed campaign.
But, most importantly, campaigns like Start4Life are an attack on parental autonomy, especially that of the mother. If mums-to-be aren't already sick of being told to exercise regularly, stay away from certain foods and not to drink, they can look forward to state hectoring about how to feed their babies after they're born. Whether she is exhausted from three days in labour or has just woken up from a C-section, you can be sure that, in the UK, a woman won't leave the hospital without being told by a 'lactation consultant' that she must breastfeed. The idea that such campaigns are about 'educating' women is euphemistic; rather, they are about instructing women, telling them what they should do.
The choice a mother makes to breastfeed or bottle-feed is a personal one, a choice that only she should make. It is therefore an issue of women's freedom. This is what Phillips and the middle-class health campaigners seem to miss – breastfeeding is first and foremost about a woman's decision to do what she wants with her body. We should celebrate the fact that science has allowed us to manufacture baby formula. Isn't it fantastic that we've created a way to feed babies that means women don't have to be on call 24-7? Mums can be on the go and hands-free at any time, without having to spend five hours hooked up to a breast pump like a milked cow beforehand.
Furthermore, the idea that women should be breastfeeding everywhere – at work, on the street, in cafes, in parliament – ignores the fact that women might not want to be all-consumed by motherhood. Perhaps they'd prefer to separate breastfeeding and the other messy parts of motherhood from their working and public life. This doesn't mean they are repressed. It is just their choice.
But the likes of Phillips and other breast-is-best campaigners don't care about what women actually want. Rather, they are interested in showing people that they are good, dedicated mothers who breastfeed wherever, and whenever. It is a class-loaded judgement on women who don't have the time or the inclination to whip out a nipple.
We don't need politicians virtue-signalling with their boobs (or with their support of boobs); we need politicians arguing for women's freedom. This means, among other things, an end to all restrictions on the sale of baby formula and the dissolution of awareness-raising campaigns like Start4Life.
To suggest that women need further educating to see that breast is best, or that women need the law to guide their infant-feeding arrangements, is crazy. Speaking as evidence of a healthy, bottle-fed baby, there is no difference between breast and bottle. And speaking as someone who believes in women's freedom, what matters is what women want. What pro-breastfeeding activists don't seem to get is that the real problem lies in what they are calling for: further state intervention into women's private lives.
To enquire about republishing spiked's content, a right to reply or to request a correction, please contact the managing editor, Viv Regan.