Defenders of life, liberty or just the right to have a laugh
spiked's heroes of 2015.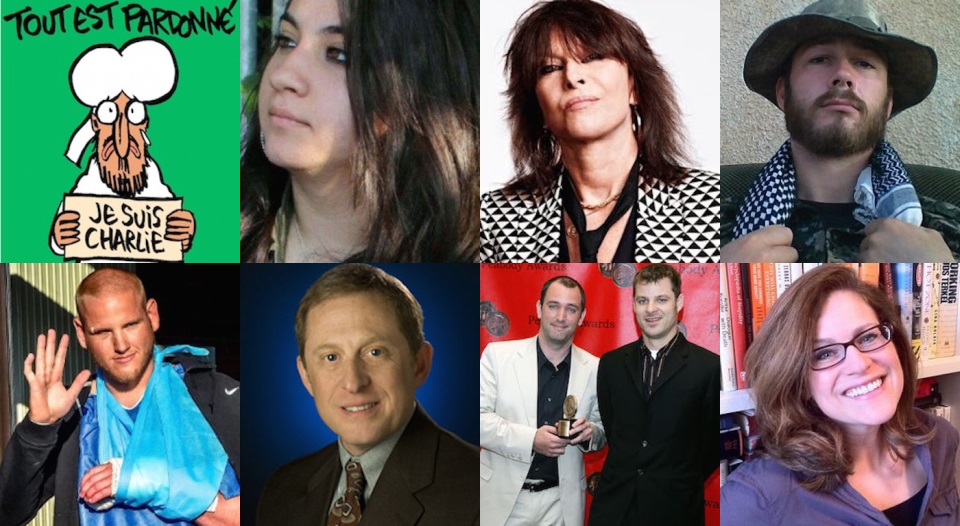 'Don't be a hero' could be the motto of our age. We're told not to 'have a go' or take a risk if we see something bad happen. We're under pressure to shrink our 'human footprint' rather than explore or tame this planet (far less other ones). Far from hero worship, one of the big cultural industries of our age is hero demolition: from Lou Reed to various Dead White European Males, ours is an era that relishes in revealing that the people you thought were great were actually shit.
So it's amazing that despite all this, despite the fact that our political and intellectual elites are so downbeat about the risk-taking individual, heroes still exist. People still strike out, stand up, do dangerous things. Here are spiked's 10 heroes of 2015.
---
John Gallagher
As Western leaders, hacks and self-styled anti-fascists lazily tweet their disdain for ISIS, some citizens take more serious action. 32-year-old Canadian John Gallagher went to fight with the Kurds. A military trained, softly spoken guy, he wanted not only to help smash ISIS, but also strike a blow for Enlightenment. As he said in a Facebook post before he left for Syrian Kurdistan, 'A free Kurdistan would be good enough cause for any internationalist, but we are fortunate enough to be able to risk our necks for something more important… our war is between those who still believe in the enlightenment and those who ultimately lack the capacity to believe in anything'. Fortunate to risk our necks — now that's heroism. John was killed on 4 November, fighting for the Kurds, and you.
---
Charlie Hebdo
That Charlie Hebdo carried on despite the January massacre is testament to the human spirit. That it continued to rile the right-on is testament to the human instinct to break moral boundaries. Having rattled Islamists so much they killed its cartoonists, the mag later annoyed anti-racism activists with its cartoons about the refugee crisis, and caused upset with its response to the Paris terror attacks of 13 November, which included a cartoon showing a Parisian defiantly drinking champagne, only the champagne is leaking out of bullet holes in his body. Charlie Hebdo has this year been murderously attacked by Islamists and verbally attacked by Western liberals who libel it as 'racist' and accuse it of bringing the massacre on itself. In other words: if you don't want to die, don't ever say anything risqué. Taking a stand against such a mealy-mouthed invitation to self-censorship is an act of heroism.
---
The people of Paris
Following the barbarism of November, grief competitors on social media wanted to know why we were more upset about this ISIS attack than we were by the one in Beirut. The answer was obvious: Paris is the city of lights; a magnet for artists, for humanity; birthplace of the modern idea of freedom. In the words of the 18th-century dramatist Pierre de Marivaux, 'Paris is the world'. The attack on Paris felt like an attack on everyone. How fitting, then, that the good citizens of Paris responded, not, as many snooty columnists predicted they would, by engaging in Islamophobic attacks, but by getting on with life: hanging out in cafes and bars, ignoring officialdom's advice to lie low. At a time when terrorists attack the free life and politicians encourage risk-aversion, sipping a coffee in a Parisian cafe becomes a rebellious act.
---
Chrissie Hynde
The Pretenders frontwoman became the object of a million angry thinkpieces when she revealed she'd once been forced to engage in sex acts and took 'full responsibility' for what happened. Recalling that she had recklessly wandered off with a dodgy motorcycle gang, she said that 'technically speaking… this was all my doing'. She was branded a 'rape apologist', diagnosed as suffering from 'internalised misogyny', a neo-Victorian way of saying that women don't know their own minds. In truth, at a time when women are encouraged to absolve themselves of social responsibility, to view themselves as the victims of booze or blokes or The Patriarchy, Hynde's assumption of responsibility for her own acts, her own decisions, felt decent, and radical.
---
Alan Stern
At the start of 2015, the best photo we had of Pluto was a blocky, blurry mess; now we can see the dwarf planet in all its glory, from its heart-shaped wasteland to its various mountain ranges. (One of which has been named the Norgay Montes, after the Nepalese mountaineer Tenzing Norgay, who reached the top of Everest alongside Edmund Hillary in 1953. Yes, we're naming Pluto's landscape, colonising it, from afar.) All of this is down to NASA's inspiring New Horizons project, whose principal investigator is Alan Stern. For nine years, New Horizons had been hurtling through space at 30,000 miles per hour, finally getting close enough to Pluto, 7.5 billion km away, to see and snap it. Those who say space travel is a waste of cash know nothing of the immeasurable value of the human desire to explore; the images of Pluto are a 'gift to all mankind', said Stern.
---
Erika Christakis
Sure, all that Yale professor Erika Christakis did was write a mild-mannered email saying it isn't the end of the world if students wear offensive Halloween costumes, but, as she soon found out, that's a brave thing to do on today's crazily conformist campuses. Video footage of her husband Nicholas being screamed at by irate students whizzed round the world. Erika resigned. She wasn't the only one in 2015 to take a stand against the controversy-squishing Safe Space the Western academy has become: some students bunked off their sexual-consent classes, academics criticised victim feminism. Next year, we need to see more of these people, especially more Erikas — actual academics willing to challenge the moral strangling of the right of students and professors to think, say and wear what they want.
---
Silhan Özçelik
In his much-applauded speech on why Britain must bomb Syria, Labour's Hilary Benn evoked the International Brigades who fought against Franco. And yet in a British jail sits an 18-year-old London-Kurdish woman, Silhan Özçelik, locked up for wanting to be a modern international brigadier fighting with the Kurds against ISIS. Özçelik wanted to join the women's militia of the PKK and, in her words, become 'passionately engaged' in the fight against ISIS. She didn't make it to Iraq, and upon her return to Britain she was arrested and later jailed for 21 months. So Britain describes ISIS as fascists and says they must be destroyed, yet imprisons those who want to fight against them. Perverse. Özçelik should be celebrated, not incarcerated.
---
The Thalys train guys
'If you see something suspicious, report it' — the cri de cœur of our suspicious age. Thankfully, British businessman Chris Norman and three Americans — Anthony Sadler, Spencer Stone and Alek Skarlatos — lived by a different credo on 21 August: if you see something suspicious, do something about it. On a Thayls train passing through Pas-de-Calais in France, a terrorist opened fire in a carriage. These guys tackled him, and subdued him. One of them was stabbed. Who knows how many lives their bravery saved. They also sent a message to the rest of us: it's good to 'have a go'. They exposed the weakness of ISIS terrorists in contrast with the determination of everyday citizens to protect one another and the freedom of their societies (or societies they're merely visiting).
---
The Emmanuel Church parishioners
In June, the horrific massacre at the Emmanuel Church in Charleston, South Carolina sent shockwaves around the world. Racist Dylann Roof turned his gun on black worshippers who had welcomed him into their Bible group. Many observers responded by demonising the entire American South, demanding bans on the Confederate flag and exploiting the tragedy to up the ante in the Culture Wars between educated liberals and gun-toting white Southerners. But the families of the murdered, the parishioners of Emmanuel Church, responded differently. 'I forgive you', one of them told Roof in a courtroom video link-up. Another said: 'We welcomed you… in our Bible study with open arms. You have killed some of the most beautifullest people that I know… but may God have mercy on your soul.' It was a remarkable, moving sight, the perfect antidote to Roof's hate and to the ugly politicisation of this awful but rare kind of crime.
---
Trey Parker and Matt Stone
South Park has long been a scatological joy, mocking right-wingers and worthy liberals alike. This year, with its 19th series, it became perhaps the keenest, funniest piss-taker of the new culture of PC intolerance. From its song about Safe Spaces to its blasphemy against Caitlyn Jenner (in an episode cheekily titled 'Stunning and Brave') to its 'PC bros' — jocks who shout down anyone who says inappropriate things — the new South Park left no new God un-insulted. Its makers Trey Parker and Matt Stone are among the great iconoclasts of our age, taking down all those who deserve to be taken down. More iconoclasm in 2016, please, from more people.
---
Brendan O'Neill is editor of spiked.
To enquire about republishing spiked's content, a right to reply or to request a correction, please contact the managing editor, Viv Regan.