Snobs don't take Christmas off
Only rich people have the luxury of moaning about consumerism.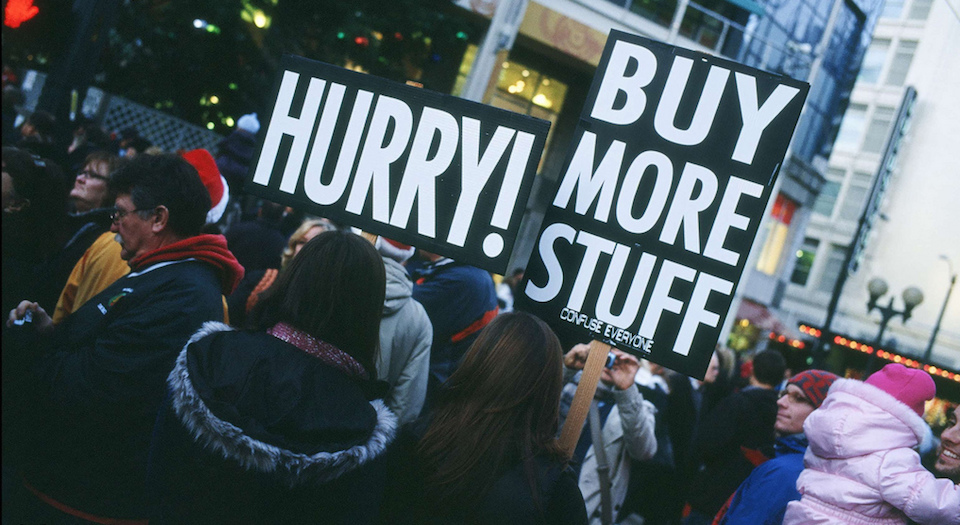 As you will have seen on social media, the Guardian newspaper excelled itself this Christmas with its miserable, patrician sermons on the vulgar practices of the lumpen proletariat. 'The Christmas shutdown just makes us drunker, fatter, lazier and lonelier', read one headline. Elsewhere we had 'The real war on Christmas is our corporate-driven material culture', 'Christmas is ruined by children' and other such clickbait. The ever-reliable arch-Whig George Monbiot concluded: 'Warning: your festive meal could be more damaging than a long-haul flight.'
To complain about 'Christmas being commercialised' is as old as Christmas itself. I dare say the Manchester Guardian in the 1840s lectured about this day of Christian worship being 'appropriated' by Germans with their 'trees' and pagans who 'didn't understand the real meaning' of it all. They might have blamed that ghastly, suburban writer Charles Dickens for all such uncouth, bourgeois hideousness.
Critics of consumerism are right up to a point. It's true that people shouldn't spend beyond their means at Christmas. But this is true of all year round, and this includes excessive spending by the state, which the Guardian favours.
Yet there is something repellent about rich people complaining about consumerism. Only rich people can afford to say that 'money can't buy you happiness'; poor people understand that not having money does buy you unhappiness. For those of us who don't live in large houses in the country or don't have homes in central London, Christmas, with its presents, indulgence and consumerism, is a blessed relief from everyday drudgery. To complain about Christmas is akin to complaining about the weekend.
No one expects Christmas to be a happy time. We've all had our family arguments, and, in this twilight zone between Boxing Day and New Year's Day, we'll all be contemplative and rueful. It's the one week of the year when people are actually honest on social media about their regrets and problems. There's little of that phoney 'my brilliant life' bragging on Facebook. But we will laugh about familial strife and children's tears next year. It is sad to remember those we have lost, but we also salute their memory and raise a glass to them.
Indulgence is what Yuletide is all about. It's literally not normal. Were the ancients around today, they, too, would be stampeding through stores in the sales, gorging themselves and drinking with old friends and family – rather than drinking mead or toasting Bacchus. Children love their new toys and adults still enjoy the annual Great Booze Up. Even those of us who don't have children or don't take part in the revelries enjoy the spectacle from afar. We drink from the joy of others. The prole-hating naysayers really need to take a break.
---
Hipsters are harmless
Many of you will have received for Christmas this year a Ladybird Book for Grown-Ups, those playful little titles that update children's books from the 1970s. The subject matter of hangovers, mid-life crises and sheds will be read greedily by many middle-aged men, especially at this reflective time of year.
I happened to have flicked through The Ladybird Book of the Hipster earlier this month, and it is great fun. As with all the books, they feature genuine old Ladybird pictures, but with new text. This includes a drawing of boy scouts in a band, with the description: 'What hipsters like best about their favourite music is that nobody really likes it. This band is currently called Donkiet Cong. They improvise ironictronica based on 1990s weather forecasts, using school instruments and hindsight.' Elsewhere: 'At hipster cocktail kitchen aitcH2ooEau, all the drinks are made with nothing but water. Here, two mixographers are preparing a Coldplay's Next Album, a cocktail made with 14 different sorts of water. The most highly prized water is Japanese fen tears.'
The paradoxical thing about this mocking book is that it's rather hipster itself, in its clever, ironic and knowing tone. I suspect that many hipsters will love it in much the same way that the biggest fans of the film This is Spinal Tap were heavy-metal fans themselves, who recognised the pomposities and absurdities of much that they adhered to.
Hipsters are a much like their grandparents, the hippies. They are ridiculous and not very bright. Like hippies, they seek to make themselves appear interesting and radical because not much is going on upstairs. Intelligent people normally look drab, because everything revolutionary is taking place inside their heads. Little attention is paid to superficial matters.
But let's give hipsters a break. They are harmless and, in person, always agreeable. There are far worse people in the world.
---
Remembering the boys from Tottingham
The television highlight of these holidays has been Channel 5's rerun of Chas and Dave's Christmas Knees Up (1982), although it was irritating that Jim Davidson was cut from it. Presumably, jokes about 'darkies' or impressions of Jamaicans weren't deemed fitting for family viewing — even though everyone tuning in would have been over 30 and wise enough to understand that such humour belongs to the past. Jimmy Cricket remained uncut, and he was atrocious.
Still, it was a lovely affair, especially to those who grew up in the 1980s, for whom Chas and Dave seemed a kind of novelty act, best known for 'Snooker Loopy' and playing on 'the joanna' with Ossie Ardiles and 'the boys from Tottingham'. But Chas and Dave are serious rock-blues-country-folk musicians who only decided to switch to London accents having witnessed the success of punk, which sought to make rock music more English, urban and contemporary.
The Christmas special was also couched in sweet melancholy. Where are the audience members now? All those old dears who survived the Blitz are now dead, while the rest probably emigrated to Australia or now live in Kent and Essex, counties to which the Cockney accent has migrated. This special reminded us of a time when London was a normal city, not just a place to commute to or visit the theatre, now inhabited chiefly by the retired, singletons, the childless, the very poor and the very rich.
But times change. Let us not lament and complain too much. Cockneys have not died out and true Londoners are still with us. They just don't live in London any more. As Chas and Dave once sung, they've all gone down to Margate.
Patrick West is a spiked columnist. Follow him on Twitter: @patrickxwest
To enquire about republishing spiked's content, a right to reply or to request a correction, please contact the managing editor, Viv Regan.