Chris Gayle and the rise of the Flirt Tax
Fining a man for asking someone on a date is mad and illiberal.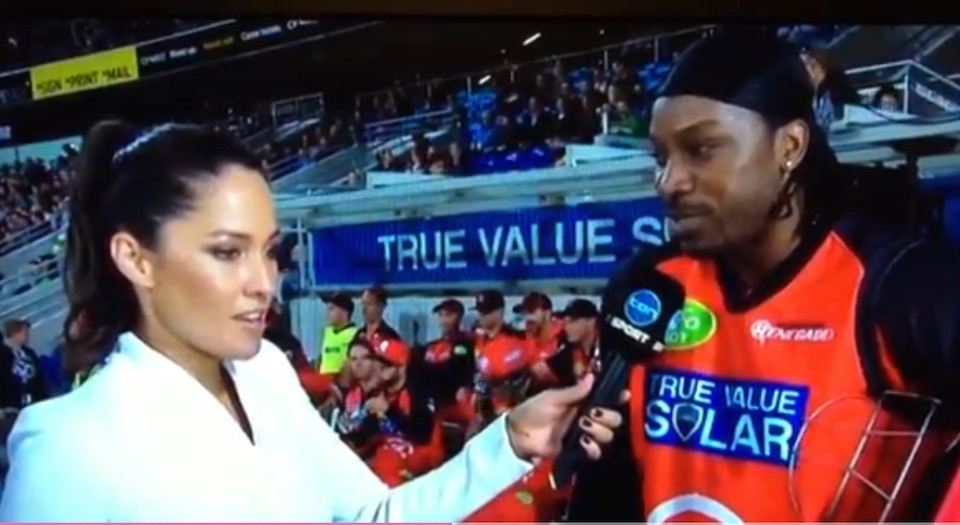 In this age of twitch-hunting and industrial-scale offence-taking, you've got to feel for the sex pests. Whether it's a clumsy old lech daring to compliment women on LinkedIn or horny US football players trying to holler at porn stars, nothing is more likely to get you screenshotted, shamed and humiliated than if you're a red-blooded lothario or just a harmless creep.
The latest victim of the war on flirting is Jamaican cricket star Chris Gayle, a man known for his big-hitting, his clumsy come-ons and his shirtless Instagram selfies, often taken atop his 'Hanky Panky bed'. After stepping off the pitch at a Big Bash League T20 match in Hobart, Tasmania, on Monday, Gayle asked sports broadcaster Mel McLaughlin out on a date during a live interview. 'To see your eyes for the first time is nice. Hopefully we can win this game and we can have a drink afterwards. Don't blush, baby', he said. A less-than-charmed McLaughlin tried to move the conversation back to sport, and he had another (unsuccessful) pop, before the interview came to an awkward end.
Lustful bloke makes a fool out of himself. Big deal, right? Of course not. Barely a day later and he's become the most shamed man in sport. Cricket Australia boss James Sutherland said Gayle's actions were the equivalent of workplace harassment. Stuart Coventry, chief executive of Gayle's team the Melbourne Renegades, called the move 'completely inappropriate and disrespectful'. While Gayle remains nonplussed, saying it was 'just a joke', no one else seems to be laughing. He's been handed down a hefty fine of AU$10,000, which will be donated (for some bizarre reason) to a breast-cancer charity, while McLaughlin's employer, Network Ten, has said Gayle will no longer be given an on-field microphone or helmet-cam during live broadcasts, lest his lascivious impulses arise again. The only person defending him is Piers Morgan – offering further proof that Gayle has been placed firmly on the Wrong Side of History.
To say that this was a hysterical reaction does a disservice to hysterics. It was categorically insane. Cricket Australia has effectively introduced a Flirt Tax, proving once again that those two old bastions of brusque, straight-talking characters – the world of sport and the land Down Under – have finally succumbed to the New Intolerance. Speaking in his defence, Gayle said, quite rightly, that it was 'entertainment' – part of the lighthearted, panto-style showmanship of sport. Sadly, even this is no defence in an era when a botched come-on is portrayed as a tentacle of patriarchal oppression and spontaneity is seen as a necessary casualty in the march to progress.
Other female journalists have since come forward, offering their own stories of Gayle's flirtacious excesses and holding them up as proof that cricket is still battling a misogynistic culture. 'What really disappoints me', said Fox Sports journalist Neroli Meadows, 'is the fact that people still laugh and the fact that when somebody like myself or Mel says it's not okay… It happens, situations likes that, 10 times a day when you're a female in this sports industry and that's just a fact.' None of which seems to chime with McLaughlin herself, who told Channel 10 News that, having 'felt nothing but respect' from men during her career, Gayle's come-on was more of a surprise than anything. That Australian cricket has taken this long to produce a viral hate figure suggests things aren't quite as bad as Meadows is making out.
What Gayle did was unprofessional at worst, unintentionally hilarious at best. That such a lame come-on can be blown up into an international sporting scandal shows that the real problem we have to grapple with is not sporting sexism but unhinged censoriousness, springing from the genuinely sexist idea that women are incapable of dealing with the odd libidinous pillock without feeling Othered and exploited. If McLaughlin was that bothered by Gayle's comments – and, on the whole, she doesn't seem to have been – she should have shut him down, or given him a punch in the chops. Now that would have been 'entertainment'.
Tom Slater is deputy editor at spiked.
To enquire about republishing spiked's content, a right to reply or to request a correction, please contact the managing editor, Viv Regan.