We know they are not Charlie now
A year after the massacre, the threat to free speech comes from within.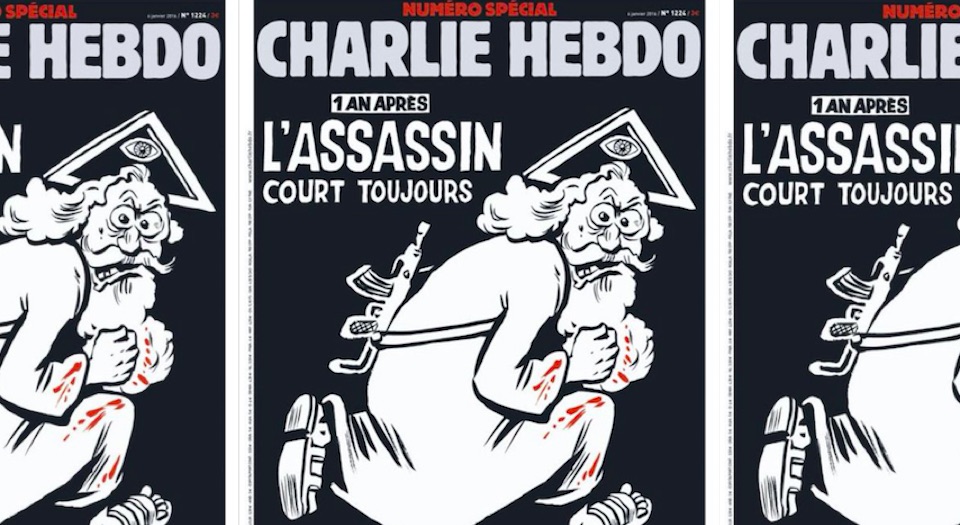 Two crimes were committed against the satirical magazine Charlie Hebdo a year ago, in January 2015. First, Islamist gunmen committed mass murder at the paper's Paris offices. They shot dead eight cartoonists and journalists, two police officers and two others, in a graphic demonstration of their hatred for freedom of speech and of the press.
Then the great and the good of Western society committed a mass free-speech fraud. They sold us the line that they all supported free speech, making rhetorical and ritualistic gestures of 'Je Suis Charlie' solidarity. Yet at the same time many were acting out their contempt for the real freedom of expression that allows such provocative publications to exist in the first place.
Even in January 2015, there were dissenting voices declaring that 'Je ne suis pas Charlie!' – I am not Charlie. A year later, it is clear that none of the Western political and cultural elites are genuinely for freedom of expression and the right to be offensive. They are all not Charlie now.
This does not signal a change of heart over the past 12 months. It only confirms what spiked has argued from the first. Support for free speech in Europe and the US was never as solid as those solidarity banners made it appear. And far from being alien agents, the French-born-and-raised Islamist gunmen who murdered the Charlie Hebdo cartoonists acted as the extreme wing of a mainstream trend in Western society – the culture of conformism and You Can't Say That which demands that offensive ideas and images must be closed down.
Those who took a dim view of genuinely free speech in the aftermath of Charlie Hebdo were not confined to Islamist terror cells. It quickly emerged that the threat to freedom came not just from a few barbarians at the gate. Free speech faces more powerful enemies within the supposed citadel of civilisation itself. There were loud accusations of hypocrisy after the appearance of autocratic governments from the Middle East and Africa at the Paris 'Je Suis Charlie' demo. Yet double standards flourished much closer to home
The French authorities led the way, responding to the murderous assault on free speech in their capital by ordering a crackdown – on those whose speech they found offensive. They thus spelled out their version of standing up for free speech: they would fight to the last for the people's right to say things that government and judges approved of.
The French authorities and their allies have continued their crackdown on free speech and opinions of which they disapprove over the past year, notably after the Paris massacres in November. This week the French government is holding major events to commemorate the Charlie murders. Yet the true mood of the political class in Paris is better revealed by former conservative prime minister and presidential contender Alain Juppé, who has announced that he 'obviously felt that I was "Charlie" when they murdered journalists there. But when I open Charlie Hebdo, I am not always Charlie.' Juppé, like others, is reportedly 'incensed' by the magazine's anniversary edition, which features a non-denominational god as an armed terrorist with the headline 'The assassin is still out there'. What really offends them is Charlie's refusal to toe the conformist line.
Across the Channel, the free-speech fraudsters turned out in force in the UK after the Charlie massacre. UK politicians from Tory prime minister David Cameron to then Labour leader Ed Miliband, and liberals who have led the campaigns to criminalise 'offensive' speech and sanitise the scurrilous, dirt-digging British tabloid press, suddenly expected us to believe that they were freedom fighters for the satirical and scandal-mongering French press's right to offend.
In the year since then, the UK political class has shown its true colours as a defender of free speech 'in principle' that will take every opportunity to attack it in practice. Cameron has repeatedly stated his government's determination to defend 'British values' against Islamism – by restricting those presumably non-British values of free speech and tolerance everywhere from the internet to the university. Meanwhile, the Labour opposition is now led by veteran state socialist Jeremy Corbyn, whose views on free speech make Miliband look like a wild libertarian by comparison. Among other things, Corbyn is a supporter of a media-reform campaign that wants to see less press and media freedom, declaring that 'communications should be organised and regulated' by the state. Including, presumably, satirical magazines.
Much of the cultural elite in the UK wrestled with its liberal conscience in response to Charlie Hebdo, and lost. The London Review of Books, a self-proclaimed champion of artistic expression, could barely disguise its lack of empathy with the Charlie Hebdo cartoonists. LRB editor Mary-Kay Wilmers dismissed those 'who insist that the only acceptable response to the events in Paris is to stand up for "freedom of expression"'. Those tell-tale inverted commas appeared to offer the same comforting support to 'freedom of expression' as a noose might to a hanging man. In the year since, most of our leading liberals have at best sat on their hands and at worst applauded as the assault on 'offensive' speech advances.
It came as no surprise, after the massacre, to hear a leading student official at Bristol University suggest that Charlie Hebdo would have been banned from their campus anyway, since its potentially offensive images would certainly have contradicted the university's cocooning Safe Space policies, which treat adult students like delicate flowers and words and images as if they were automatic weapons. A year later, after the many assaults on free speech and academic freedom documented on spiked, what chance is there of Charlie being welcomed on any UK campus?
Indeed what chance is there of such a caustic magazine surviving at all in the UK today, where it is apparently considered suspicious even to read Charlie Hebdo, never mind write for it? Several police forces in England reportedly quizzed local newsagents about the names of those who ordered copies of the post-massacre edition.
Even in the US, land of the free and home of the First Amendment that gives constitutional protection to freedom of speech and of the press, free-speech fraudsters from Catholic crusaders to feminist bloggers were quick to distance themselves from Charlie Hebdo. The departing ombudsman of National Public Radio, Edward Schumacher-Matos, openly declared 'I am not Charlie' and suggested that 'much of what Charlie Hebdo does' should be seen as 'hate speech unprotected by the Constitution'. In fact, offensive 'hate speech' is protected in the US by the First Amendment, as Charlie Hebdo's cartoons certainly would be.
But maybe he was simply ahead of his time. A year later, not only Republican presidential contender Donald Trump but also leading Democrat hopeful Hillary Clinton have cast doubt on US support for unfettered free speech. Suggesting the need to 'shut down' parts of the internet to deny Islamists space online, Trump declared that 'somebody will say, "Oh, freedom of speech, freedom of speech". These are foolish people, we have a lot of foolish people.' On the other side of the divide, Clinton appeared to agree with this foolishness, stating that 'we've got to shut off their means of communicating' and dismissing objections – 'You're going to hear all of the usual complaints, you know, freedom of speech, etc'. When the favourite for the White House can casually dismiss the fundamental liberty on which the US Constitution stands as 'the usual complaints, you know, freedom of speech, etc', it is little wonder that the New York Times can ask whether it is time to 'reconsider the First Amendment'. What a monument to the dead of Charlie Hebdo that would be.
Asked after the massacre what he thought of the rhetorical sympathy from the normally hostile European and international establishment, one surviving Charlie Hebdo cartoonist, 73-year-old Bernard Holtrop, responded: 'We puke on all these people who suddenly say they're our friends.' In context, that might have seemed harsh, but fair. In the light of what has happened since, it might seem quite moderate.
A year after the Charlie Hebdo murders, it should be clearer than ever that the Islamist gunmen acted not just as the soldiers of an oldish Eastern religion but also as the armed extremist wing of a thoroughly modern Western creed. From the official censors of the police and political elite to the army of unofficial censors online, the cri de coeur of these crusaders against offensive speech is 'You Can't Say That!'. The Islamist gunmen took that attitude to a murderous extreme.
Our response should be to declare that 'Je Suis Toujours Charlie', no matter what they stick on their front cover. You do not have to agree with Charlie or find it hilarious to defend its right to offend whomever it chooses. Indeed, we might object to the anniversary cover, not because it is offensive, but because it is slightly wrong. The most powerful 'assassin' of free speech in the West today is not god, but the high priests of 'liberal' secular conformism here on Earth.
Mick Hume is spiked's editor-at-large. His book, Trigger Warning: Is the Fear of Being Offensive Killing Free Speech?, is published by Harper Collins. (Order this book from Amazon(USA) and Amazon(UK).)
To enquire about republishing spiked's content, a right to reply or to request a correction, please contact the managing editor, Viv Regan.